As usual, ARTER delivers in spades: its current exhibition delves – with precision and ingenuity – into the 50-year career of one of Turkey's most prominent contemporary artists, Füsun Onur. Forty-three works are thoughtfully displayed over four floors.
The best advice I can offer when visiting the exhibition is not to think too hard about the meaning of the works or what they represent. Nothing is labelled, so the experience of moving from floor to floor is akin to being let loose in a wonderland of weird and wonderful objects. The title of the exhibition thus becomes very pertinent. 'Just like in Lewis Carroll's book, our perception of reality is altered and we find ourselves immersed in unusual spatial experiences,' says the show's curator, Emre Baykal. That is not to say the works mean nothing; of course, they all do. But it is just as pleasurable to wander between Onur's works. Nothing is roped off – in fact, some works you can actually go inside – and you can be so up close with Onur's art that it's almost as if you can peer inside the artist herself.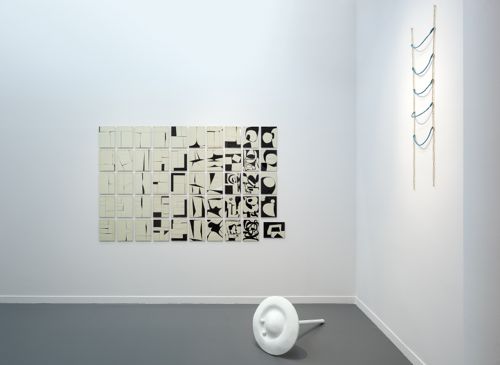 Exhibition view, 'Dividing Space on a White Piece of Paper' (drawings), 1965–66; 'Untitled', 1970; 'Ladder', 2008, photo: Murat Germen
Onur studied sculpture at the Istanbul State Academy of Fine Arts in the early 1960s, then continued her education in the USA. Already searching for her own unique visual language even as a student, Onur became preoccupied with form, space and time, and with the interconnectedness of these elements, a concept which remained at the core of her work after her return to Istanbul in 1967. The ground floor of the exhibition displays early works, produced in the 1960s and 1970s, with a few from later in her career. The previously unexhibited drawings above are some of the first examples highlighting Onur's interest in space and its reconstruction; these are crucial to the exhibition as they hint at Onur's handling of space in many of her later installations and sculptures. 'Back in those days, one would expect an artist with her kind of output to have concerns about being understood,' says Baykal. 'Yet it was with great courage that she advanced on her creative path with no concerns about reception.'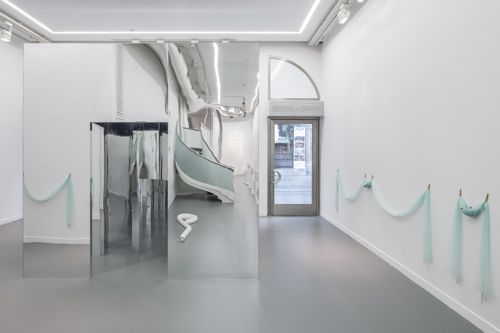 Exhibition view; on the left: 'Mirrored Labyrinth', 2014 (model: 1972); on the right: 'Those Who Have Washed Here', 1994, photo: Murat Germen
One of the most impressive works greets audiences as they come in. ARTER is big on drawing people in from the street and in this it succeeds once again with a work created by Onur especially for the exhibition, modelled on an earlier work that has been lost. The 'Mirrored Labyrinth' was originally made in Styrofoam for a competition in 1972, but here Onur has recreated it in a mirror form, so you enter 'Through the Looking Glass' literally through a mirror.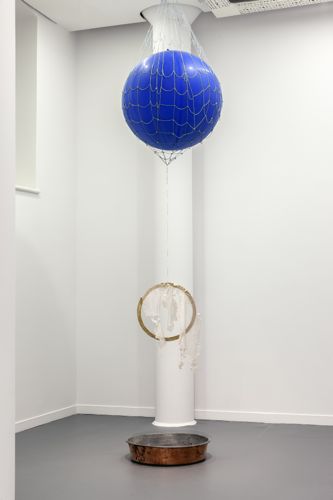 'Let's Meet at the Orient', 1995, photo: Murat Germen
Also on this floor is one of Onur's most prominent works, 'Let's Meet at the Orient', created for the 4th Istanbul Biennial in 1995.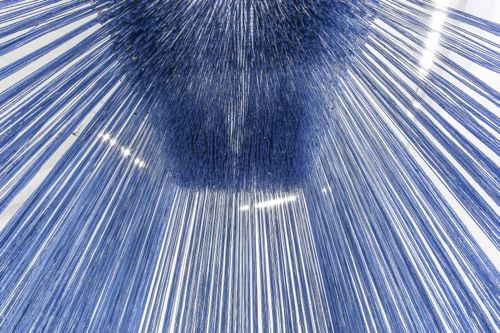 'Third Dimension in Painting / Come In', (1981), 2014 (detail), installation with wood, painted thread, foam rubber, fabric and spangle, 275 x 300 x 210, photo: Murat Germen
The first floor displays works from the 1980s onwards that delve into relationships between painting and frame, and between painting and sculpture, as well as into breaking the boundaries between them. My favourite work on this floor is the above – a blue-tasselled space inside which you sit on a cushion on the floor looking up at the starry sky dome. The work relates to a 1981 piece in which blue painted strings are woven inside a small frame to form a grid. In the 2014 piece, 'Onur tears the painting from the wall and offers a new space; she changes the viewer's position to the painting so radically that she makes the viewer lie down inside.' says Baykal.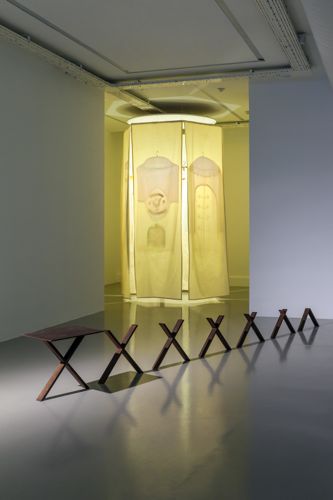 Exhibition view: 'Whisper', 2010; 'Istanbul Obsession', 1994, photo: Murat Germen
Also on this floor are works exploring rhythm and music, an important element of Onur's practice. One of these is 'Whisper', seen in the above photo in front of another exemplary work, 'Istanbul Obsession'. Once again, this is a work you can enter, and what's interesting here is the use of light and shadow, which pays tribute to the traditional form of Turkish shadow puppetry. Looking from the outside, you see silhouettes of Istanbul's architecture.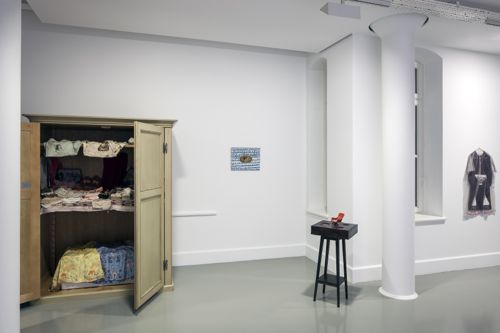 Exhibition view, second floor, photo: Murat Germen
'Onur's oeuvre is very much inspired by the concept of the house,' says Baykal, and this is evident on the second floor, where most of the works are related to the domestic sphere. Two works are objects brought from Onur's own home – a wardrobe from the artist's studio filled with clothes and toys from the artist's childhood, and a wonderfully detailed doll's house which the artist began working on after her return from the USA.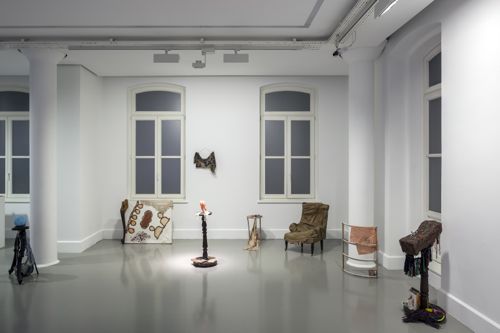 'Dream of Old Furniture', 1985, photo: Murat Germen
Many weird and wonderful objects can be seen on this floor – from a tiny armchair rotating upon a music box, to a loaf of bread and an apple cut in half to reveal insects, and a Barbie doll inside a glass jar. The works posses a kind of duality: childhood innocence alongside something much more sinister. I was reminded of all the fairytales I read as a kid and how not all of them had happy endings. These smaller works culminate in the above installation – a surreal landscape of deconstructed furniture and objects demonstrating both Onur's interest in domesticity and her clever use of materials. A copy of Alice in Wonderland lies on the small table – another reference to Lewis Carroll.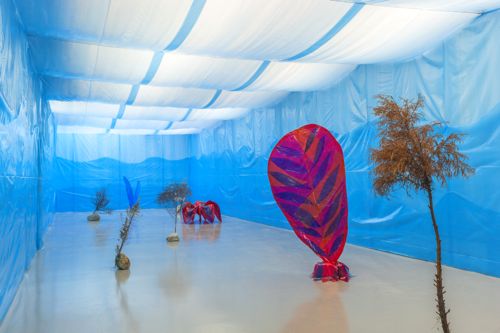 'Counterpoint with Flowers', (1982) 2014, photo: Murat Germen
The entire third floor is devoted to the above installation – what Baykal calls 'a dreamy setting'. With this reconstruction of a 1982 work Onur offers the viewer another peculiar spatial perception, this time in a kind of hypnotic greenhouse.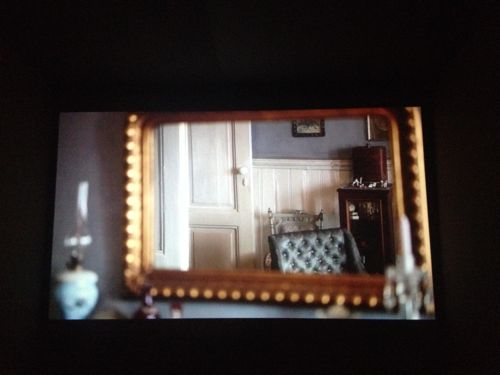 Ali Kazma, 'Home', 2014, video, 5', still, photo: Victoria Khroundina
Don't leave without seeing the video artist Ali Kazma's new work in the basement, made especially for this exhibition. The five-minute video Home was filmed inside Onur's waterfront house in Kuzguncuk, where she was born and still lives and works with her sister, Ilhan. Entering Onur's private space Kazma allows to come even closer to this monumental artist.
The exhibition runs until August 17, 2014.