The refurbishment of Manchester's Victoria Turkish Baths (above), recently opened to great national hurrahs, is part of a reawakening of the interest in Turkish baths that gripped Britain a century ago. Fusion Lifestyle, one of the country's largest charitable leisure trusts, is now involved in plans to make the revived rooms operate as a working establishment, just as it is doing in Newcastle, where the 1928 Turkish Baths, closed in 2003, are scheduled to open again next year as a going concern after a £5 million refurbishment.
There are half a dozen traditional Turkish baths still open in Britain. There was a time when no self-respecting town would be without one. The first in Manchester opened in 1857 and by the time the Victoria Baths opened, in 1906, there was at least one Turkish bath in most major towns in England, from Accrington (which had two) to York (which had three).
Two further surviving Turkish baths in the north of England are in Carlisle and Harrogate. Carlisle's 1909 Victorian Health Suite has a Grade II listing, described as a 'very intact and complete example' of a Turkish Baths.'Overall, this is a handsome ensemble of architectural quality,' was the conclusion in 2009 of the English Heritage inspectors. Meanwhile clients in Royal Turkish Baths at upmarket Harrogate, are "guaranteed a full Turkish experience". Here the Moorish design is described as "a beautiful embodiment of Orientalist fusion". A £1 million restoration programme in 2009 re-stablished what is the most historically complete, fully working 19th-century Turkish Baths in the country.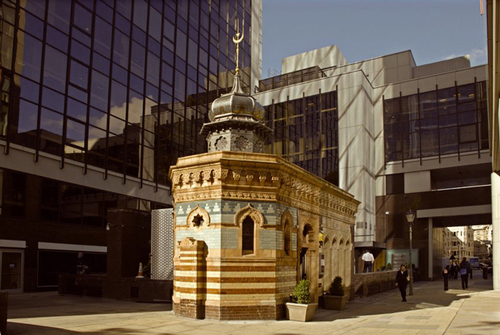 Of more than 100 Turkish baths in London, only a handful remain. The well-established Porchester Baths in Queensway date from the 1920s, the same time that York Hall Baths were built in East London. Both now offer fitness and luxury 'treatments', as words such as 'pamper' and 'luxury' replace the traditional masseur's pummelling. Change of usage has been more extreme in The Victorian Bath House (above), a bright spot among the City of London's towering office blocks. Built in 1897with tessellating Arabic motifs and stained glass and, its atmospheric oriental interior now serves cocktails to fully clothed customers.