As we've experienced in Istanbul this summer, music can provide a welcome distraction and act as a soothing balm. Yet it can also serve a deeper purpose, for both listeners and musicians. The Turkish National Youth Philharmonic Orchestra, or Türkiye Gençlik Filarmoni Orkestrası (TGFO), spearheaded by the acclaimed Turkish conductor Cem Mansur, hits on both of these points: talented young musicians make classical music that enchants listeners while simultaneously learning how music functions as a social tool.
Founded by Mansur in 2007, the orchestra consists of approximately 100 members between the ages of 14 and 28. Each year auditions are held at the established conservatories in Adana, Ankara, Antalya, Bursa, Edirne, Eskişehir, Izmir, Istanbul and Mersin, and from this lot the most promising young musicians are chosen.
The selected musicians then travel to Istanbul for an intense series of rehearsals and programming (this year from July 9–27). Not only are they individually taught by some of the best classical musicians in Turkey, but they also practise creating a cohesive sound as a full orchestra.
The TGFO in rehearsal with Cem Mansur at Sabancı University, July 2016
In addition to improving their technical prowess, the young musicians participate in workshops and seminars about music as an agent of change. Activities of this sort are an integral part of the project – one of the most notable is the 'Laboratory of Democracy', where Mansur demonstrates to both musicians and audiences how the structure of an orchestra is the perfect metaphor for co-existence, leadership, self-respect and responsibility. The rehearsals culminate in a fund-raising concert in Istanbul for the Friends of the TGFO (this year at Uniq Istanbul, Maslak at 8.30pm on July 27).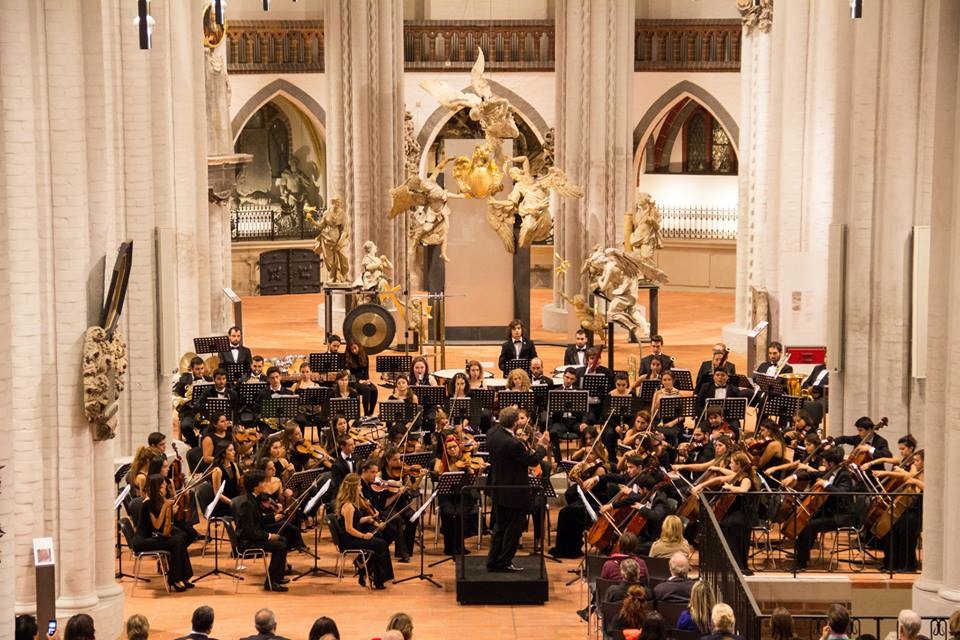 The orchestra performing in Berlin two years ago
This amazing band of new friends then takes its infectious musical energy on the road. In this regard, the group has a storied past – they've performed at some of the best concert houses in Europe. Among others, the orchestra previously appeared in the Konzerthaus in Vienna, Konzerthaus in Berlin (2008, 2010, 2015), Sala Santa Cecilia in Rome (2010, 2013, 2014), Auditorium di Milano, Brucknerhaus in Linz (taking part in the prestigious Brucknerfest) and the Bayer Concerts in Leverkusen/Köln, where the young orchestra had the honour to open the season. The orchestra was also in residence at the Beethovenfest in Bonn for four days in September 2012, and performed in a special concert in honour of Queen Beatrix, attended by Her Majesty, while touring in the Netherlands to mark 400 years of diplomatic relations with Turkey.
This year the group will tour Portugal and Spain from July 29 until August 8. The impressive repertoire includes works by Verdi, Schubert, Tchaikovsky and Bartók.
Inevitably, funding is an endless uphill struggle and depends entirely on private donations. But nothing better encapsulates Turkey's future. To help this project go from strength to strength, we feel sure that many Cornucopia readers would like to join the Friends of TGFO (TGFO Dostları).
To learn more about the performances and purchase tickets, visit the orchestra's website. To join the Friends of the TGFO, contact the project coordinator, Emre Haraççıoğlu.