If you want to get up close and personal with Turkey's Mediterranean coast there's no better way to do so than by boat. You can stay in a town such as Fethiye, Kaş, Kalkan or Antalya, and take daily boat trips or, better still, hire your own boat and spend a few uninterrupted days out on the water. This is what we did last weekend and it was nothing short of lush.
Turkey's western Mediterranean coast, stretching between Marmaris and Antalya, was once the domain of the kings of Lydia. Nicholas Courtney tells the story of Francis Beaufort's epic 1812 survey of this coastline – which not only put it on the map but sparked a treasure hunt of its classical sites – in Cornucopia 27. It is undoubtedly 'one of the most dramatic of coastlines', as Barnaby Rogers wrote (in Cornucopia 10) when he set off in search of the enchantment described by Freya Stark in her seminal work, The Lycian Shore. 'There are not so many places left where magic reigns without interruption,' she wrote, 'and of all those I know, the coast of Lycia was the most magical.' Sailing around only a fraction of its stunning bays, I concur. There is something mystical in its beauty.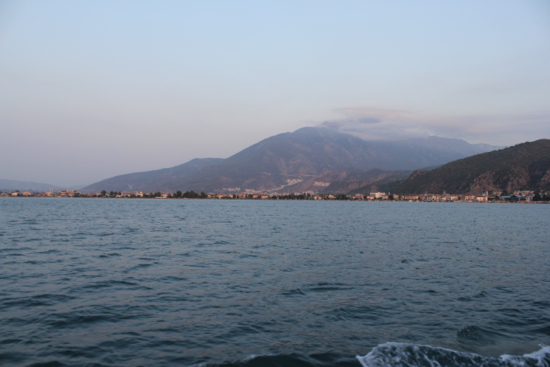 Sailing away from Fethiye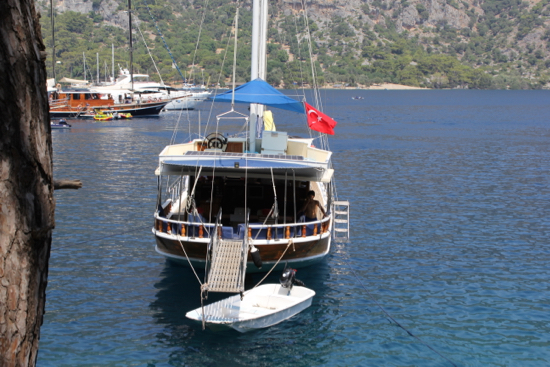 Our boat, Lilac, rented from Lila Yachting, was very comfortable for six people. The crew, a captain, a cook and another young boy who did odd jobs, were competent. Though the captain was a bit of a grump, the two boys were friendly, respectful and helpful. The chef cooked some of the best food I have tasted in Turkey. His father owns a kebab joint in Gaziantep so cooking is obviously in his blood.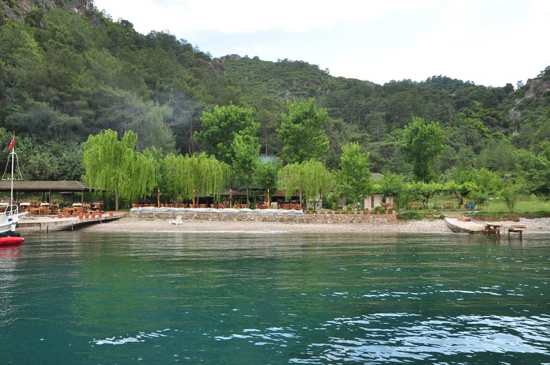 Turunç Pınarı (photo: Turunç Pınarı Restaurant)
We set off late Saturday afternoon from Fethiye's port. The bright sunshine was gone and the light breeze was most welcome after a scorching hot day. After about 30 minutes we arrived at Turunç Pınarı, a place well-known to sea travellers. The 6,000-square-metre bay is owned by an elderly couple, Osman and Tülay, who also own and run the restaurant and guesthouse on the shore. The natural beauty is almost overwhelming: the mountains are covered in lush greenery, the water is tranquil and crystal clear, the gentle music coming from the restaurant is soothing. After a long swim it was almost time for dinner. That evening the chef, Can, prepared a simple meal of perfectly grilled levrek (sea bass), deniz börülcesi salatası (seaweed salad), fasulye (beans) in a Gaziantep-style spicy sauce, and a few other delicious mezes. We washed it down with Aegean rosé and nibbled on fruit for dessert.
The next morning we visited a tiny bay nearby for a swim and breakfast. We saw the goat farmer on shore get into his fishing boat and set off, presumably for supplies from a bigger town. Goats in an array of colours – white, brown, black – and sizes stared at us as they chewed their breakfast and we enjoyed ours.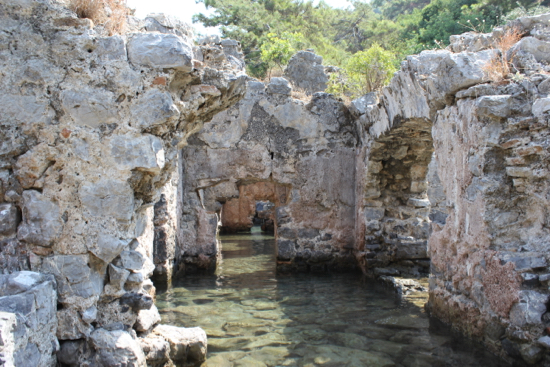 Then it was onto the main event: we were sailing to Manastir (Cleopatra) Koyu, where swimming in the waters could make you look five years younger, or so our 17-year old and 22-year old crew boys (for whom ageing is clearly not a concern) attested. The setting, as these photos show, is nothing short of exquisite. The air is heady with the fragrance of pines, and the see-through water covers Greek monastery ruins. An hour's hike inland takes you to the ruins of ancient Lydae, featuring tombs, agora foundations, statue remnants, bits of Corinthian columns and inscribed pedestals from the Roman and Byzantine eras. It is rarely visited and would have been worth seeing, but alas we were in our bathing suits and too concerned with swimming and relaxing.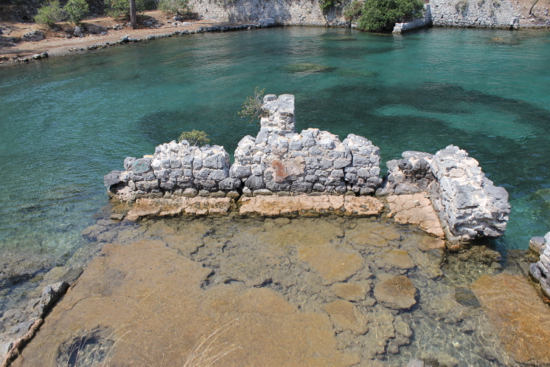 The bay is nicknamed 'Cleopatra' because legend has it that she visited twice, in 46 and 32 BC – the latter occasion on her honeymoon with Marc Antony – and she is said to have bathed in these waters. The fine sand on the small beach is unique to Turkey: Marc Antony is said to have brought it from Africa, especially for his bride – a nice story, true or not.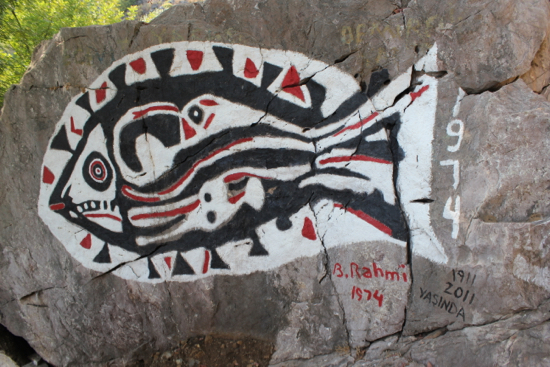 In the afternoon we visited a bay particularly exciting to modern-art lovers like me. The Bedri Rahmi Koyu is named after the important 20th-century artist Bedri Rahmi Eyüboğlu (1911–75). It is named after him because of the above fish painting, which he did in 1974, one year before his death. As we were looking at the black, red and white tribal-inspired work, my Turkish friend searched for its story online, and apparently Eyüboğlu visited this bay (one of the first to experience the 'Blue Voyage') with a bunch of friends – including intellectuals such as his brother Selahattin Eyüboğlu and the author and archaeologist Azra Erhat, who all went on to write about the beauty of these bays. Seeing a large, bare rock that seemed to be calling out his name, Eyüboğlu painted a piece that at first looks like a giant fish, but which is said on closer inspection to reveal six other animals. I could only spot four.
Besides his paintings, the artist left an extraordinary body of other work – ceramics, calligraphy, glass, mosaics, sculptures and even poetry – and in some of the most unusual places. The real attraction of the Özlem Et butcher's shop in Karaköy Square, for example, is not the good-quality meat but two works of art by Eyüboğlu.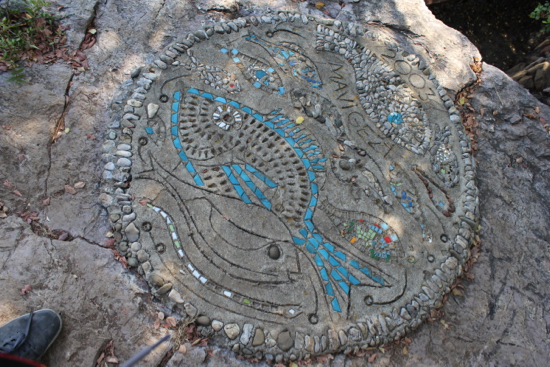 There's also a 2003 version by 'Mavi Gezi' on the next rock…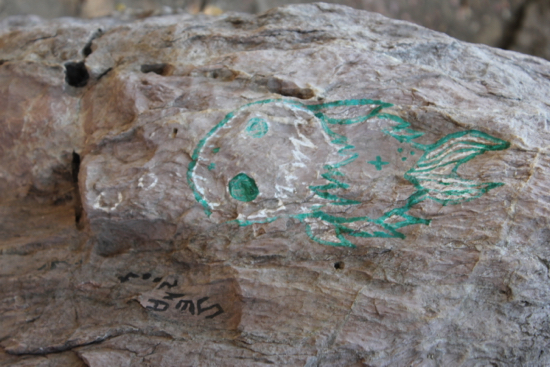 …and a 2004 version by the contemporary artist Sena.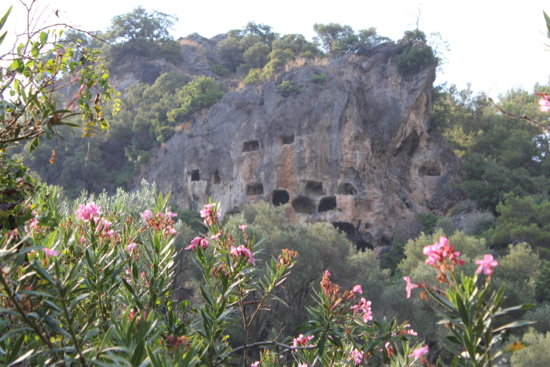 Nearby there are Lycian remnants. From the boat we could see an embroidered gate and pigeon-hole tombs carved into the face of the bedrock (which date from the 4th to 5th centuries BC and belong to the ancient city of Crya, located up on the hill), as shown above. Others we had to search for.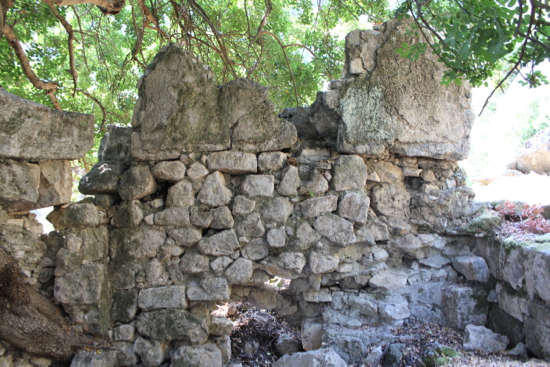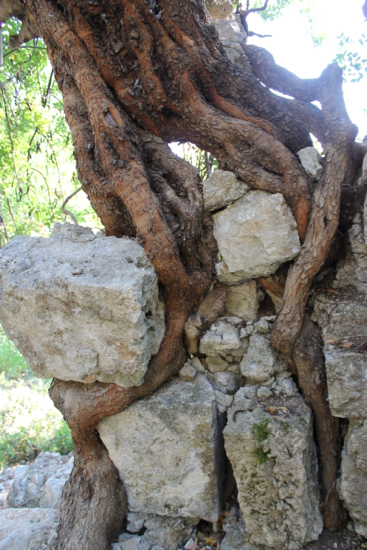 A few minutes inland we came across some more ruins, including the one above with trees growing out of it, calling to mind Angkor Wat.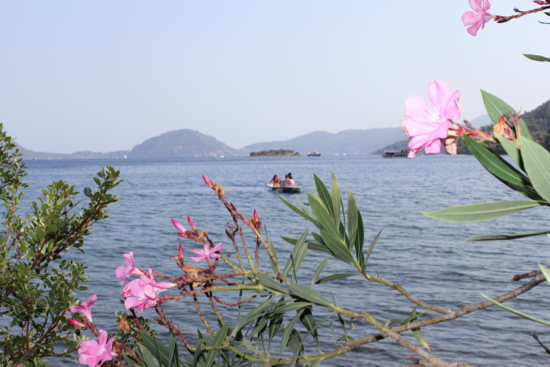 The landscape here is gorgeous, not only because of the staggering mountains peppered with Lycian ruins, but also because of the bold flowers in dizzying arrays of pink and magenta.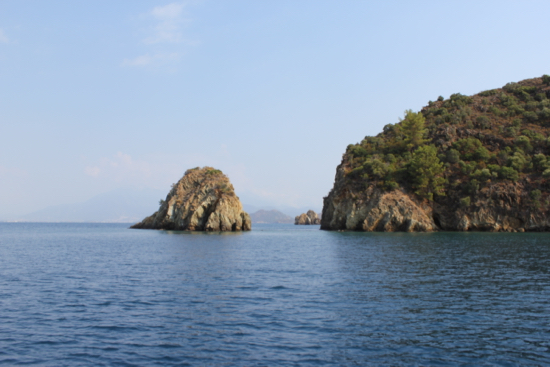 On the final day we visited an underwhelming bay, spending way too long there for anyone's liking (the captain had a toothache), before sailing on to Katrancı Adası (above), the wildest place we visited, which though only an hour from Fethiye feels remote and removed from the other bays. As well as more goats on the hillside we spotted a huge turtle, and a throng of wasps joined us for late afternoon cocktails. Wild.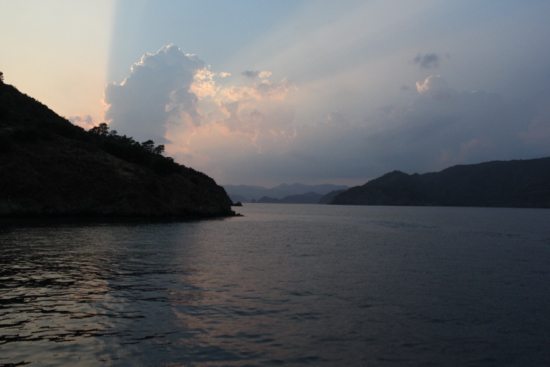 The sunset that day was spectacular, casting an ethereal glow on the mountains and the water, and painting the perfect picture of the Lycian coast's mystical beauty.
All photos, unless otherwise stated, are by Daniel Salinas Conejeros.