Once in a while a curator with instinct and particular passion hits a mark. In Vinyl Icons: Persian Pop and Turkish Psychedelia, staged in Newcastle, in the heart of Britain's northeast, Sara Makari-Aghdam uses the work of five contemporary artists to construct a celebration and reflection of a permissive past time, the 1960s and '70s, in Iran and Turkey.
The work in her Newcastle show is visually intoxicating, but laced with intellect and wit and a big dollop of retro-pop nostalgia. The starting point is a collection of vintage Turkish and Iranian record covers and magazines, some from her own collection, others acquired on foraging trips to Paris, Istanbul and Izmir.
In the first room of a well-known local art space, VANE, a Turkish album by Edip Akbayram with psychedelic cover goes corner to corner with the international classic, Pink Floyd's Dark side of the Moon. These often racy covers – the Turks went in for full and frank Western style calendar girls, with an Orientalist tinge, the Iranians were more cautious. They include this gloriously designed Cem Karaca single (above).
Installation view. Photo: Cindy Zhang, Chia-Yin Chan
'I love graphics, and I like the sound of the records, with instrumental as well as vocal, that they mix the traditional with what would have been the contemporary. There's so much gossip around these pop singers. Although the covers look Orientalist (most prominently, with sultry belly-dancers) it was actually what they liked,' she said.
Makari worked as a student curator at the Design Museum in London for part of her master's degree. Raised and based in Newcastle, of Azeri-Iranian, Persian and English descent, she keeps a wry eye on Western notions of the exotic.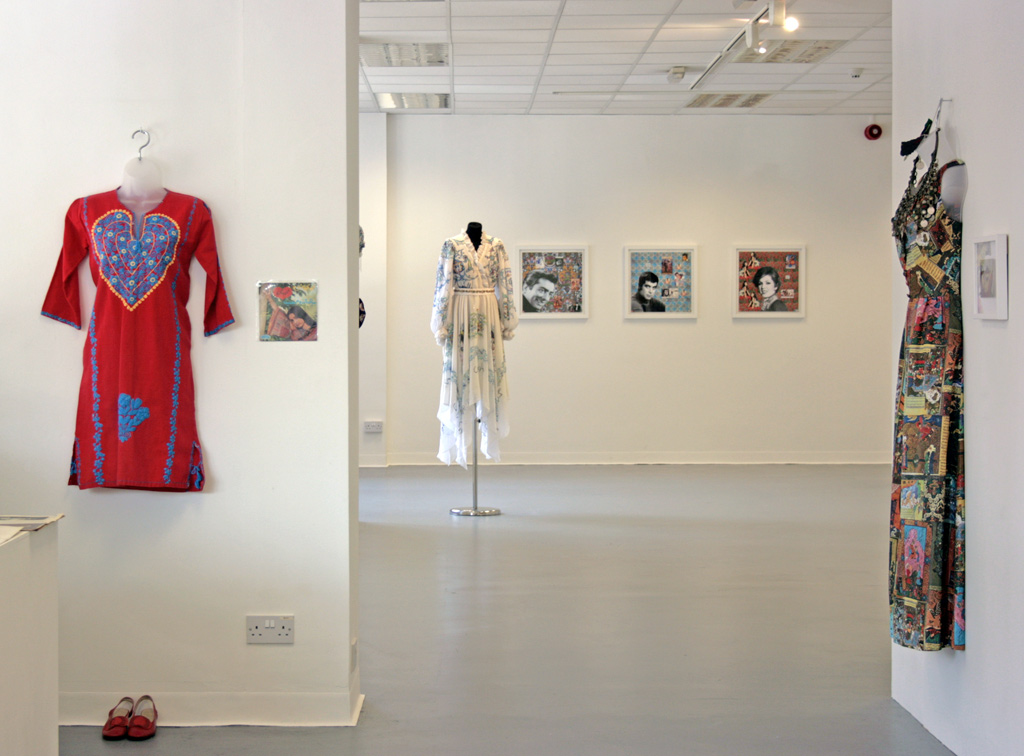 Installation view. Photo: Cindy Zhang, Chia-Yin Chan
Taking a leaf from the Britart artist Tracey Emin, Makari-Aghdam projects her own personality and obsessions into the show, though as curator rather than artist. It includes several dresses, hand-painted or printed in variations of Eastern styles, made to fit her (formerly) 20-inch waist. To one of her dresses she has affixed a chintzy camel broach by Christian Dior, 'like a personal joke about exoticism'.
Images of the legendary Iranian singer Googoosh, Faegheh Atashin, are threaded through the exhibits. For the contemporary work, Makari selected five prominent Iranian artists, mostly now overseas. Photomontages by Afsoon feature Turkish singer Emel Sayın, hugely popular in Iran, and Iran's Mahasti. The artist also constructed an original wall collage for the show.
The artist Malekeh Nayiny takes old black and white family photographs and transforms them into 'reinvented digital chromogenic prints', colourful kitsch with shades of Andy Warhol and the 1950s look. The controversial Taravat Talepasand delivered a striking pair of gold lacquered boots,painted with the skills of an Isfahan miniature painter.
This show, due to close on June 4, took a year of work and cries out for a second outing. Makari-Aghdam says she has been approached with interest by a curator at the Pera Museum; for an Istanbul exhibition she would look to recruit Turkish artists, and with luck recreate this deeply intriguing show to a similar standard.
Like several of her artists, Makari is of the younger post-Revolution generation, and she sadly has yet to visit Iran. Her Azeri father moved to Britain in the mid 1970s to train as an engineer. 'We all seem to be obsessed with an era, an image of something, whether it's real or something of nostalgia with rose-tinted glasses,' she says. 'It makes for a really interesting story anyway.'