My visit to the Vitali Hakko Creative Industries Library coincided with the last truly cold day of spring – a frigid wind whipped off the Bosphorus, pushing the rain sideways such that no umbrella could prevent it from stinging my face. The normally suffocating humidity of the metro bus came as a welcome reprieve. Disembarking at Altunizade, perched high above Üsküdar, I cursed my stubborn devotion to public transport and began a chilly walk through underpasses, around construction zones and alongside zooming cars.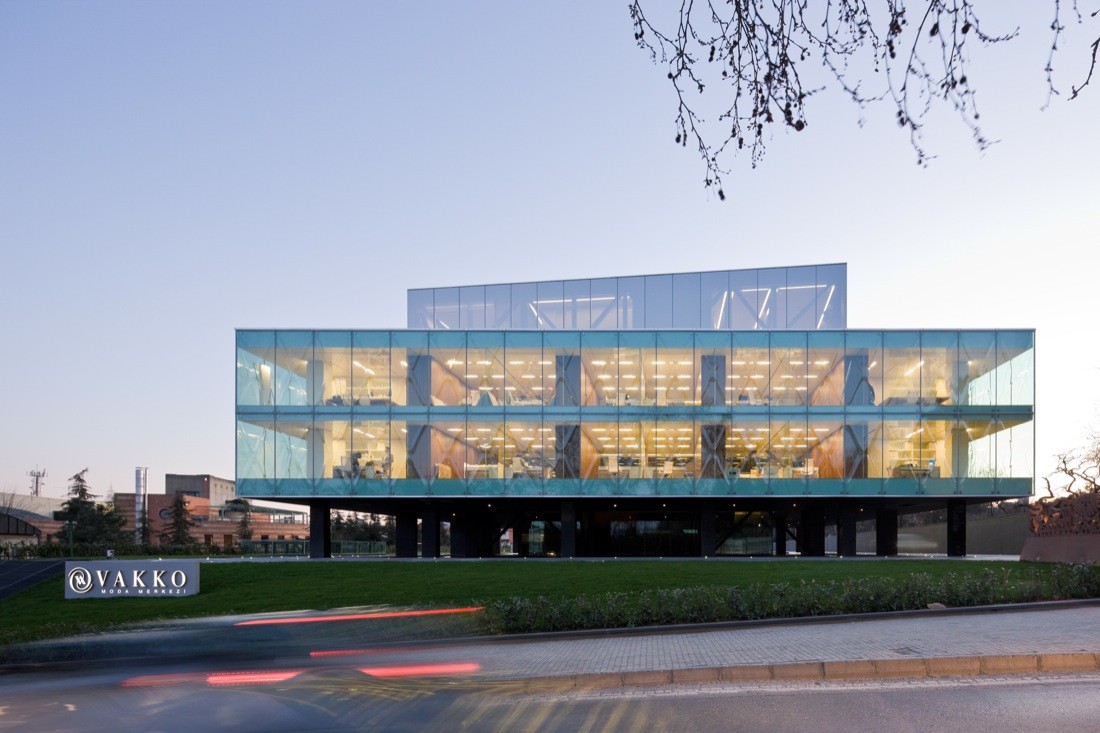 Copyright: Iwan Baan
But then, as I rounded a corner onto another busy street in Nakkaştepe, the translucent glass walls of the Vakko Fashion Center (which also functions as the headquarters of Power Media, Vakko's sister company) greeted me like a geometric beacon. A warm yellow glow radiated through the ultra-thin sheath of glass covering the exterior, which you could almost mistake for cling film if it weren't for the structural X 'slumped' into each pane. Inside, the mirror-glass of the lobby's sloping ceiling reflected the rain-stained black stone walkway and the ring of water circling the outside of the building like a small moat – I felt immersed in the elements while remaining nice and dry. The offices located one floor above were fashionably understated; in each room a single painting adorned one of the tan-coloured wooden walls, illuminated by floor-to-ceiling windows.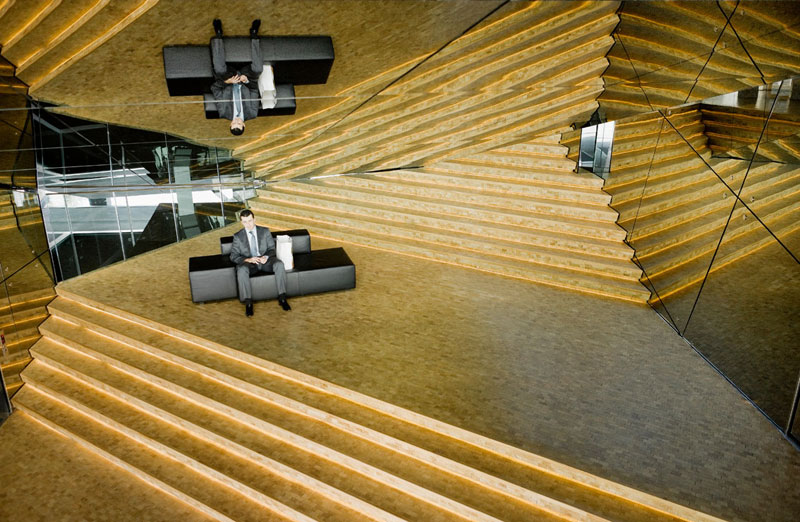 The lobby of the building has a kaleidoscopic effect (Source: New York Architects)
My ultimate destination, however, was decidedly more subterranean. The Vitali Hakko Creative Industries Library is on the basement floor of this state-of-the-art structure, sharing the space with an auditorium, a small museum and a plush cafeteria. Truth be told, it was soothing to be underground on such a horrid day – as soon as I stepped into the library I was reminded of Mole's cosy burrow in The Wind in the Willows.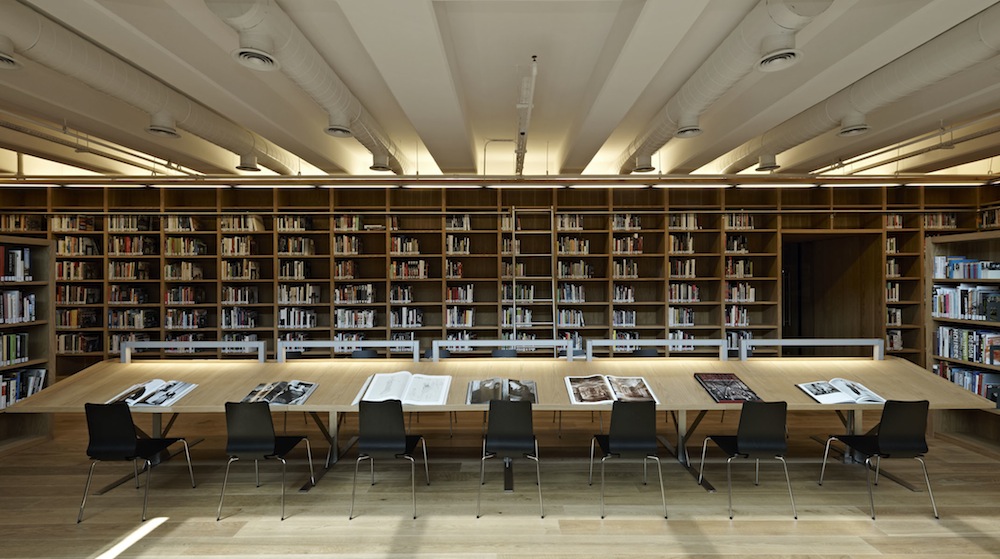 A long, slanted table sits in the centre of the library (Source: Vakko)
The curator of the library, Begüm Başoğlu, showed me around the book-lined lair. The library, a single rectangular room, has bookshelves covering each wall and a long, slanted reading table in the centre flanked at each end by two free-standing bookcases. What struck me as I padded around the perimeter, pulling out books, was the breadth of material available. With titles ranging from Sephardi Jews in the Ottoman Empire to Men in Skirts and How To Read Contemporary Art, the collection is not confined to fashion, though that may be the focus. Equal shelf space is dedicated to books on anthropology, interior design, architecture, contemporary art and photography, among other subjects.
Such a cultivated and varied collection is a fitting tribute to Vitali Hakko. This is the man who not only grew a small millinery shop called Şen Şapka ('Merry Hats') into one of the biggest fashion brands in Turkey, reshaping the retail-business landscape in Turkey along the way, but was also insatiably curious. 'He was immersed in culture and the arts, maintaining friendships with many artists,' explained Başoğlu, whose former role as fashion editor led her to work closely with Hakko during the last two years of his life. 'And he always wanted to know more… he felt that he could learn something from everyone.'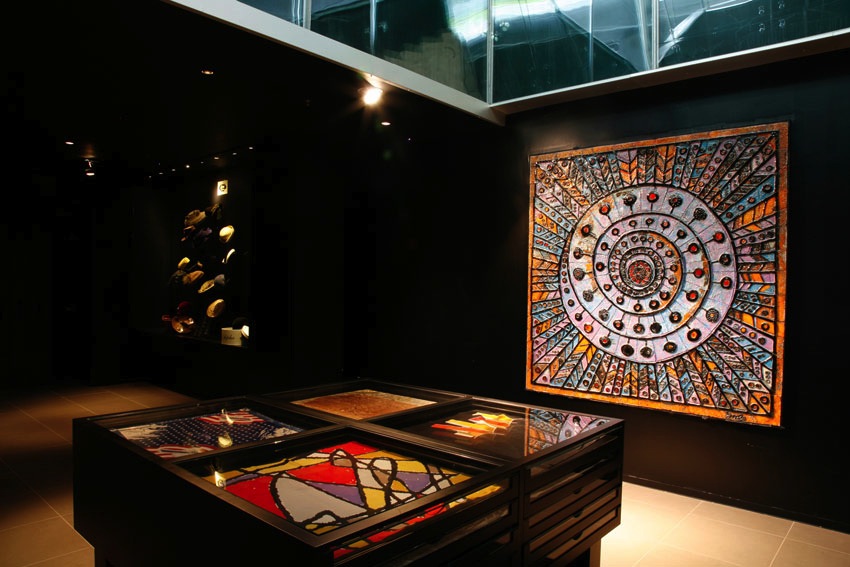 A work by Jale Yılmabaşar that is installed in the basement of the building (Source: Dilek Aydıncıoğlu)
To understand Hakko's passion for the arts, look no further than the Vakko factory, built in Merter in the 1960s. To the incredulity of many at the time, Hakko had artwork installed throughout the building – which housed both the factory and management offices – based on his belief that fashion and art must always be conjoined, as they had been over the course of history. When Vakko outgrew its space in Merter and it was decided to separate production and management into different buildings, some of those pieces were removed and installed at the Fashion Center, which was designed by the New York firm REX and opened in 2010. As we toured the building, Başoğlu pointed out works by Burhan Doğançay, Jale Yılmabaşar, Sabri Berkel and Bedri Rahmi Eyüboğlu.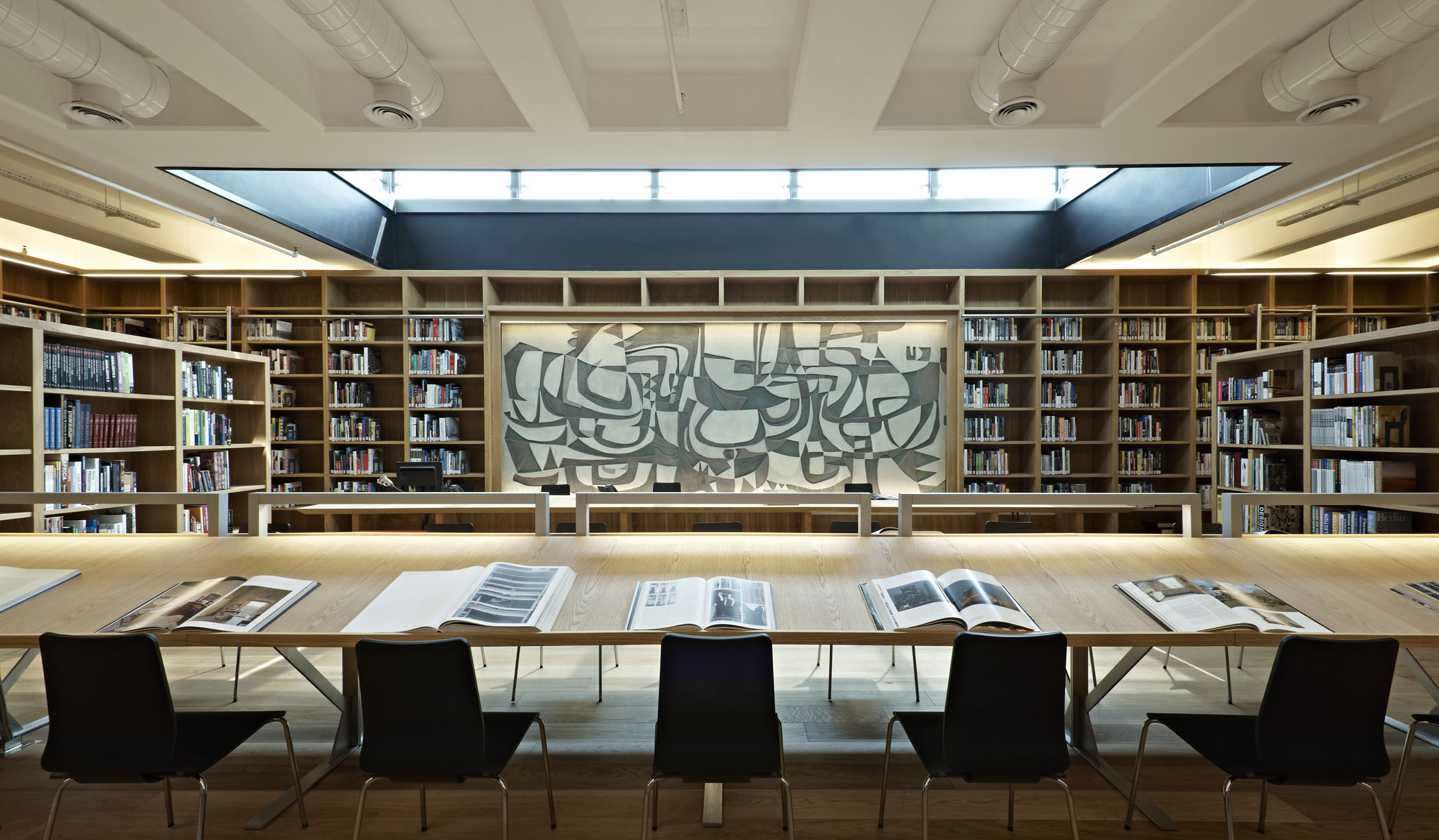 Nevzat Yüzbaşıoğlu's work 'Sessiz Devinim' is the showpiece of the library (Source: Vakko)
In the centre of the library itself is a large work by Nevzat Yüzbaşıoğlu titled 'Sessiz Devinim' ('Silent Motion'). The non-figurative abstract piece, its swirls in shades of tan and brown lit by the skylight located directly above, is the focal point of the room. As I sat reading, it provided a nice spot to rest my eyes while contemplating the book I had pulled off the shelves, Kilim: The Complete Guide.
Having lived in Istanbul for over four years, I had forgotten the joy of a peaceful, quiet library. 'In Turkey, people don't use libraries very often, unless they're in school,' said Başoğlu. 'It's difficult to access resources like these. And for free? Impossible! So the family decided to build a library in honour of Mr Hakko after he passed away in 2007, especially since he had been so supportive of education during his life.' Başoğlu, who had always harboured a fascination with books and publishing (and is now a published author), was tasked with building a collection from scratch. Fashion may be the focus, but Başoğlu wanted to incorporate a wide range of creative subjects into the library. 'We wanted to serve students pursuing their PhDs and the housewife who is looking to redecorate her house… I think both groups can benefit from going outside their fields to find inspiration. The library allows them to explore and learn from other disciplines.'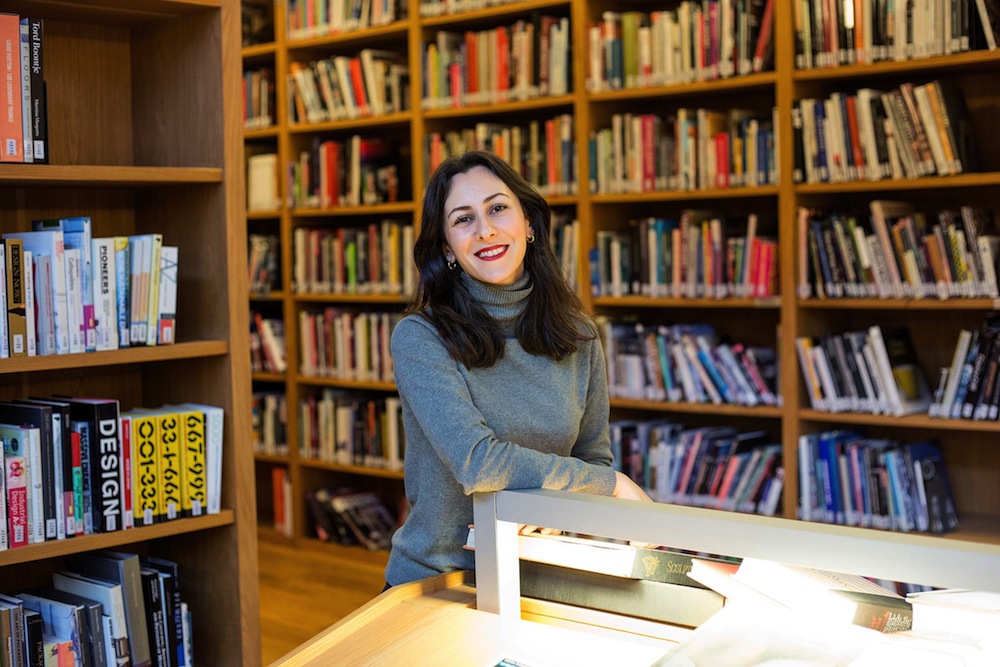 Begüm Başoğlu, the curator of the library (Source: Vakko)
Since opening in 2012, the library has served patrons of all sorts. Yet when I took an informal survey of friends and acquaintances, not many had heard of it. 'We rely on word of mouth,' explained Başoğlu. 'We're after quality, not quantity.' It's true that the library – despite having over 15,000 volumes – is compact, which is why visiting is by appointment only. 'Sometimes we have 30 students in the library… I wouldn't want someone to drop by on that day and be disappointed with their experience, especially if they made an effort to get here. It's not too difficult to write an e-mail, and visitors don't have to provide any reason for why they want to come.'
When the time to leave, I didn't want to go – I felt like I had just skimmed the surface, both of the book I was reading and of the library itself. While it's not possible to check out books, this is ultimately a minor inconvenience. Başoğlu put it best: 'There's a metaphor I like for libraries, it says that you come to the library with your container. The size is totally up to you… you can come with a glass or a truck, but there is always enough to fill it up.' Next time I'll be sure to come with a bigger vessel, as my glass was overflowing.
The Vitali Hakko Creative Industries Library is open between 10.00 and 17.30 on weekdays. Please call +90 216 554 08 54 or e-mail kutuphane@vakko.com.tr to make an appointment. Click here to search the collection before visiting.
Visit REX's website to learn more about the process of designing and building this innovative building.