Two very rewarding exhibitions are currently on at the Pera Museum, both showing works from a master of print. One is a household name – Andy Warhol – and the other is the lesser-known but very talented British artist, Stephen Chambers. Another thing linking the artists, says the museum's general manager, M Özalp Birol, is the fact that they are, first and foremost, painters.
The top two floors of the museum have been transformed into a Technicolor wonderland for Andy Warhol's first comprehensive exhibition in Turkey. Not everyone may know that Warhol's family was Slovakian (his real surname is Warhola) and these works come on loan from the Zoya Museum in Slovakia, which holds one of the most important Andy Warhol collections in Europe.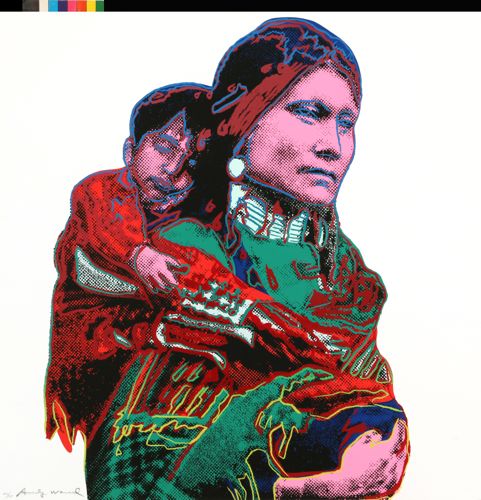 Andy Warhol, 'Cowboys and Indians',
1986, portfolio of ten works, Ed. 120/250, screenprint on paper, 91.4 x 91.4 cm
Though you will see iconic Warhol works such as 'Campbell's Soup' in this exhibition, what are more interesting are his lesser-seen silkscreen series and drawings, focusing on subjects as far reaching and diverse as flowers, endangered species, Jews of the 21st century and cowboys and Indians. Warhol, of course, was obsessed with celebrity culture and imagery, and in the mid-1980s became interested in the stories and legends surrounding cowboys and Indians. Taking images of politicians and actors and putting them in cowboy or Indian garb, Warhol questions how the idea of the North American west has impacted on our perceptions of it.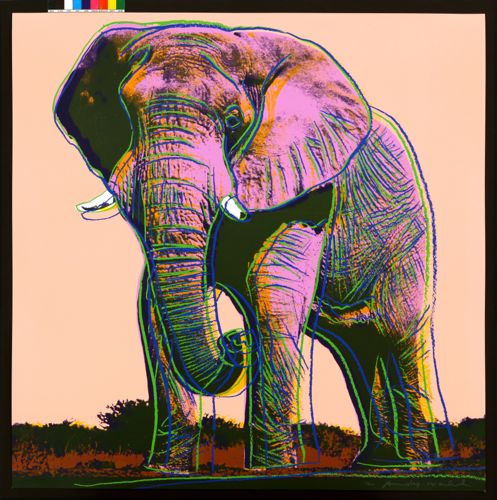 Andy Warhol, 'Endangered Species',
1983, portfolio of ten works, Ed. 113/150, screenprint on paper, 96.5 x 96.5 cm
In Endangered Species, Warhol depicts 10 endangered animals from around the world. This series was commissioned in 1983 by Ronald and Frayda Feldman, gallery owners and political and environmental activists, with the idea emerging after conversations between them and Warhol about ecological issues.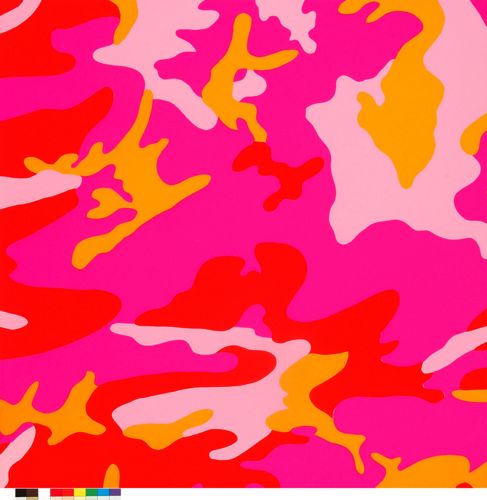 Andy Warhol, 'Camouflage', 1987, portfolio of eight works, Ed. 6/80, screenprint on paper, 96.5 x 96.5 cm
Another group of lesser-known works is the artist's 1986 Camouflage series. The constantly repeating patterns of military camouflage design appealed to Warhol's interest in Abstract Expressionism. Rather than sticking to khaki greens and earthy browns, however, the king of colour employed bright yellows, reds, pinks, purples and blues, in order to remove much of the military symbolism while retaining the idea of hiding.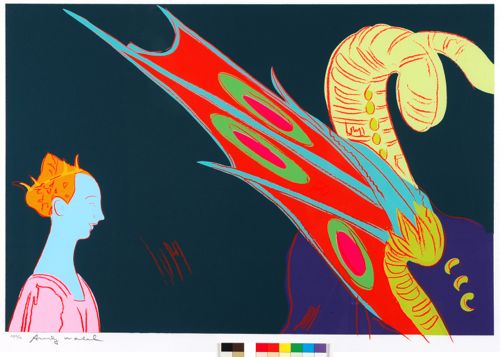 Andy Warhol, 'Details of Renaissance Paintings (Paolo Uccello, St. George and the Dragon, 1460)', 1984, portfolio of four works, AP 6/12, screenprint on paper, 81.3 x 111.8 cm
In another homage to painting, Warhol gives Renaissance paintings a Pop twist. The above is his take on Paolo Uccello's 'Saint George and the Dragon', 1470, held in the collections of London's National Gallery. Warhol's version has a far more youthful appeal.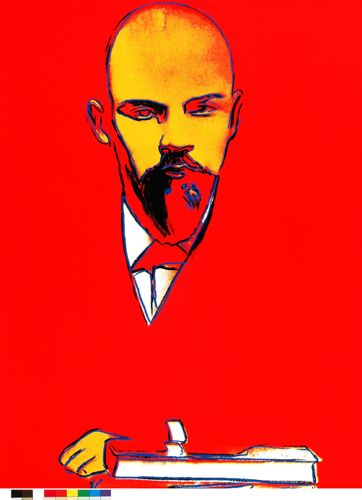 Andy Warhol, 'Red Lenin',
1987, screenprint on paper, AP 12/24
The other major part of the exhibition pays tribute to Warhol's famous portraits of important figures. Besides the Marilyns and the Mick Jaggers there are works showing historical figures. The screenprint above shows his take on Lenin, against a backdrop of bloody, Communist red. Always interested in the cultural and political milieu of his time, Warhol produced this work in 1987, two years before the fall of Communism in Russia. Were he alive today, says James Warhola, Andy's nephew, he would have been printing faces of reality TV stars: the Kardashians and Big Brother contestants.
On the third floor is something in a very different light: an exhibition of the work of the British artist, Stephen Chambers. Curated by Edith Devaney, curator of contemporary projects at the Royal Academy of Arts, London, this show presents a survey of Chambers's paintings and graphic works.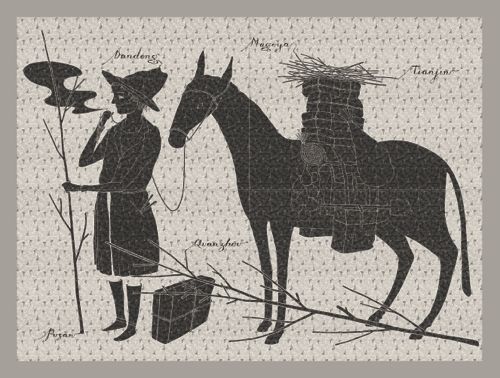 Stephen Chambers 'The Big Country, detail China', 2012, screenprint on paper, 78 individual panels, each 56x76 cm, private Collection, London, photo: Peter Abraham
In the centre of the exhibition is The Big Country, an ambitious work comprised of 78 sheets of printed paper of uniform size – one of the largest prints ever produced. The work exemplifies the artist's experimental approach to printmaking, demonstrating its value as an arena in which he can develop ideas, take risks and push artistic boundaries. Inspired by William Wyler's 1958 western of the same name, the work is an allusion to the vastness of the American midwest and the experience of immigrants and frontiersmen whose vision of a better life inspired them to migrate to the States. It is really worth spending time with this piece, which takes up an entire wall. Its attention to detail and ability to tell myriad stories within one encompassing narrative is astounding.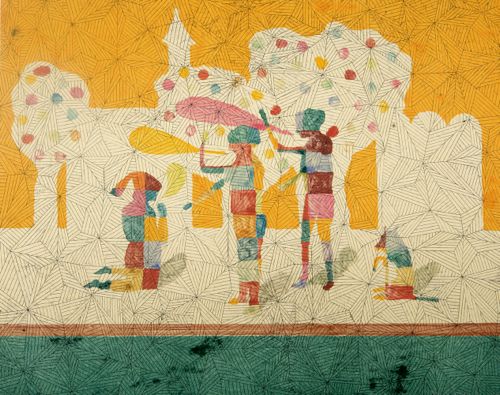 Stephen Chambers, 'The Martyrdom of St Ursula 1 (Venice Prints)', 2005, monotype on paper, 39 x 44 cm, courtesy of Flowers Gallery and Robert Heller Collection, London
Two things impress in this exhibition: Chambers's brilliant use of colour – just like Warhol a floor above (though Chambers' works are far more muted than Warhol's ultra-vivid pieces); and his portrayal of both wacky and everyday characters. There are also homages to different paintings – for example, the Blake Paintings pay tribute to the Gates of Paradise series by the 18th-19th-century English painter and printmaker William Blake. Warhol likewise channels different periods in painting, adding another connection between these two exhibitions.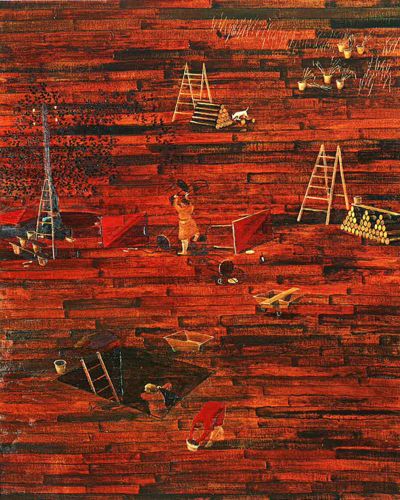 Stephen Chambers, 'Land of Staccato'
1989, oil on canvas,
142 x 117 cm, private collection, London
One particularly colourful and wonderfully detailed work is the one above, from an earlier period in Chambers's career. Here the use of red as the colour of the both land and the building materials is evocative, and the precise depiction of workers makes for a rich and satisfying canvas.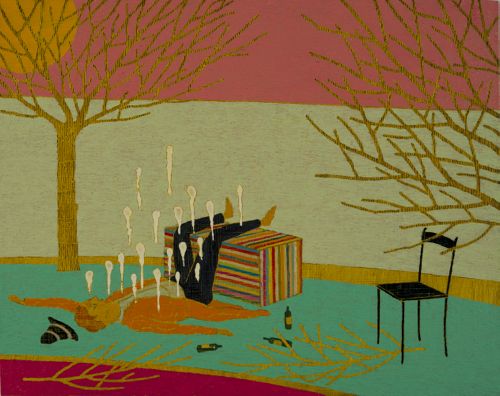 Stephen Chambers, 'Flemish Proverbs' (To play dice at the wrong time, 
to keep drinking when he is drunk, impoverishes man's name and makes him stink), 2012, oil on board
 12 individual panels, each 39 x 49 cm, private collection, photo: FS Photography
There is also a new series, produced by Chambers last year especially for this exhibition. In Flemish Proverbs, Chambers was inspired by the Twelve Flemish Proverbs series by the 16th-century Dutch painter Pieter Brueghel. In addition to the economy of style in Brueghel's works, Chambers was also struck by his depictions of the human experience in these panels. These timeless proverbs show human vanity, frailty and greed, and as Chambers says 'reveal eternal truths about human behaviour'.
The exhibitions run until July 20, 2014.
Main image shows Stephen Chambers, 'Little Boy Found', 2007, oil on gessoed panel, 34 x 44 cm, private collection, Photo: Peter Abrahams