I'm embarassed to admit that I often find video installations tiresome. Call it impatience or ineptitude, but I rarely have it in me to sit and digest moving images in an exhibition setting. So I was suprised to find myself totally absorbed in two video works currently on display in Istanbul – to the point that I didn't want to leave. The first is Tea Time, a new installation by the prominent video artist Ali Kazma at Galeri Nev Istanbul on İstiklâl Caddesi. The second is Luys i Luso: A Cinematic Journey through Armenian Music, an audio-visual installation at DEPO, located a short walk down the hill from Galeri Nev in the Tophane neighbourhood.
Ali Kazma: Tea Time at Galeri Nev Istanbul, Galatasaray

The notion of time is a common thread in Ali Kazma's work, and his new synchronized triptych video is no exception. Filmed inside a Paşabahçe glass factory, where 300,000 tea glasses are produced daily, the video is broken up into sections according to different stages of production. Some are named after the number of revolutions per minute at which each machine operates, and their related rhythms accompany the images like an orchestrated score. This dynamic audio-visual language transforms the factory into an organism, wherein the beats of the machines are not unlike heartbeats and breaths. Until April 29
Luys i Luso: A Cinematic Journey through Armenian Music at DEPO, Tophane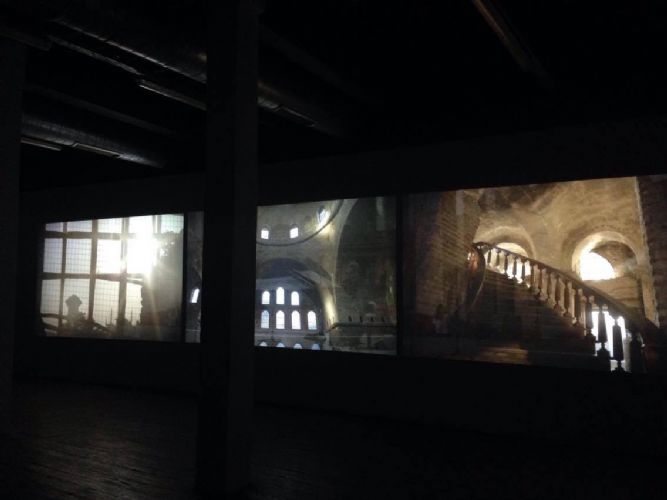 Luys i Luso: A Cinematic Journey through Armenian Music is another audio-visual feast, although more expansive in nature than Tea Time. The work is an extension of the Luys i Luso project, spearheaded by the Armenian jazz pianist Tigran Hamasyan. Known for his genre shuffling, Hamasyan re-imagined and rearranged sacred Armenian music from the 5th to the 20th centuries for piano and voices, and then toured Armenia and Turkey with the Yerevan State Chamber Choir in 2015, giving concerts at ancient sites.
The 35-minute, three-channel video, shot by Emily Mkrtichian and Alex Igidbashian with sound mixing by Studio Ondé, features footage of their musicial pilgrimage accompanied by Hamasyan's seductive compositions. The music, an intriguing meld of church music and contemporary jazz, can turn on a sixpence from haunting to playful, breathing life into the landscapes and sites that flash by on screen. Until April 30