This weekend we reflect on three spectacular solo shows. All are located in and around Beyoğlu (two in the same building – Mısır Apartment, on İstiklâl Caddesi). An Astronomical Determination of the Distance Between Two Cities, Heba Y Amin's second solo show at Galeri Zilberman, ends on Saturday, and Mirror, Sarkis's exhibition of new and old works at Dirimart Dolapdere, on Sunday, so there's no time to waste. The Doors of Perception, Maro Michalakakos's exhibition at Galeri Nev Istanbul, runs until Sunday, March 4.
Mirror at Dirimat Dolapdere, Beyoğlu
Sarkis, 'Vitraux Ateliers n°1', 2016, stained glass, lead, steel and LED, 37.5 x 114 x 11.5 cm (Copyright © Sarkis)
A prominent figure on the global art scene, Sarkis brings his conceptual art to Dirimart's large, industrial gallery in Dolapdere. Most recently he made waves as the first Armenian-origin artist to represent Turkey at the 2015 Venice Bienniale, where his colourful neon rainbows alluded to the big bang that brought about the birth of our universe. This exhibition, co-curated by Ceren Erdem, incorporates his signature rainbows, albeit in gold, and neon works that again explore the raw power of light. Equally compelling, if not more so, are the artist's reflections on the past, such as Bismarck's warship covered in lipstick (top image), and his fragmentation of the present through the process of transforming photographs into stained glass. Until February 19
Sarkis will give a closing talk at the gallery on Sunday, February 19, at 3pm. Don't miss a rare chance to interact with this accomplished artist. The lecture will be in Turkish.
An Astronomical Determination of the Distance Between Two Cities at Galeri Zilberman, Galatasaray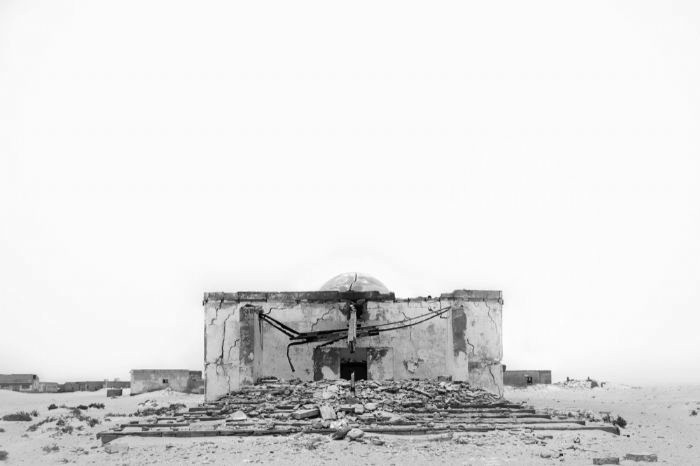 Heba Y Amin, 'The Act of Remembering, Spanish Sahara VIII', black and white archival print, 50 x 75 cm
While on a five-month journey across West Africa to map the trade routes described in Al-Bakri's 11th-century Book of Roads and Kingdoms, the artist Heba Y Amin visited La Agüera, a former Spanish colonial outpost buried in the sand dunes of the Ras Nouadhibou peninsula. This Saharan ghost town is the subject of her second exhibition at Galeri Zilberman. Her stark black and white photographs capture crumbling structures being swallowed by sand and devoid of human life. The symmetry in these images of decay is echoed in the two geometric metal sculptures on display. Until February 18
The Doors of Perception at Galeri Nev Istanbul, Galatasaray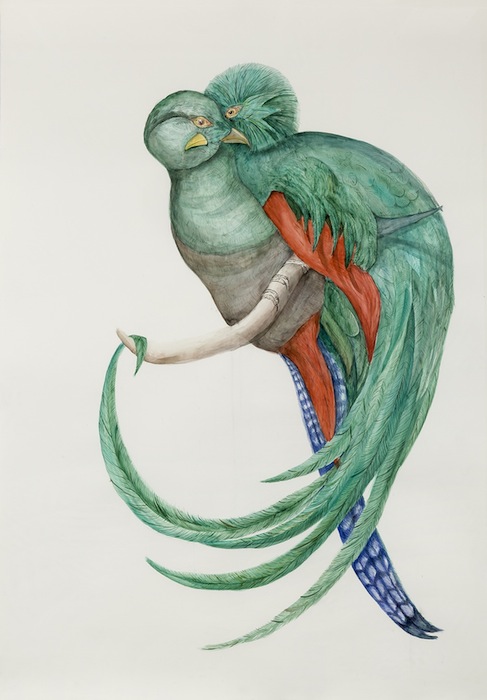 Maro Michalakakos, 'Head Over Heels', 2017, watercolour on paper, 220 x 150 cm
This may be Maro Michalakakos's first solo show in Istanbul, but many of the city's residents are already familiar with her work. The artist's watercolours of disfigured birds featured prominently in the 2016 exhibition Till It's Gone at Istanbul Modern. A painting in this series is on view at Galeri Nev Istanbul – the image of two birds nuzzling looks beautiful at first glance, but the notion of impossibility eventually reveals itself.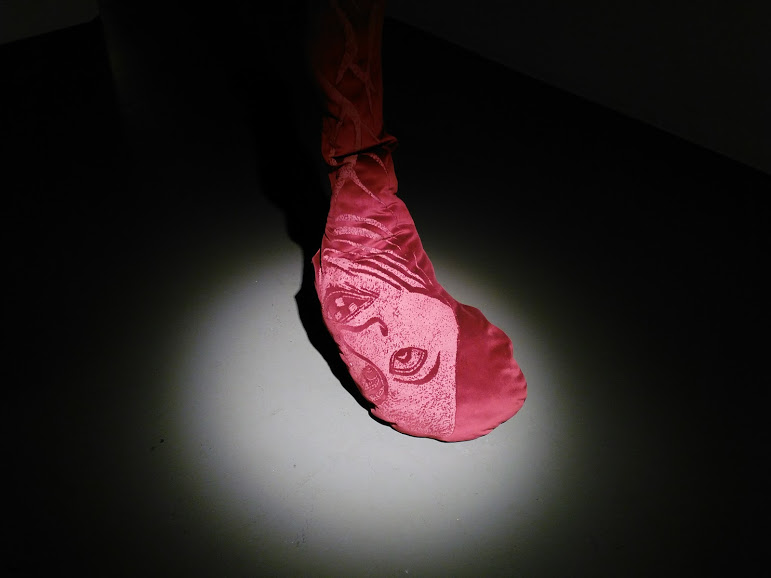 Maro Michalakakos, 'Untitled', red velvet, variable dimensions
Michalakakos is best known for her velvet scraping technique, which features heavily in this exhibition. Using a scalpel, she creates an inverted sculpture. The result is uncanny: sensuality marred by savageness.
We suggest saving the two exhibitions in Mısır Apartment for last. Afterwards, you can unwind at Mandabatmaz, a humble café in an alley off İstiklâl Caddesi serving the best Turkish coffee in town.