When the French writer Théophile Gautier first arrived in Istanbul in the mid-19th century he chose a large pit in the middle of the street as his reference point. What was so memorable about this pit? At the bottom of it, 'a large, aggressive dog was suckling her pups in complete ease, with utter disregard for the passers by and horses'.
Those were the days when street dogs reigned, or so goes the narrative put forth by The Four-Legged Municipality, an archival exhibition at the Istanbul Research Institute in Tepebaşı. Using photographs, postcards, extracts from travel journals and other media from the 19th and early-20th centuries, the exhibition tells how the peaceful coexistence between street dogs and Istanbullus was disrupted by attempts at modernisation.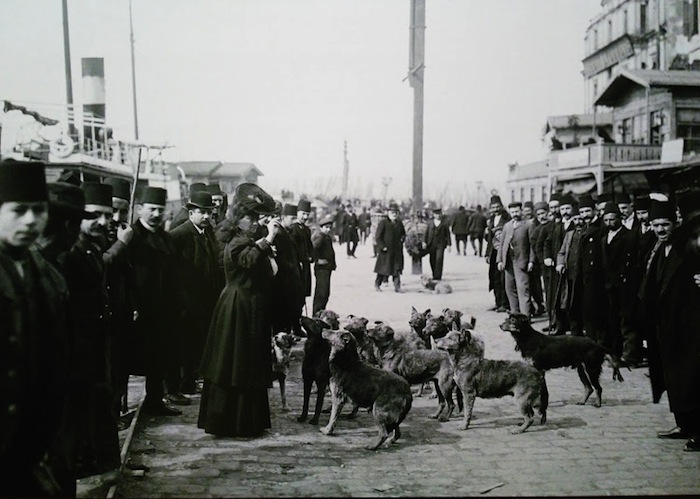 A European traveller with street dogs on the Karaköy wharf (Photo: Anonymous, February 19 – April 3, 1919, Pierre de Gigord Collection)
The travellers' tales paint a picture of symbiosis between Istanbul's residents and their four-legged friends. For these 'dogs without masters' cleaned up rubbish littering the streets, and would announce with a chorus of barking the arrival of strangers to their quarter (Istanbul neighbourhoods in the early 19th century were mainly self-contained cul-de-sacs). In return, the residents would dispense food and water to their street dogs and build them makeshift shelters. The city, in the words of the Italian writer Edmondo De Amicis, was 'one huge dog-kennel'.
But with the modernisation drive of the 19th century (known as the Tanzimat reforms) came new attitudes toward these mongrels. Many Istanbul residents, especially those newly returned from Europe, viewed them as representative of the perceived poverty and squalor of the Orient. An important part of the remaking of Istanbul in the image of a European city was ridding the streets of what they deemed unsightly canines. And so began the waves of exile: on multiple occasions the dogs were rounded up and deported to Sivriada, a deserted island in the Sea of Marmara (an island 'steeped in tragedy', as Owen Matthews noted in Issue 53). The last room of the exhibition, documenting these expulsions, is a chamber of gloom.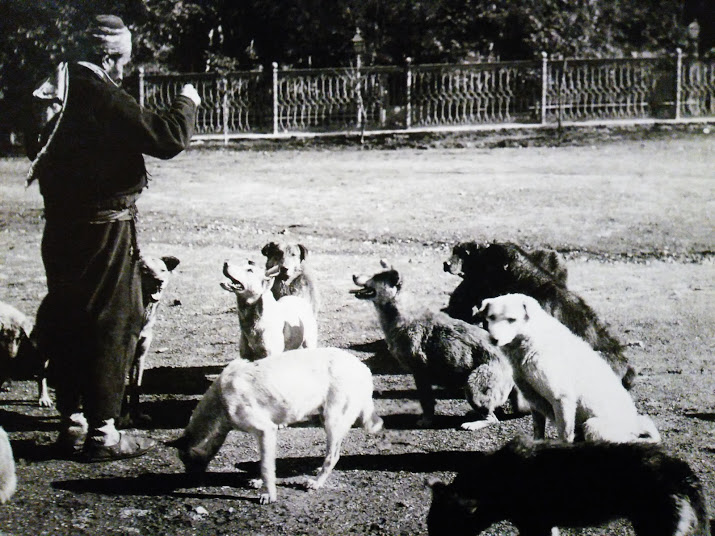 A group of street dogs photographed by Abdullah Frères in the late 19th century (Pierre de Gigord Collection)
This compact show has a very clear message: attempts to imitate 'civilised' European cities broke the unique social contract between Istanbullus and the city's street dogs. Some of the photographs used to emphasise this rise and fall are distressing, but others are delightful. And they show not only the furry beasts, but also an Istanbul that's unimaginable today – Ortaköy without its pier, Kurtuluş as an empty field. A rare glimpse of a city we will never know.
'The Four-Legged Municipality' is on view until March 13. The Istanbul Research Institute is open Monday thru Saturday, 10:00am–7:00pm.