We can all agree that it's been a rough year in Turkey. Yet despite rampant uncertainty about the future and the overall gloomy mood, the inaugural Istanbul Gallery Weekend has given us something to smile about. Running from September 30 until October 2, the event will see extended opening hours at participating galleries in an effort to celebrate the wealth of art on offer in Istanbul.
Timed to coincide with the opening of the 2016–2017 exhibition season, the gallery weekend was initiated by the Contemporary Art Galleries Collective (Çağdaş Sanat Galerileri Dayanışması or ÇSGD), a group of top Turkish galleries who have come together to support the arts in Turkey. Members of ÇSGD, as well as other select galleries in Istanbul, will be open from 11am until 9pm on Friday and Saturday, and from 12 noon until 7pm on Sunday.

In the wake of the July coup attempt, the Turkish art world has been struggling to right itself. ArtInternational, one of the two big art fairs in Istanbul, was cancelled, as was the 5th Çanakkale Biennial, after the art director and co-curator Beral Madra was criticised for political comments she made on her Twitter account and accused of being a coup plotter. While the show will go on for Contemporary Istanbul, the other major Istanbul art fair, it is 'amid grumbling from some dealers about high fees [at the fair] and the difficulties of drawing an international crowd right now,' according to a recent Artnet article.
Yet the Istanbul Gallery Weekend shows that, as always, the art world will soldier on. Kerimcan Güleryüz, the owner and director of The Empire Project, wrote in a statement that the event is 'a simple declaration of presence and continuity... [We] will continue to produce, not out of some commercial expectancy but because this is our nature, it's how we relate, it's how we survive and try and make sense of this world.'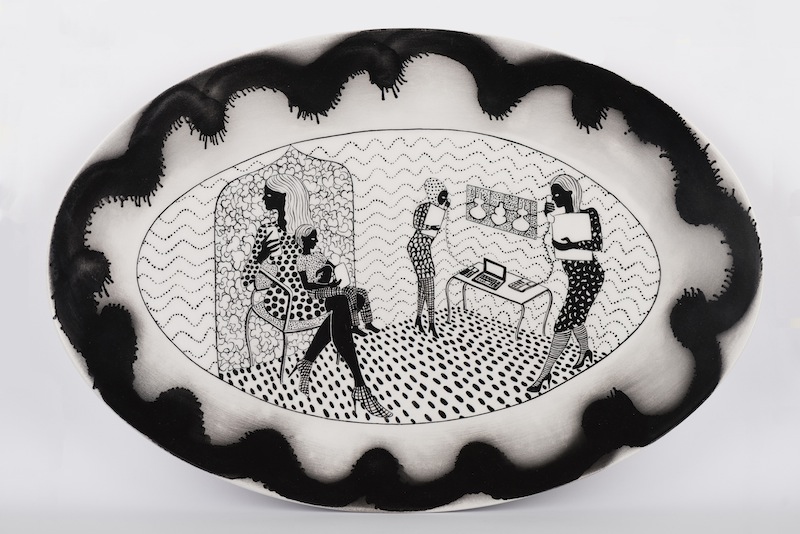 Elif Uras, 'Front Office', 2015, stonepaste, black paint under transparent glaze, 46 x 31 x 3.5 cm
Visitors will be spoilt for choice this weekend. With 14 galleries taking part, there is almost too much to see. Replaced, a group exhibition at Rampa Istanbul looking at dispossession and its aftermath, has a roster of all-star artists, including Hera Büyüktaşçıyan, Aslı Çavuşoğlu and Michael Rakowitz, all of whom received rave reviews for their contributions to the 14th Istanbul Biennial. Elif Uras's solo show Hayal Meyal at Galerist reflects on female agency using the artist's unique visual language. Her ceramic sculptures combine the delicate, highly detailed brushwork of traditional tile-work with graffiti-like, expressionist patterns of spray paint. Another highlight is Counting the Days at The Empire Project, which features new work by established artists such as Ali Taptık, recipient of the first Elliott Erwitt Fellowship, as well as work from new talents.
Follow Istanbul Gallery Weekend on Facebook and Instagram to receive updates and learn more about the programming at individual galleries (many of them are detailed in our own event listings below).