Each Thursday on the Cornucopia blog we share our pick of exhibitions in Istanbul to visit over the coming weekend.
Bomontiada is the place to be this summer. The former beer factory exudes an energy that's been lacking in Beyoğlu. The complex is home to Babylon Bomonti, a slew of hip, in-demand restaurants (many of which are surprisingly good) and Alt, an underground art space run by Mari Spirito, an acclaimed curator who has strengthened ties between the New York and Istanbul art scenes through her non-profit Protocinema. Currently the catacomb-like space is home to three exhibitions that are small in size while still providing plenty to mull over. End your visit with a craft beer at The Populist and, if you're feeling up for it, a free jazz (Friday) or funk (Saturday) concert in the courtyard.
Ahmet Öğüt, Round-the-clock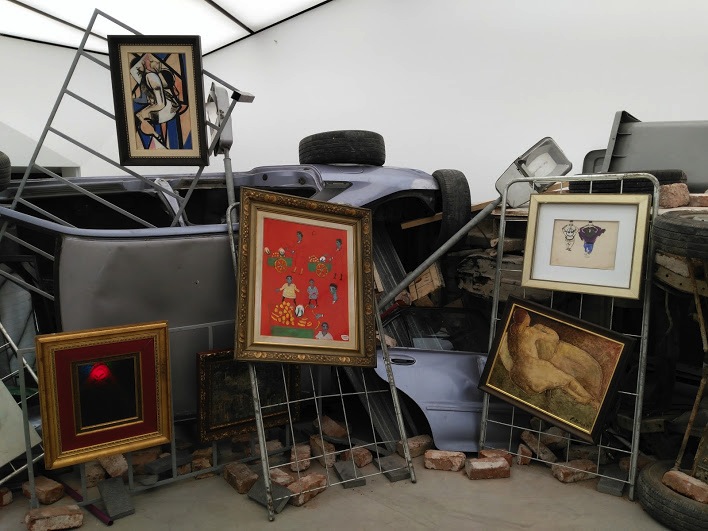 Ahmet Öğüt 'Bakunin's Barricade', 2014–2016, Courtesy of the artist and Aslı and Ali Kerem Bilge
This is a major exhibition of Ahmet Öğüt's work, some of it newly commissioned. It's hard to pick a favourite, as the pieces come together to collectively reflect on temporality, injustice and resistance. 'For Sixth Months' (main image), a new work that consists of street signs of former art spaces in Istanbul, is a sad reminder of how quickly cultural spaces can appear and disappear in the city. Another installation harks back to the Gezi resistance movement – 'Bakunin's Barricade' is a barricade covered in modern and contemporary Turkish paintings from the collection of the Bilge family. Öğüt took his inspiration from Mikhail Bakunin's never-realised proposal to put works of art in front of the socialist insurgency in Dresden in 1848. Blocking the main exhibition space, this piece raises questions about self-defence and civil resistance.
Marwa Arsanios, Notes, Texts, Annotations or How To Read While Walking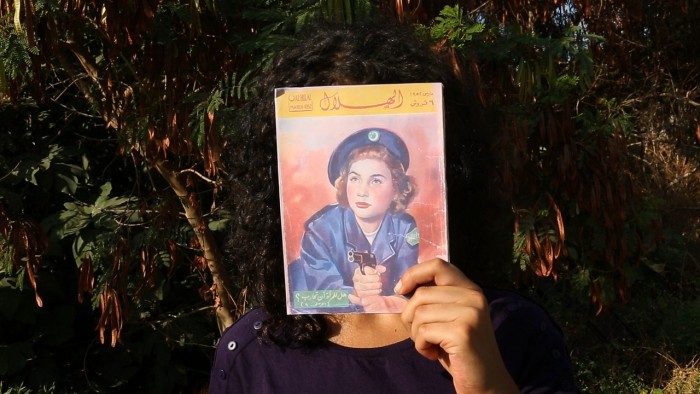 A still from Marwa Arsanios's 'Have You Ever Killed a Bear, or Becoming Jamila', 2013–2014, Courtesy of mor charpentier, Paris
The two works on display are drawn from the artist's Al Hilal Project, which focuses on the left-wing Egyptian magazine Al Hilal from the 1960s. The installation 'Olga's Notes, The Library' is a bit flat, but the single channel video 'Have You Ever Killed a Bear, or Becoming Jamila' demands your attention. Different actors play the part of Jamila Bouhired, an Algerian freedom fighter who became an icon through magazines like Al Hilal. In a thoughtful twist, the actors also reflect on their experience playing Jamila, which creates a cross-temporal dialogue on issues such as patriarchy, subjugation and canonisation.
Allora & Calzadilla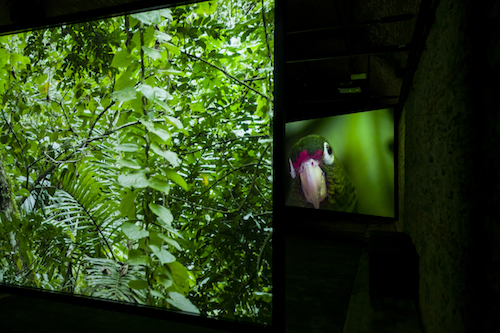 Allora & Calzadilla, 'The Great Silence', 2014 Courtesy of Galerie Chantal Crousel, Paris; Lisson Gallery, London; Gladstone Gallery, New York; kurimanzutto, Mexico City
I often lack the patience for video installations. Yet 'The Great Silence', a three-channel video installation by Allora & Calzadilla (the collaborative duo of Jennifer Allora and Guillermo Calzadilla), enraptured me. The work focuses on the Arecibo Observatory in Puerto Rico, one of the world's largest radio telescopes, and the Amazona vittata, an endangered parrot species living in the surrounding forests. As a fan of the science fiction film Contact, I was already familiar with the telescope and its ability to detect cosmic noise from deep space. Yet the subtitled script – supposedly translating the parrots' language – questions our desire to communicate with otherworldly beings when we put so little effort into communicating with the non-human species on our own planet.
All three exhibitions close on October 9. Alt is open from 13.00–21.00, Tuesday-Sunday.
The main image features Ahmet Öğüt discussing his work 'For Sixth Months'.