The people of countless nations across the world are connected by the wonderful, enduring tradition: coffee-drinking. For millions, this universal dark liquid is an everyday treat, a comfort and a stimulant – a tonic to slow the frantic pace of modern life for a few precious moments.
Turkish coffee had a rough ride in the last decades of the 20th century. Imports were prohibited for a time in the 1970s in a forlorn attempt to correct the trade deficit. And then there was the silly 1990s fad: the 'concept restaurant'. If you weren't sure you were in one, you asked the waiter for Turkish coffee and had your head bitten off: 'Not here! Not part of the concept!' Emporio Caffe Armani on Maçka Caddesi, in the beating heart of Istanbul café society, was a typical culprit. Happily those days are over. Turkish coffee has regained pride of place. It is almost worth joining the long queue outside Mehmet Kurukahveci's irresistably chic 1930s coffee-roasting shop in the Spice Bazaar just to inhale the delicious smell. Even Caffe Armani now happily serves kahve in the İstinye Park shopping mall, sade, orta or şekerli.
Last year, the Topkapı celebrated the decorous palace art of drinking coffee. Tomorrow, a grittier exhibition about the story of coffee-drinking, Three Cities, One Coffee, opens in the coolly modern, subterranean Milli Reasürans Art Gallery. It runs until February 27 and by all accounts is not to be missed.
The exhibition focuses on the coffee-drinking customs of three great world cities.
Cairo…
Istanbul…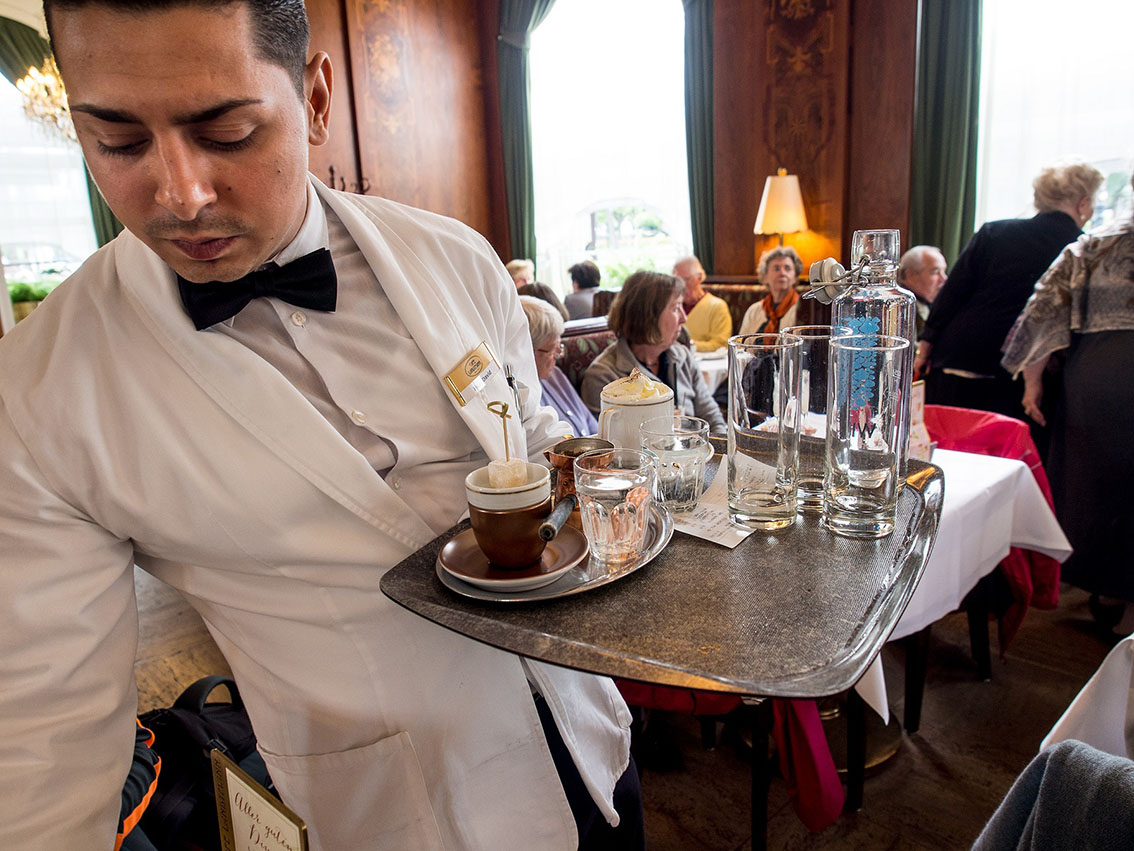 and Vienna.
Combining modern photography with choice excerpts from a wealth of history and literature, this exhibition explores the true story of the global passion for coffee.
Who discovered it, who brewed it for the first time, and who popularized it in different parts of the world? Is it true that an Ethiopian goat herder, a Yemeni dervish, and a Ukrainian nobleman were all responsible for bringing coffee into our lives? These are just a few of the questions that the exhibition addresses – in Istanbul – as it reveals the colourful and surprising history one of the world's favourite drinks.
Curated by Suna Altan, organised by the newly founded Mehmet Kurukahveci Cultural Centre, and featuring the perceptive photography of Manuel Çıtak, the show brings the cities of Cairo, Istanbul and Vienna together in a unique way to celebrate the joys of kahwa, kahve, Kaffee, or coffee.