After an auction-starved spring, hats off to Edward Gibbs, Benedict Carter and the Islamic Department at Sotheby's London for persevering with their postponed sale Arts of the Islamic World & India including Fine Rugs & Carpets, originally planned for April – and what a handsome sale it is.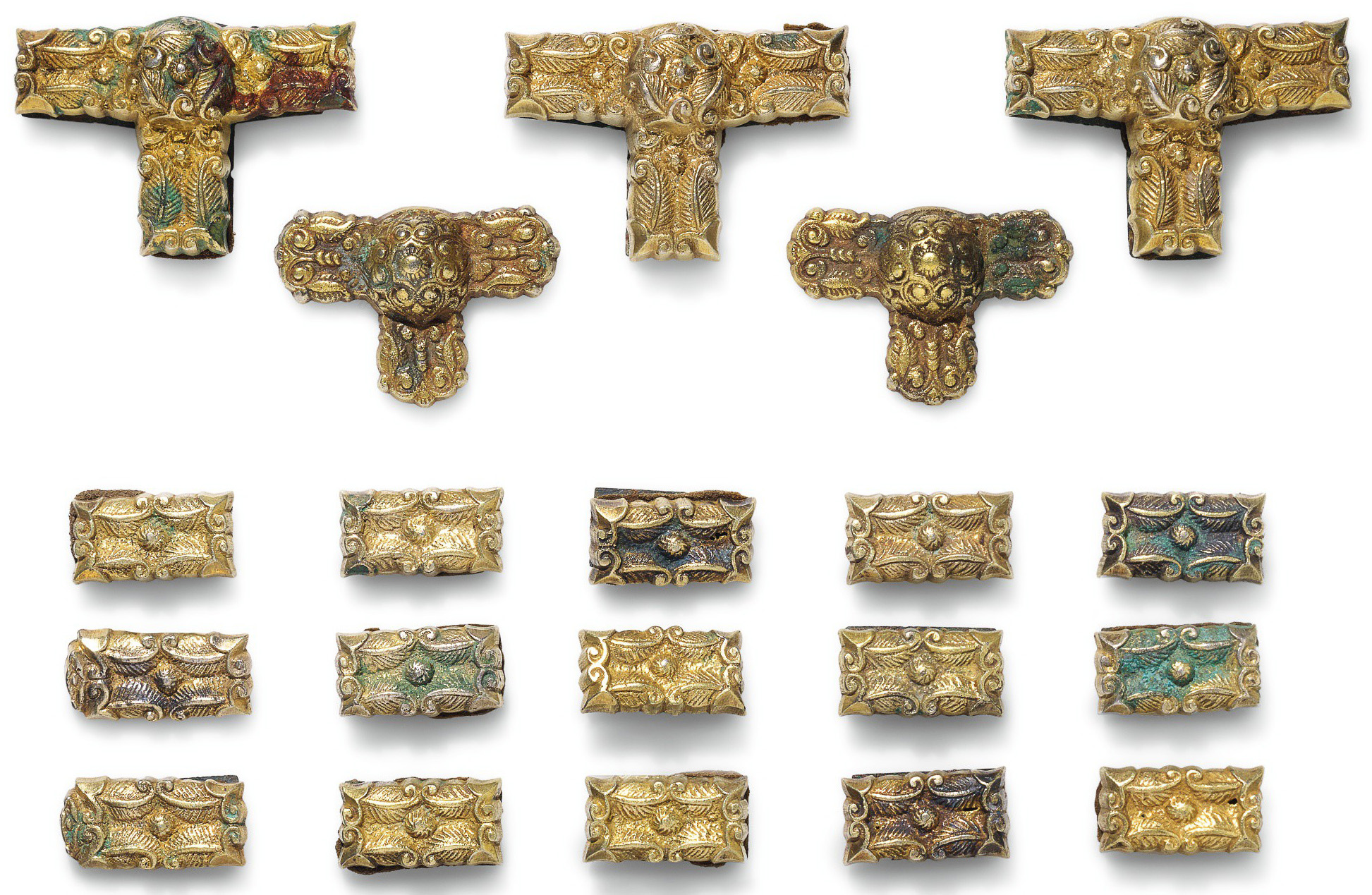 The sale spans a thousand years of art. It ranges from monumental 15th-century Andalusian Alhambra-period marble columns (Lot 92, est £100,000–150,000) to a Fatimid woodcarving of hares from 12th-century Egypt, though the wood itself is carbon-dated to 500 years earlier (Lot 97, £30,000–50,000). Rarities include 33 Golden Horde silver-gilt horse fittings (above) from 14th-century Persia (Lot 107, est £20,000–30,000) – similar examples can be found in the Hermitage in St Petersburg.
Highlights for Turkish collectors will be some wonderful Ottoman textiles from the collection of H Peter Stern, the American collector and Indiaphile who died, aged 90, in 2018. An avid traveller and collector, Stern founded the Storm King Art Center in New York State, described in his New York Times obituary as 'one of the most significant sculpture gardens in the world'. He loved to display his gorgeous Ottoman and Italian Ottomanesque voided-silk panels like paintings, just as they are hung at Sotheby's today (above).
Among Stern's treasures is this early-17th-century voided-silk yastik (cushion cover), woven in Bursa or Istanbul (Lot 168, £10–15,000).
The impact of the shimmering voided-silk velvet is extraordinary. In the 16th century, this fabric (çatma in Turkish) was made both in Italy and Turkey and it is often hard to tell which is which. Lot 170, second from left (est £10,000–15,000), is Italian though its design is Turkish. Lot 171 (far right, £15,000–25,000) is Turkish.
Lot 216 (est £10,000–15,000), entitled Cameria, or Mihrimah Sultan (1522–78), daughter of Süleyman the Magnificent, is one of several versions of a lost Titian portrait. Others are in the Pera Museum, the Courtauld Institute and Lacock Abbey in Wiltshire.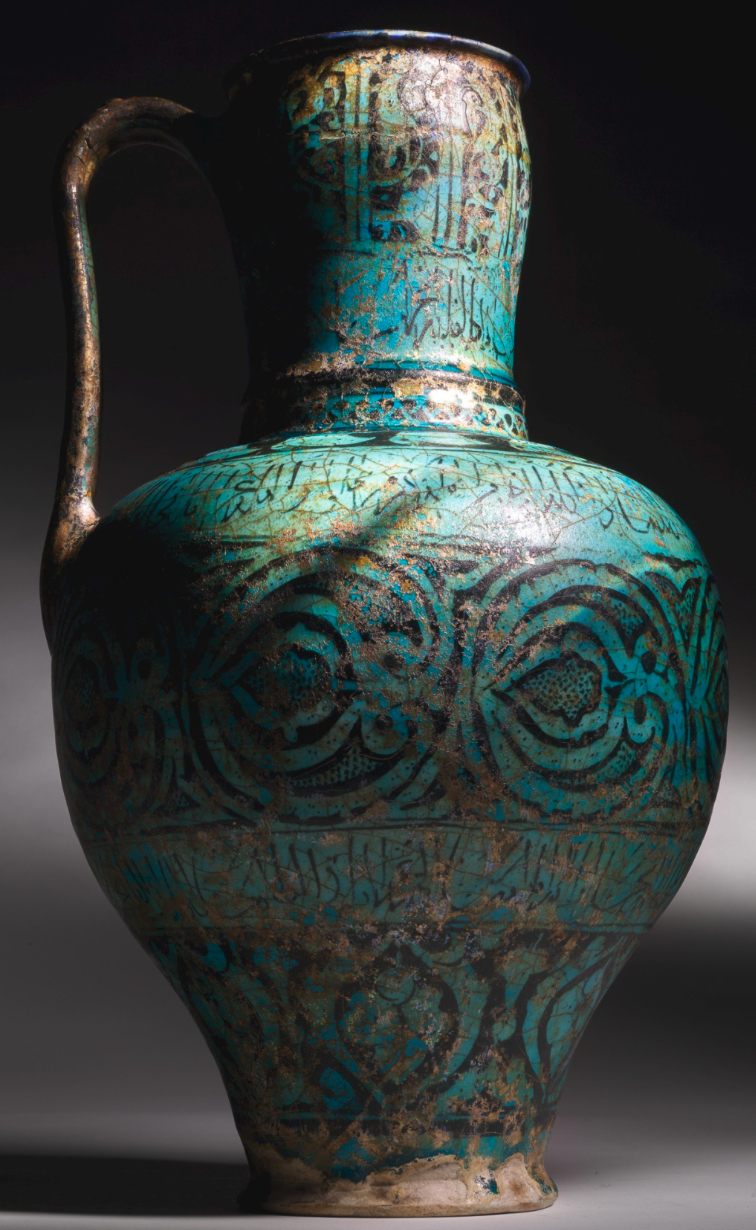 One of the stars of the sale is this beautiful, very rare ceramic pitcher dating from the early 13th century (Lot 98, est £120,000–160,000). A foot high, it belongs to a group known as the Gurgan Hoard. Found in the 1940s, the hoard was buried in large jars in a pit in Gurgan, close to the Caspian Sea in northwestern Iran. One theory, according to the Turkish art historian Oya Pancaroğlu, is that a merchant had hidden the wares for safekeeping on the eve of the Mongol invasion, hence the pitcher's exceptionally good condition.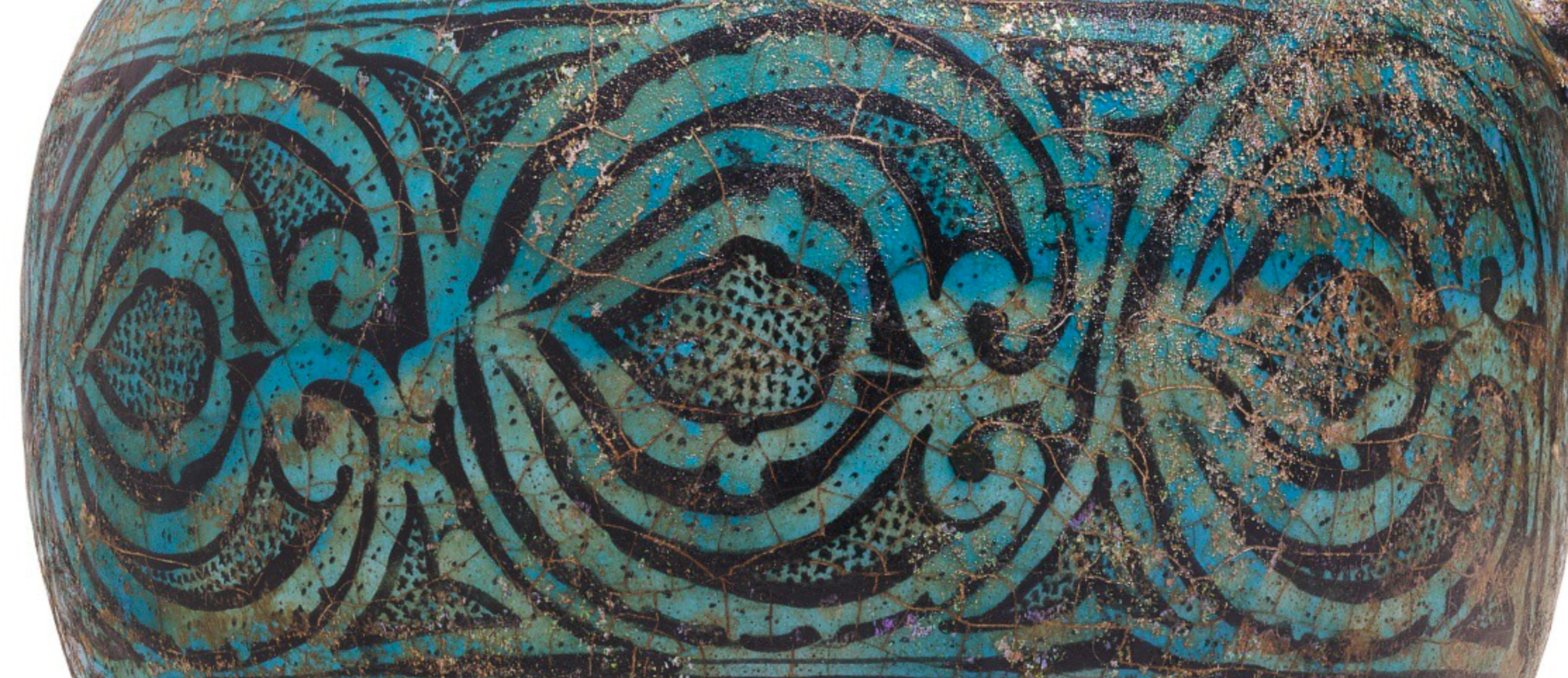 Produced in Kashan c1200–20, the pitcher's vivid, interlocking designs of stylised birds, palmettes, foliate motifs and calligraphy are painted in striking turquoise on a black ground which covered the newly fashionable white fritware. Age has given the surface an iridescent quality. The provenance goes back to early-20th-century Alexandria, where it belonged to the Armenian tobacco trader Jacques Matossian.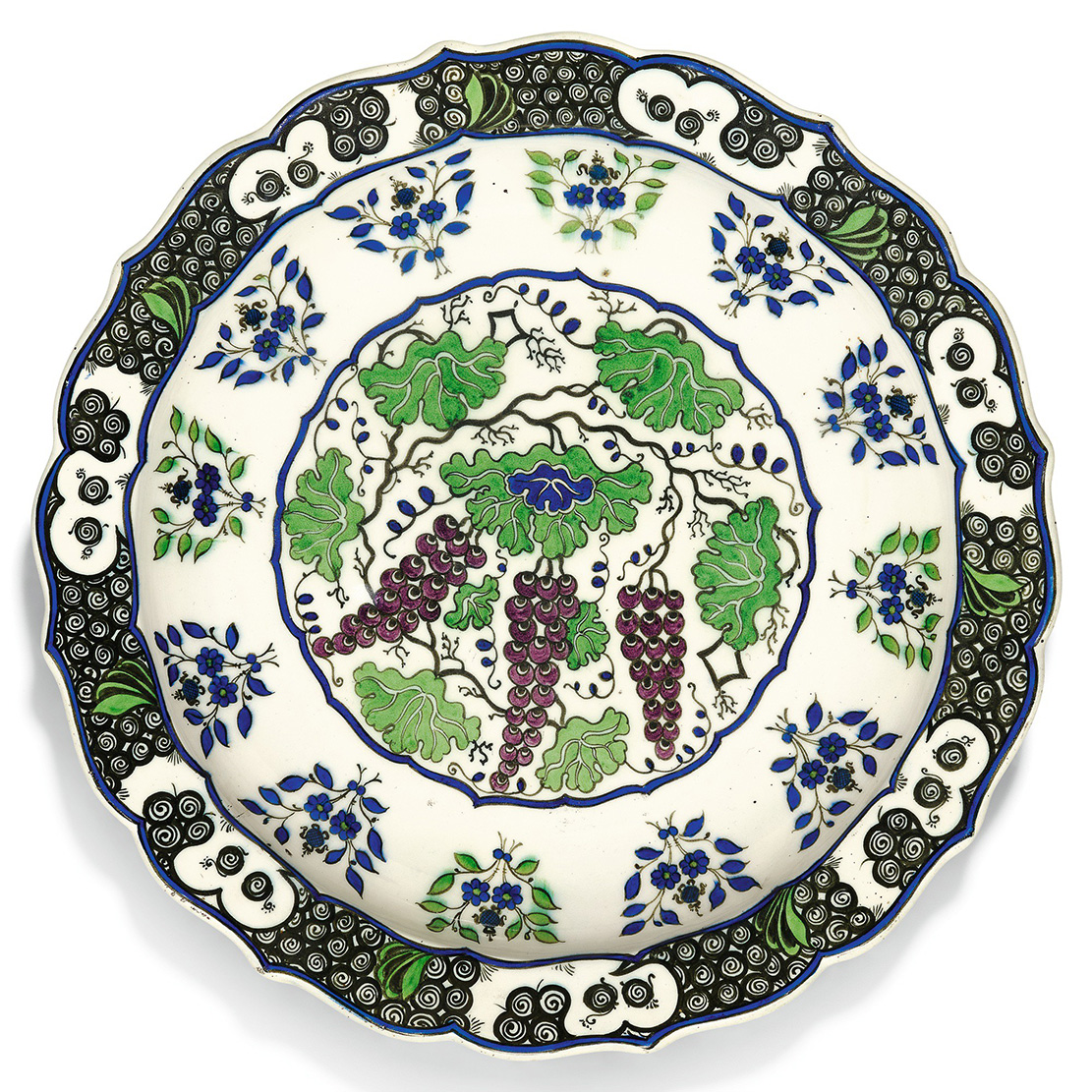 At the other end of the time scale is a 19th-century French version of Chinese-inspired Iznik pottery (Lot 227, est £7,000–10,000). This scalloped dish, with its vivid vine leaves and grapes, is by Théodore Deck (1823–91), an eclectic artist who was equally adept at voguish Japonisme. Other European interpretations of Turkish ceramics are the two outsize 'Iznik' vases in the main picture, top. The tall slim vase on the right (Lot 225, est £8,000–12,000) and the two-handled vase on the left (Lot 226, est £10,000–15,000) are both 19th-century Italian Cantagalli ware.
Découpage is one of the Ottoman palace's more eccentric arts. This 16th-century garden scene (Lot 55, est £6,000–8,000), which looks at first glance like a painting, is in fact made up of thousands of pieces of cut paper. It measures 21.5 x 12cm. (For more on this art form, see Tim Stanley's review of Kat'i: Cut Paper Works and Artists in the Ottoman World, by Filiz Çağman, in Cornucopia 53.)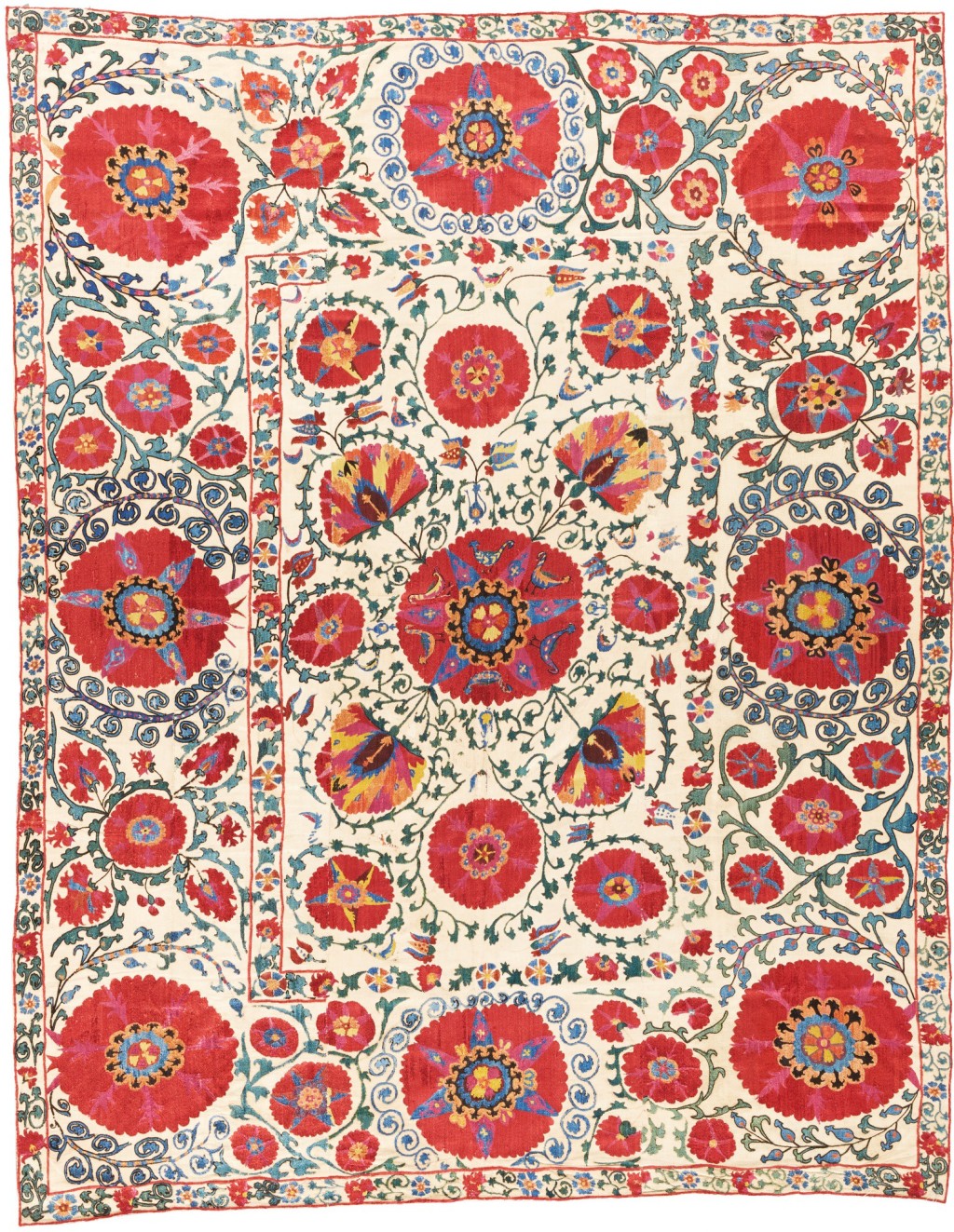 Finally to some stunning textiles… Lot 280 is 'a magnificent Shakhrisabz susani', property of Eberhart Herrmann (Lot 280, est £25,000–40,000). Herrmann writes: 'So far I haven't seen a better one of the Shahr-i-Sabs group in the whole of my art dealer's life. The amazing fact is that behind its beauty there is tremendous knowledge, for example how the large circles in the borders are placed according to star geometry using the cartography of the Orion, Canis majoris and Taurus constellations.'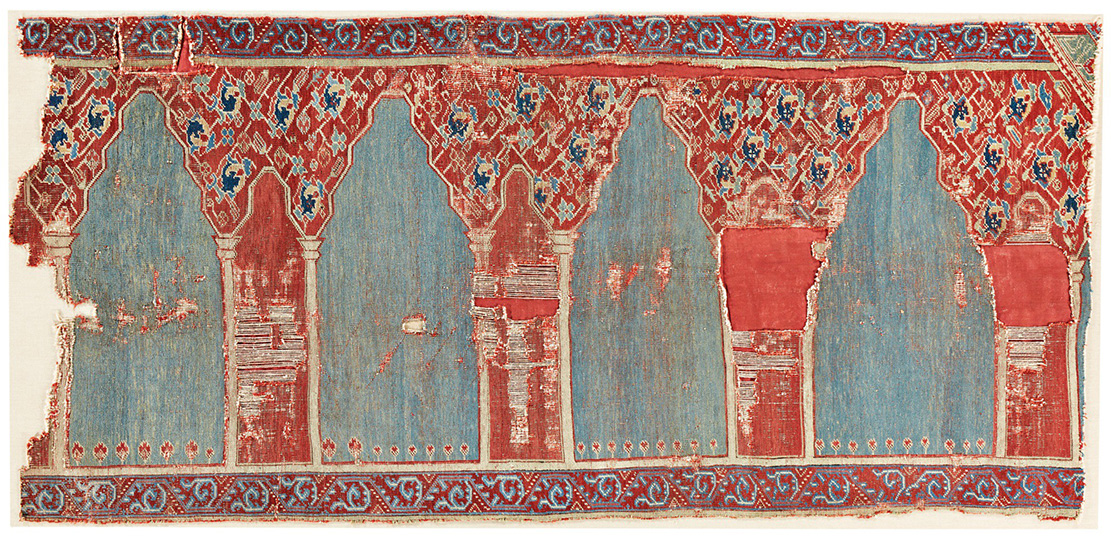 A love of niches runs through Islamic art. There are 70 carpets and rugs in the Sotheby's sale, many from prominent collections, but with its arcade of niches and curled vine borders, this Oushak (Uşak) fragment, dated to the second half of the 17th or early 18th century, has a particular historical fascination, as it belongs to a small group of carpet fragments said to have come from the Ulu Cami (Grand Mosque) in Bursa (Lot 253, est £15,000–25,000). Other fragments from this group are in the David Collection in Copenhagen, the Linden-Museum in Stuttgart, the Marshall and Marilyn R. Wolf collection and the Textile Museum in Washington DC.
Far from being just a virtual event, the Arts of the Islamic World & India Sale will include a feast of an exhibition. Greeting visitors at the entrance is another exquisite textile from H Peter Stern's collection, a 17th-century Indian tent panel from the Mughal court that recalls the Emperor Jahangir's passion for gardens (Lot 143, est £25,000–40,000).
Viewing until Tuesday evening is strictly by appointment – contact chiara.denicolais@sothebys.com. The live auction on Wednesday morning, June 10, starts at 10.30am London time (12.30 Turkish time). For the catalogue and details of how to bid, click here (or email enquiries@sothebys.com).
---
THE OTHER LONDON ISLAMIC SALES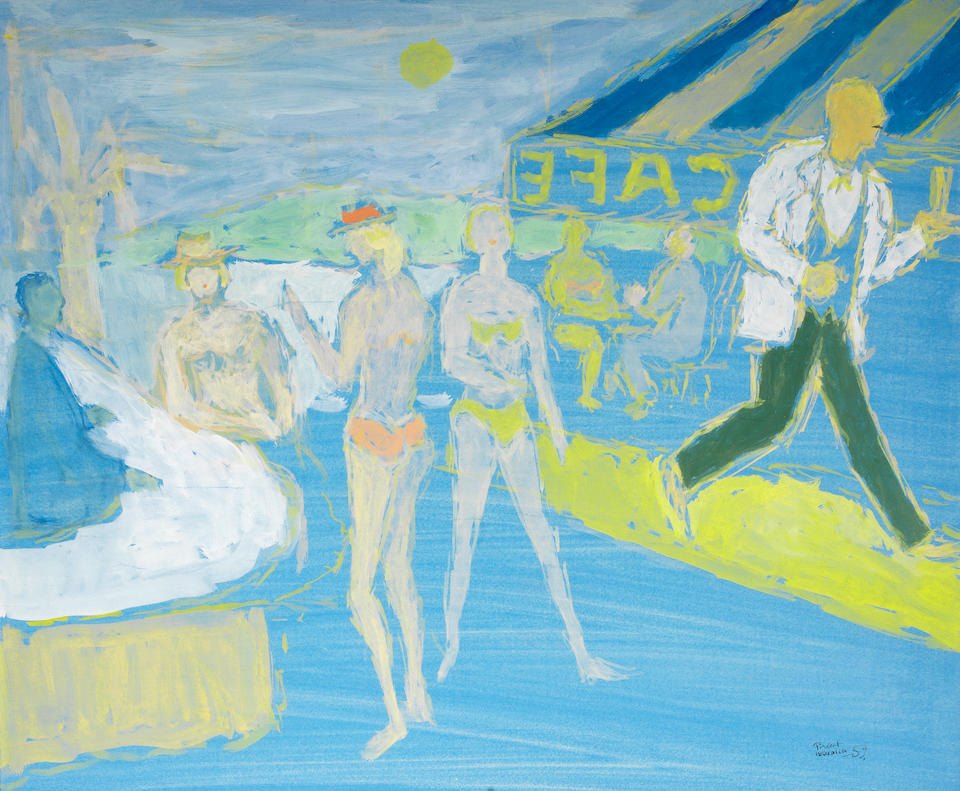 Bonhams will hold its Islamic and Indian Art sale on Thursday, June 11. A charming change of mood is provided by Beach Café, the work of one of Istanbul's best-loved 20th-century artists, Fikret Mualla (1903–67), who spent the last decades of his life in solitary, self-imposed exile in a Paris garret (Lot 137, est £6,000–8,000).
---
This double portrait of Sultan Mehmed II with a Young Dignitary from the workshop of Gentile Bellini (c1429–1507) is the one to watch in the Christie's sale Art of the Islamic and Indian Worlds Including Oriental Rugs and Carpets, now rescheduled for June 25. Lot 118 (est £400,000–600,000) is one of the very few surviving contemporary or near-contemporary portraits of Mehmed the Conqueror (on the right), whom the artist knew well. The provenance for this enigmatic work goes back to the Basel engraver-turned-art dealer Christian von Mechel (1737–1817). The family he sold it to would hold onto the painting for two centuries. It almost doubled its high estimate in an Old Master & British Paintings Evening Sale at Sotheby's on July 8, 2015, fetching a cool £965,000.