At first it seemed it would be impossible to follow Chantel White's softly spoken words as she described the changing fortunes of Yedikule's bostans. Perfectly audible above the rustling leaves that muffled the distant traffic, she was hardly to blame. It was a good talk, not a wasted word – occasionally interspersed with intriguing background information from Aleks Sapov, who had initiated the movement to rescue the bostans a month ago. The distraction was simply the idyllic setting – I had to keep pinching myself to make sure I wasn't dreaming.
It was an unusually hot August day. Outside, the glare was oppressive, but not for us in the Hendek Bostan, the 'Moat Gardens', where we sat, invisible to the outside world, in the shade of a giant fig tree draped with generous swags of vine as if in a Gobelins tapestry.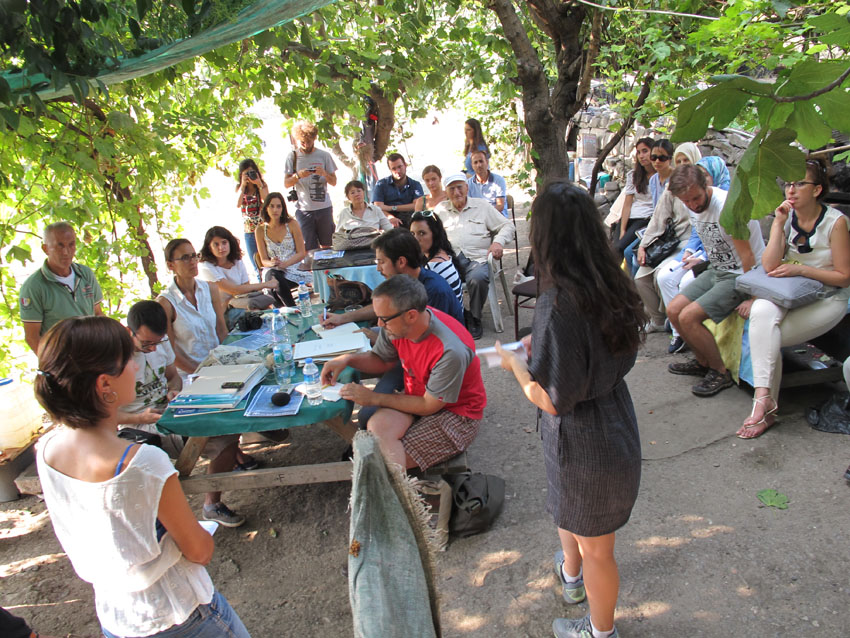 The Yedikule School of Historical Gardens, newly established last month by Aleks Sapov and his heroic friends, had issued an open invitation through the grapevine, and some 30 of us turned up in the hush of this secret bower outside the Yedikule Gate in Istanbul's fifth-century land walls. This garden was, as Aleks, a Harvard historian of Ottoman agricultural practices, explained, one of two hendek (moat) gardens named in early 18th-century archives (the other was a little closer to the Sea of Marmara).
Seats were miraculously conjured from crates and planks as more and more of us turned up. On one side, through the trailing vines, we caught glimpses of ancient masonry rising above a carpet of emerald-green purslane in courses of stone and Byzantine brick. On the other, an immaculate grid of newly raked seedbeds stretched across to a main road. Skirting them, a path behind us led to a massive well, which plunged almost 20 metres to an underground river. It was these Ottoman wells, apparently established in the 17th century, when Bayram Pasha was appointed mayor by Murad IV and cultivating his famous globe artichokes, that allowed Ottoman gardeners to grow water-loving vegetables where their Byzantine predecessors had concentrated on more drought-resistant plants.
Our host, bostancı Ahmet, whose family have gardened here for three generations, was there. His eviction will be a near certainty if Istanbul 'wins' the 2020 Olympics – there are ghastly plans for this part of historic Istanbul, swimming stadiums and the like. He recalled the glory days of the Yedikule marul (cos lettuce), which grew waist-high and could weigh 7 or 8 kilos a piece. It was so so succulent – he mimicked the succulence flowing down his cheeks. 'People came from far away just to picnic on them.'
Suna Kafadar (on the left), one of the growing number of friends united in a mission to save the gardens, interpreted for non-English speakers and helped to field questions with Aleks (right) afterwards. Victoria Khroundina will discuss Chantel's observations in detail in another blog.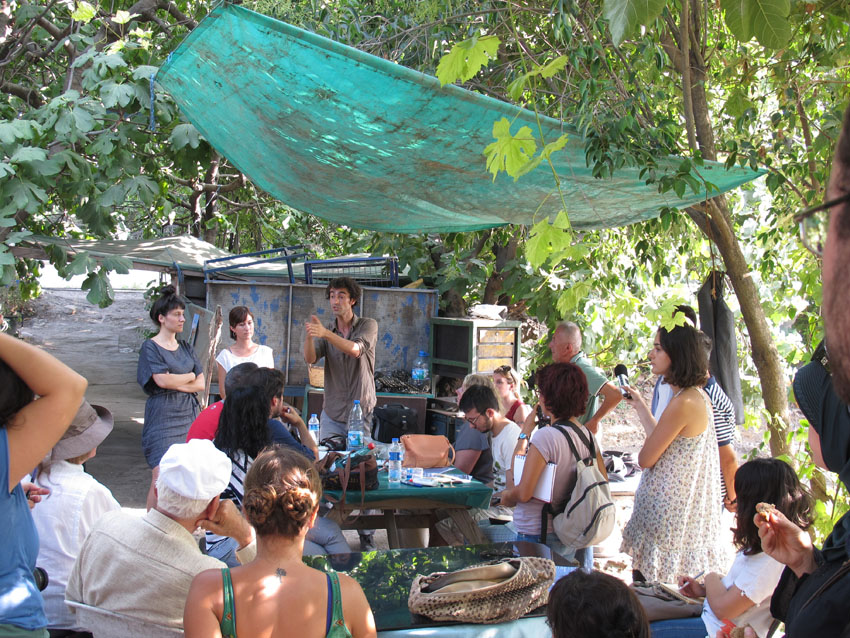 Historically, the gardens of Yedikule are completely fascinating. For 1600 years, through times of war and famine, the city's population has depended on them. But on Wednesday evening it dawned on me that they are not of merely academic interest.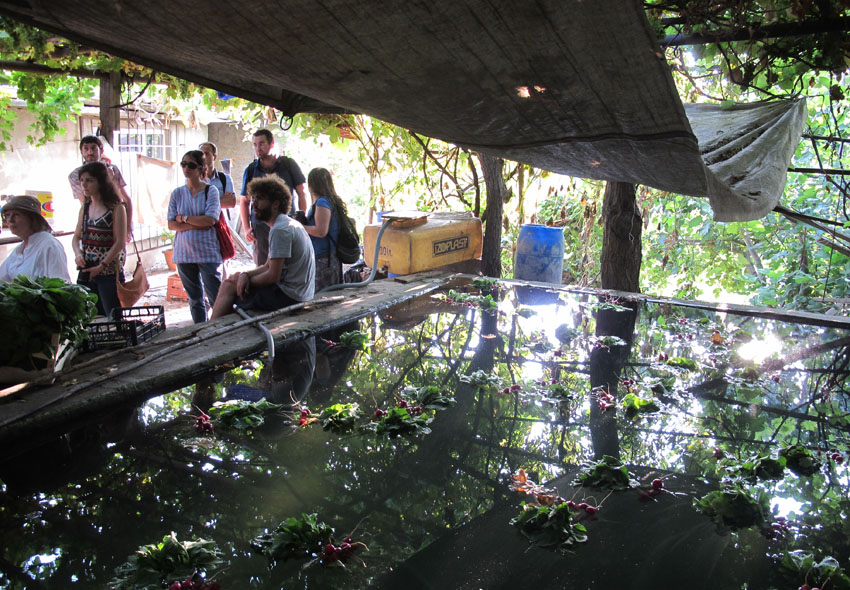 These gardens are actually downright beautiful. It is a beauty that grows on you the more you get to know them – down to the radishes floating, Monet-like, in the shady pool of the Kilise Bostan inside the Belgrade Gate (also under threat). Here we retreated after our tour of the municipality's 'improvements' – a vast swathe inside the walls that has already been levelled with landfill-rubble, putting the precious fertile soil out of reach once and for all; expensive topsoil will now have to be brought in in order to grow anything at all.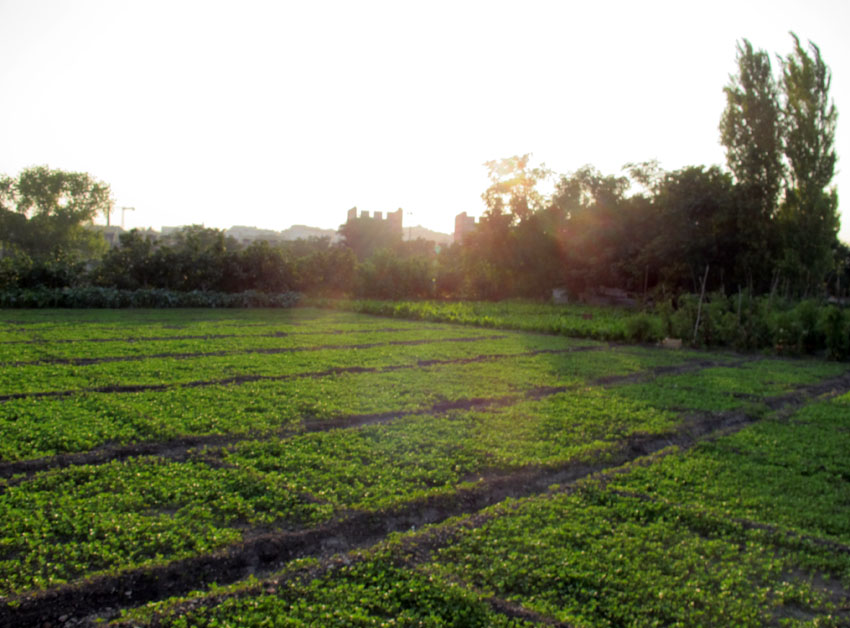 If you are in Istanbul over the next few months, do make sure you visit Yedikule – before it is too late. The extensive surviving gardens, in my opinion, are up there with Ayasofya, and the Topkapı, as one of Istanbul's greatest attractions, and I am hoping that the new school will make it easier for the uninitiated to explore. These gardens combine finesse with logic, the lush with the orderly, charm with pragmatism. Watching an old chap nimbly raking out one perfect square after another, like some ancient mathematician – each box with its outline of raised soil a few centimetres high to contain the water – made me realise that these gardens really are one of Turkey's national treasures.
Only a dunderhead could destroy them, as Istanbul's woefully undereducated administrators apparently intend to do. Such an act would be the equivalent of the mayor of Paris using the Mona Lisa as a skateboard. 'What does a monkey with a hat on do? It bobs about, and bobs about, until it falls off,' goes the old Turkish saying. They seem simply to be unaware, and frankly unworthy, of the city in their care.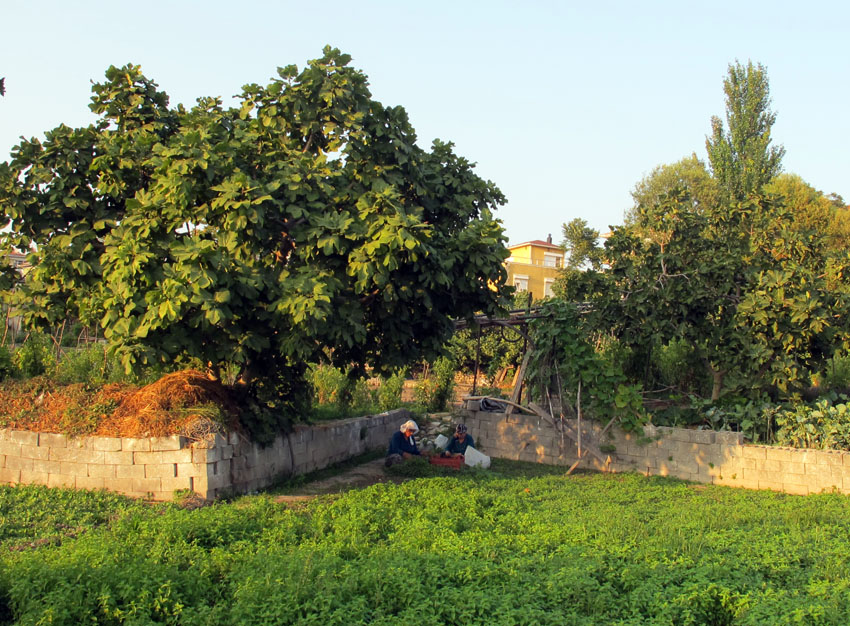 But gardeners are gentle people. And so are their defenders. You hear them being interviewed on Açık Radyo. They don't curse and rant – though they have every right to. They simply communicate a winning combination of irreproachable logic and affection. And they are so, so, so much in the right that you cannot help feeling they must win the day.
In a field of mint, Chantel showed us a very special round-leafed variety that she had found only a day after her arrival. It is known to have been growing here for at least 50 years, and has evolved its own unique flavour. Will this, too, become a memory? The field is marked down for the new recreational gardens carpark. But, as Chantel is keen to stress, it is not simply the plants that are important. More vital and irreplaceable is the 'lifeway', the huge reserve of horticultural knowledge linking us to the past that will die out when the gardens are wiped out.
Our walk through the nightmare area bulldozed and levelled last month illustrated the opposite of the amazing cooling micro-climate the gardeners had created in our shady bower. Their loss will be a terrible curse on Istanbul, and those responsible will be cursed for generations to come. They should know this.
Why is it all happening? Ostensibly to build an artifical hobi garden and playground. If that is the case, then the Fatih municipality should consider transforming somewhere that needs to be transformed, and preserve this paradise. One particularly distinguished guest on Wednesday had shown the way, triumphing over man-made hell by turning a major motorway intersection into the city's one and only botanical garden.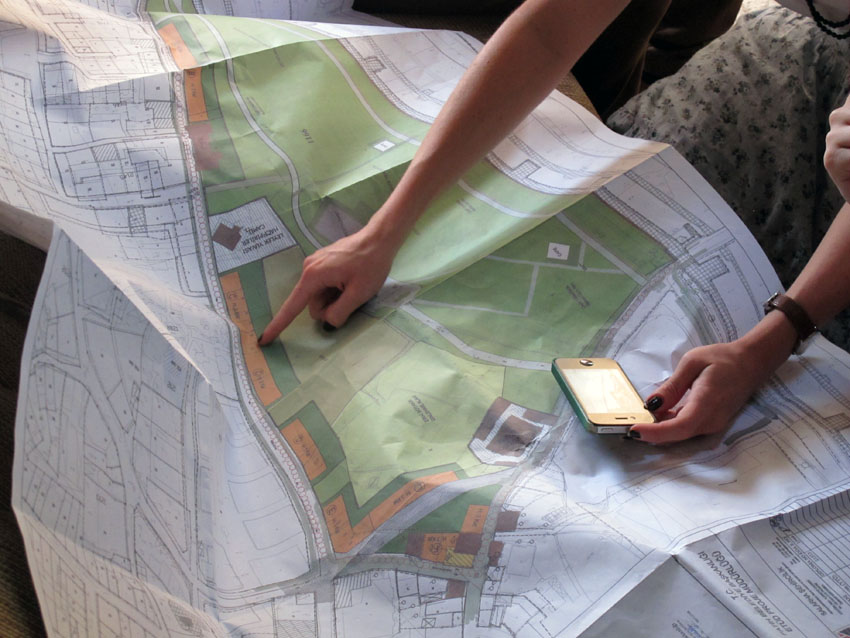 Of course, a recreational garden is not the real aim. There is another, more typical, goal. The municipality intends to build yet more ugly concrete blocks of flats here, as can be seen on the latest plans they have produced. The first line of five-storey blocks is marked in orange in this picture, but that of course will be the thin edge of the wedge. Once planning permission is issued, anything can happen – they promised five storeys in the historic centre of Bursa, and cheerfully built a forest of 23-storey blocks which now screen the city's most famous landmark, the Yeşil Türbe. There is naturally no mention of any building on the billboard in the street. A neat law makes it unnecessary for the government to seek planning permission when 'improving' historic areas.
As we were saying our goodbyes, Aleks pointed to a cloud of storks spiralling above the old fortress of Yedikule in readiness for their August migration. Now, the pessimists among us would see the sight as a warning that one day we will all have to turn our backs on this city. For the optimists it was a reminder that every season passes, eventually.
A date for the calendar: On September 8, the Patriarch visits the bostans to give them his annual blessing. He needs to be reminded not to be lured into the trap being laid for him by the developers, who are dying to help him build over these precious gardens. The Virgin Mary, whose birthday it is, will be watching!
And a special request from Aleks and his friends. Experts from all walks are welcome to add their thoughts and opinions. A geologist would be particularly welcome.