It's midsummer's day and my daughter, Ceylan, and I have spent two and a half months at Bird Island Farm, the animal sanctuary founded on a hill above the Aegean town of Kuşadası by my grandson Alican's wife, Chantal Özbaş. It is the kind of place you meet gentle souls like Işık (Light), above, a young German Wirehaired Pointer girl abandoned in Bodrum, and Lei, below, an adorable puppy with four white socks. I cannot imagine a healthier, more pleasant way to have spent those bizarre lockdown weeks.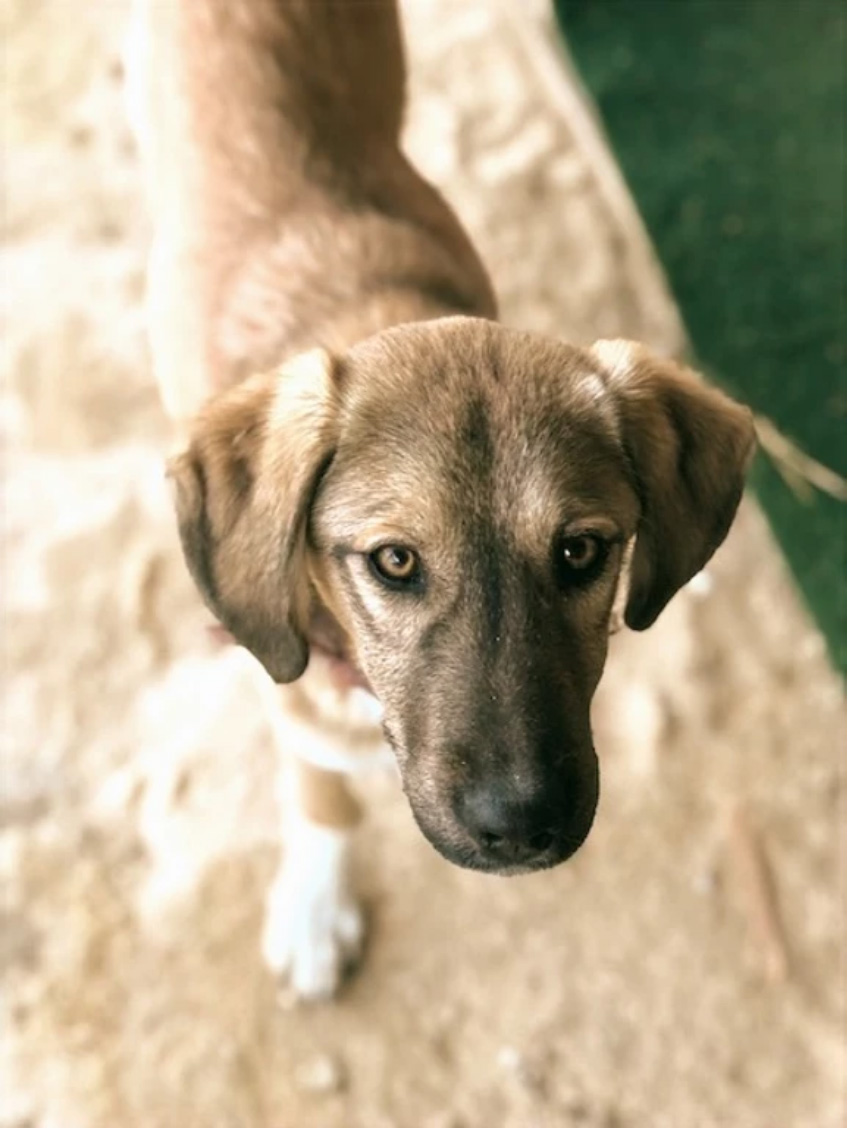 The balcony of our village house overlooks green hills of vines, olive and fig trees sprinkled with wild yellow and white flowers, lavender and thyme, a narrow strip of Kuşadası, lit up at night, the somnolent blue Aegean Sea without boats, and the Greek Island of Samos in the distance, all embraced by a sky that changes hue with the rising or setting sun. It is the perfect place to begin and end the day.
After a wake-up call from the cockerel and his 12 hens, who supply us with fresh eggs, and from Jonny, a black and white terrior who has taken it upon himself to guard the house and barks at anything that moves, it's time for me to prepare breakfast and greet Atom and Apo, the dog-carer and the gardener, as they lead the goats, Mr Brown and Smiley, to the longest grass in need of mowing, and Chantal, brush and spade in hand, who arrives for her morning Turkish coffee before leaving to check on a reported maltreated dog or pay a visit to the vet in town.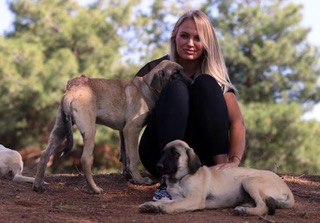 Monika Özkaya and puppies
Her long blond hair caught up in a ponytail, Monica, co-founder of Bird Island Farm, pulls Elsie the horse and Elvis the donkey up a slight slope to graze in the field beyond where a make-shift shade protects them from the sun. (One day another donkey, maltreated and pregnant, was brought in to the sanctuary – she was christened Pricilla.) I collect the skins and waste from vegetables and fruit for the animals and save the best lettuce leaves for Beyaz, the rabbit with one ear up and one ear down, and a tortoise.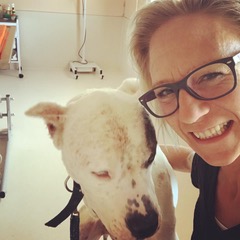 Chantal Özbaş with Pasha, the Dogo Argentiono
The 3-legged dogs – Pasha (a Dogo Argentino), Muço (a Rottweiler with cancer) and Sossa (a police bomb dog suffering from malnutrition) – join the other dogs in a cleverly built long, fenced-in open run. While Alican plays football with 5-year-old Emil – Oscar, just one-year-old, knows his foot should kick the ball but can't quite manage yet, which doesn't stop him sportingly try – Ceylan prepares lunch for us all.
The morning passes feeding, cleaning, exercising until the noon sun is too hot for everyone. Animals and carers rest in the shade over lunch before they begin again. It's quite amazing how peaceful it is living with more than 40 animals, much more so, I am sure, than it would be with 40 human beings.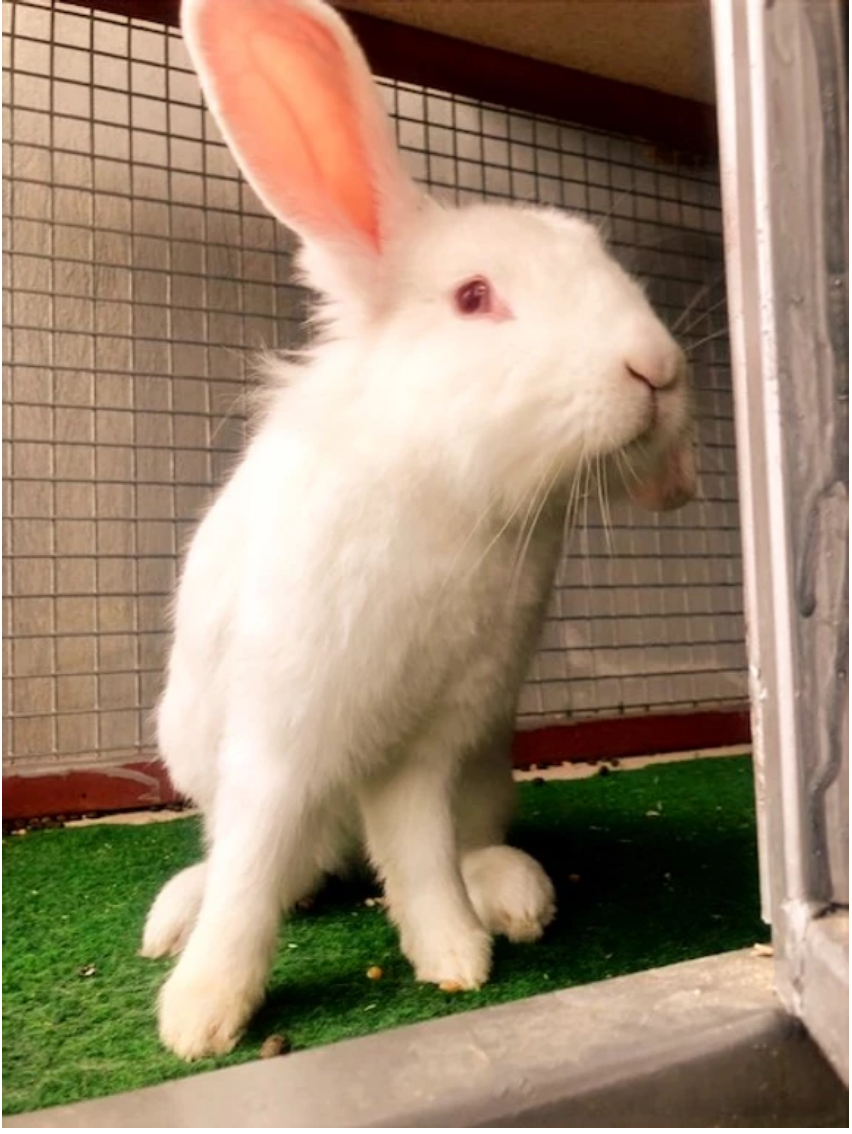 Beyaz the rabbit, with one ear up and one ear down
Of course, to add a little spice to this tranquil haven, there are those moments of unexpected drama. One dark evening a dog attacked a goat: barks and howls filled the air until the good-hearted vet, masked, gloved and dressed like a Martian in white, drove up to save the situation. Tears rolled down little Emil's cheeks when Beyaz the rabbit went missing. After a long search he was found and safely locked in his rabbit hut. One lunch time, we noticed smoke rising from the opposite hill caused by a farmer who had lit dry dead leaves and left, (probably for lunch) without any thought of the wind sending Chantal into cries of, 'I have to save my dogs'. Ceylan took control by telephoning not one but two fire-engines.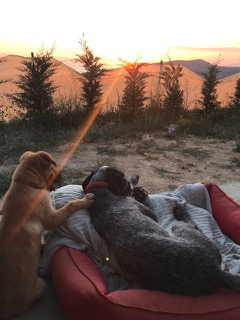 Hugo and Buddy
Some of these dogs are lucky enough to find homes with dog lovers around the world, who cover all their travelling expenses. Hugo, an aristocratic German Wirehair Pointer is due to travel to Scotland, Jack, an old hunting dog with metal plates in one leg, will soon travel to Wales while Tony, a Pitbull, now lives in Boston, USA.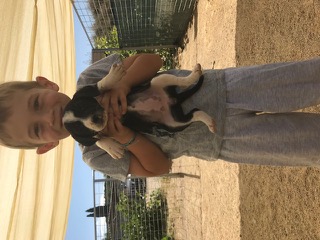 Emil Özbaş with Alma
Bird Island Sancuary is all about hard work and love and deserves our support and a moment's thought to re-address our own behaviour, not only towards other people but also to nature and animals. Now it's time to move on and live the new norm whatever that involves but Ceylan and I have learnt a lot during lockdown, I hope you all have too.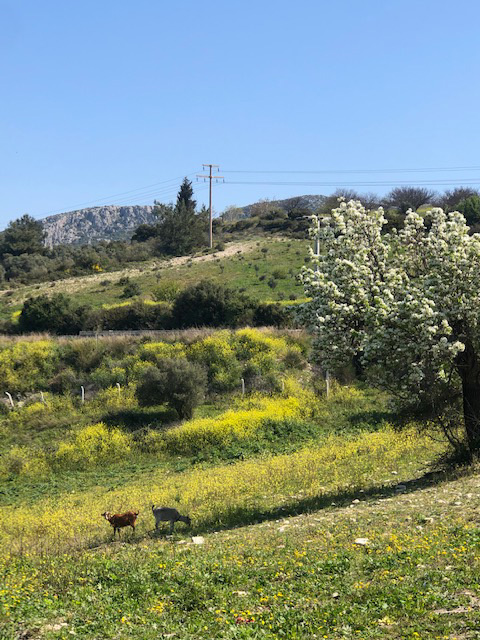 Mr Brown and Smiley grazing in the long grass
---
Bird Island Farm, Kuşadası: how to adopt an animal or make a donation
https://www.birdislandfarm.org/contact-us
All money raised will be used solely used for the benefit of the animals, veterinary bills, maintenance and repairs to facilities, food and grooming.
(Bird Island Farm also works closely with local charities such as ARK (Animal Rescue Kuşadasi) and Kuşadasi Paws & Claws.)
Please send donations to:
Chantal Patricia Özbaş, Garanti Bankasi TR 69 0006 2000 3070 0006 6396 31 (swift TGBATRIS)
Bank transfer to UBS Switzerland AG, Chantal Özbaş CH58 0023 0230 1310 01M1N
www.paypal.com (chantalozbas@icloud.com)
---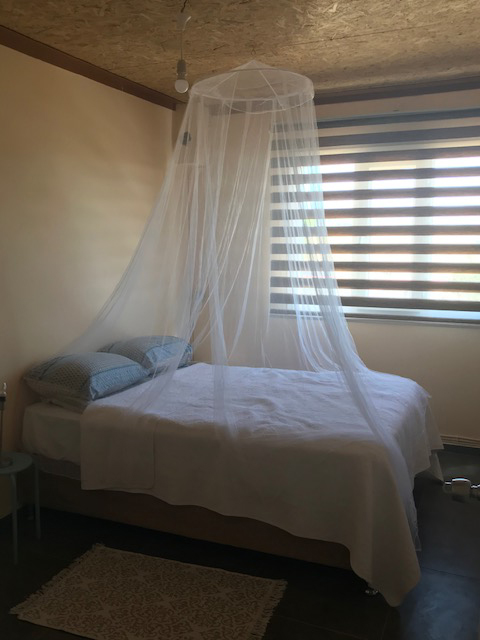 Bird Island Farm rent out a small house to animal-loving people in need of a break. It has two double rooms, a bathroom, kitchen-cum-living area. All proceeds go back into the farm!