When I walked into Salon IKSV on November 10, ceramic mug and notebook in hand, it was the first time I'd ever seen it empty. The brightly-lit room–a dark grey floor connecting the small stage on one end to the sound booth and bar stocked on the other, with stairs leading up to a U-shaped balcony area–seemed small enough to traverse in a few steps. At five o'clock on a Friday afternoon, the only sound in the space was the hum of the bar's refrigerators. It had none of the manic pre-concert energy that I had envisioned on my walk from the Şişhane metro station.

Of course, appearances (and sounds) were deceiving. Preparations were already underway for The Away Days show that would begin in just five hours. In fact, as I stood in the lobby of the expansive Eczacıbaşı Building, the home of Salon and the Istanbul Foundation for Culture and the Arts (İstanbul Kültür Sanat Vakfı, or the IKSV in Salon IKSV), I ran into two Salon employees. Ürün Eren, the venue's Operation Assistant, was in the reception area when I arrived, probably on one of her many trips between the green room and her office, where she fields a never-ending stream of queries from upcoming performers. She made time to greet me and even introduced me to another passerby, Ufuk Şakar, Salon's soft-spoken stage manager who was, unsurprisingly, on his way to the stage.

Salon opened its doors in 2010, the year after IKSV moved into its current space, formerly the Deniz Palas Apartments, to accommodate its growing body of programming. The 300-person performance space might have been overshadowed by its parent organization's much longer-running, multi-week, annual events like the Istanbul Jazz, Film, Music and Theater Festivals (the Istanbul and Design Biennials are held on alternating years).

IKSV's second-youngest offspring after the Design Biennial, Salon has carved out its own niche within Istanbul's crowded and vibrant arts scene. Its programming, while arguably smaller in scale than IKSV's other branches, is almost constant: in the fall, winter and spring months, the space hosts an average of four events a week (a remarkable feat in recent years as other Beyoğlu staples like Babylon and Hayal Kahvesi have either relocated or shut down entirely). And though well-known international acts feature prominently on the Salon calendar–you can check out their 2017–18 Spotify playlist here to acquaint yourself with their diverse lineup–Deniz Kuzuoğlu, the venue's co-director responsible for events and content, and her predecessor Bengi Ünsal have paid particular attention to booking local acts. Indeed, artists like Mabel Matiz, Ceylan Ertem and Yasemin Mori, who each command sizable followings today, appeared at Salon frequently early in their careers.
Following a brief tour of the building with IKSV's media relations assistant Ayşegül Öneren, who had been kind enough to give me the aforementioned mug of tea, I entered Salon and dropped my camera bag, purse and notebook near the sound booth. I had promised the team that I would be a silent observer throughout set-up and soundcheck and, aside from a few interviews, I managed to stay true to my word.

My questions grew less banal and ignorant as the afternoon progressed but, unfortunately for him, Ufuk was my first interview. I led with, 'How's everything going?'

'About eighty percent of the stage is set up already,' he said, producing an informative answer despite my impossibly broad question. 'When [The Away Days] get here, they'll set up their own guitars, pedals and cymbals. Then we'll move on to soundcheck.' But don't think that concert prep begins mere hours before showtime with a stage that's 'eighty percent' ready. Ufuk considers himself lucky if he can get started a month in advance.

'Our standard procedure is to obtain the [technical] rider a month before the show. Unfortunately, things don't always play out that way and there have been times I've gotten the rider a week or even five days before the show. That puts me under a lot of pressure because then I don't know what equipment I need to rent. And because this is Istanbul, just getting to the closest place [that we rent equipment from] can take an hour, hour and a half.'

Tonight's headliners, he quickly adds, have not made his job difficult. 'I came here about half an hour ago and got the stage to its current state. So, right now, I'm completely at ease.'

At some point during my conversation with Ufuk, Sinan Özçelik, the sound engineer, arrived and began making his rounds between the stage and the sound booth. Later, he settled into his chair behind the glass and asked Ufuk to help test a few of the eighteen audio channels that The Away Days would be using.

Sinan stared intently at the opposite end of the venue as he pressed a button. 'Hadi bismil!' Translating roughly, in this context, to 'here goes nothing,' his tongue-in-cheek prayer was answered with a low hum from the stage. I assume this was the expected result, as Sinan moved on to his sound board's other controls.

'At the start of soundcheck, Sinan sits with the sound board and I hang out on stage,' Ufuk later explained. 'Sinan tells me what he needs and I direct the band accordingly. We try out all the drums, the lead guitar, the backing guitar, the vocal mics. Then I get off the stage and leave Sinan with the band.'


A few other staff members trickled in before The Away Days: Efe Sümer, the venue's full-time lighting designer, and Burak Kayıkçı, a production assistant and university student who has been on the team for just over two months. 'Normally I'd get here earlier,' Burak said. 'But I had exams all this week.' He said he's beginning to get used to the high stakes and rapid pace of live event production.

'I started [as a production assistant] with zero knowledge and I'm still learning. The job can be stressful at times. If things aren't going as planned, you have to be as cool and level-headed as possible while working quickly to solve the problem.' After our conversation, Ufuk launched a roll of electrical tape into the air. Burak caught it, climbed on stage and began eliminating potential trip hazards.

As the stage area grew more crowded, I retreated to the staircase on the other side of the hall. Ürün came to check on me, and I asked if I could see the green room. In addition to being Salon acts' primary contact prior to their arrival on show day, Ürün also greets artists when they pull up behind the Eczacıbaşı Building and ensures the green room is stocked with all their requested beverages and snacks. She lumped all of these responsibilities, from months of email correspondence to day-of-show backstage prep, under a single label: post-booking.

'A concert starts in the pre-booking stage, with Deniz [Kuzuoğlu]. Once she sets the season calendar, I get to work. I forward all the technical [communications] to Ufuk, but the rest is my responsibility. My job consists almost entirely of communicating with the artists, so if there are miscommunications or a language barrier with an international guest, for example, it can make things very difficult.'

Tonight's performers, however, are 'easy to work with,' a sentiment echoed by almost every Salon employee with whom I spoke. The Away Days, the English-singing, Istanbul-based dream pop duo of Oğuz Can Özen and Sezer Koç, are a prime example of Salon's deep connection and devotion to the local scene. My day at Salon marked their second headlining show in the venue, the first being their album launch in March, but the pair have stepped on the stage four other times since 2011 in support of non-Turkish indie darlings like Unknown Mortal Orchestra and Local Natives. They also have a significant personal connection to IKSV: their manager, Merve Evirgen, happens to be a member of the foundation's Corporate Identity and Publications team.

The band have made several stops around Turkey, the United Kingdom and other parts of Europe since releasing Dreamed at Dawn, their first full-length record, and their November 10 Salon gig was a warm homecoming. As soon as they walked in, Can, Sezer, percussionist Yağız Nevzat İpek and the band's road technician Cenk Yıldırım abandoned the backpacks and guitar cases slung over their shoulders to greet Ufuk, Sinan and Efe.

In the minutes prior to soundcheck, the most critical part of the evening, the Salon crew caught up with the musicians: The Away Days' last show in Prague, their unabating jet lag and other topics relevant to touring rock bands. 'We're not sure if this is the last show of our European tour or if the European tour ended [last week]. We're playing on the European side of the city, I guess,' Can later told me.

Eventually, the sound of drums banging, electrical tape ripping and sneaker-clad feet striking the concrete floor replaced this quiet chit-chat. With the addition of Efe's light tests–which, to my untrained eye, seemed like random, intense bursts of color shooting out of all corners of the venue, including a disco ball–the silent, cozy space I had entered an hour and a half earlier was utterly transformed.

'Yesterday's concert was very chill: two people, two spots, not much else,' Efe said, referring to Icelandic singer Ólöf Arnalds. 'Tonight is a different story. In terms of lighting, it's blood and thunder [vurdulu kırdılı].'

There were a few minor snags, of course. Efe and Cem Çançin, The Away Days' visual designer, spent several minutes troubleshooting the projector to work before axing the background visuals entirely. About an hour into soundcheck, a staticky hum emanating from the stage prompted Ufuk and Sinan to test several of the audio channels and monitors again to discover its source.

The arrival of Nil İpek Hülagü, a singer-songwriter better known to Turkish indie music fans as Nilipek., provided The Away Days, and thus the Salon staff, a short break (some time later, she and the band rehearsed their cover of 'Nightcall' by Kavinsky). But the small talk wrapped up quickly this time; guests would be arriving in just two hours.

A few bars into the first song that all three band members played together during soundcheck, Sezer waved his right hand. 'Sinan, turn up the reverb on my [vocal] mic. You can go up to church level. Really turn it up. I don't say very many real words anyhow.' Laughing, the trio started again and, this time, made it through the whole song. The group's hazy, shimmering layers of melody and percussion washed the frantic energy out of the venue. Efe and Sinan settled into the sound booth. Burak, relatively relaxed, was a few steps above me, while Cem, sitting atop the stool Ufuk had placed in the middle of the concrete floor at the start of soundcheck, serenely bobbed his head to the beat. The fact that Ufuk, previously omnipresent, had stepped out to eat dinner was an obvious sign that soundcheck was nearing completion.

Leaving their instruments on stage, The Away Days retreated into the green room at a quarter to nine. In the final moments of soundcheck, Salon's remaining employees had arrived: door attendants Şahika Yılmaz and Sakip Saraçoğlu, cloak room attendant Burak Sakin and bartender Mert Baş, who joined the team in September.

'I think I've gotten more cultured since I started here,' Mert laughed. 'I wasn't really familiar with any of the artists who've played here [in the last two and a half months], but some of them are my favorites now. I loved Flunk and Roosevelt. And that guy, a Turk, he had an interesting last name. He played here a few weeks ago–'

'Mürtezaoğlu?' I offered, recalling that I'd recently seen photos from the singer-songwriter's gig on social media. Ufuk chimed in from the sound booth. 'Oh yeah, Cihan ağabey!' Without looking up from the glass he was wiping clean, Mert said, 'Yeah, he was really good. I'm excited to hear this band, too.'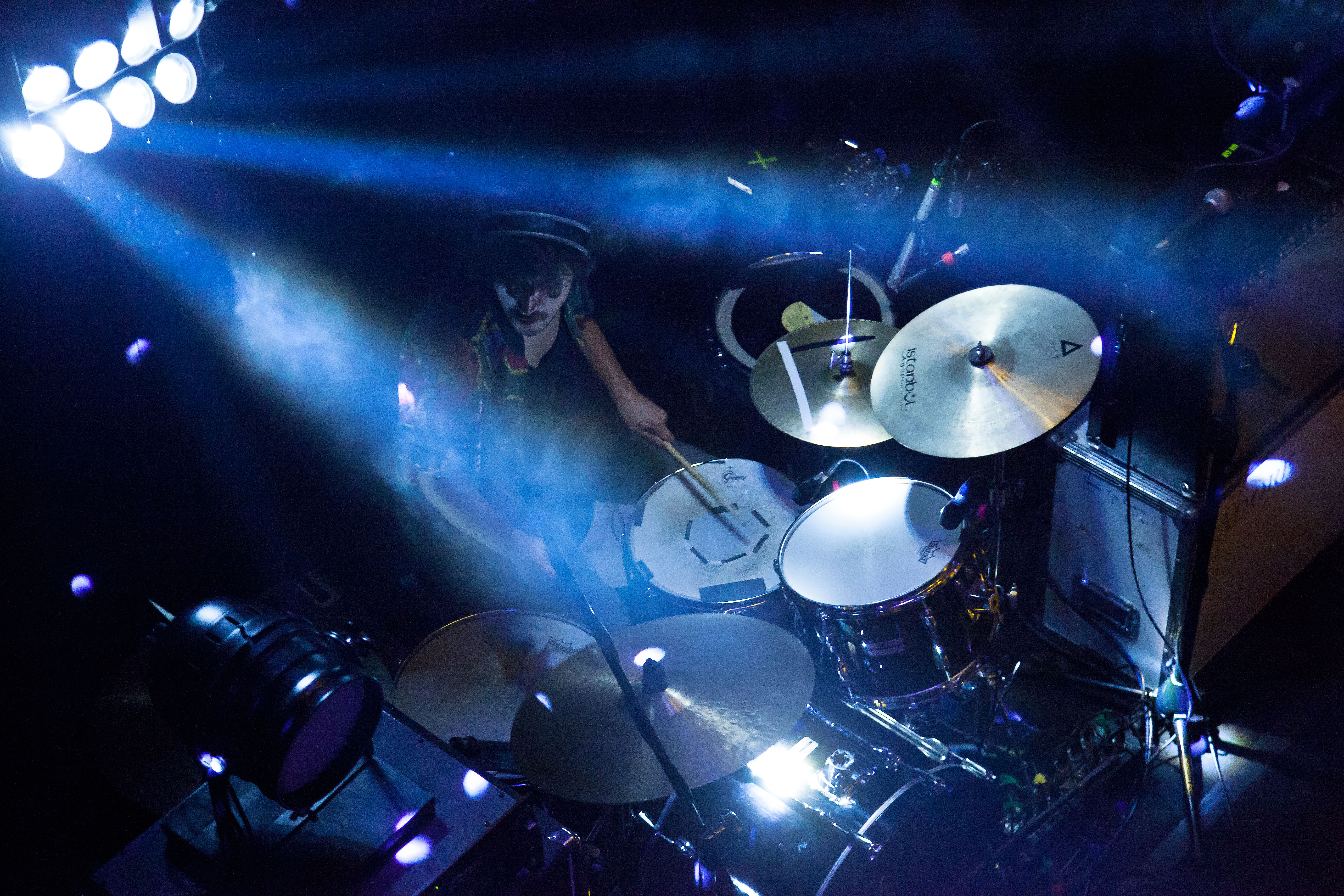 Relaxing with Nilipek. and other friends the green room, Can and Sezer were equally eager to take the stage. 'Playing at Salon is different,' Can said. 'It's like you're [with] family here. You don't feel like a stranger.'

Perhaps, then, it's no coincidence that the venue's name, in Turkish, means both 'hall' (as in 'concert' or 'performance') and 'living room.' Salon co-directors Deniz Kuzuoğlu and Egemen Eti themselves referred to Salon, in a 2016 interview, as 'a house where concerts happen.' Burak Sakin, who has worked in the cloak room for three years, said he landed the job after Egemen noticed him in the audience at dozens of concerts. Going far beyond its status as a workplace, Salon has even hosted staff members' wedding receptions.

'I was immediately struck by this team's chemistry,' Burak Kayıkçı, the production assistant, said. 'I've only been here a short time, but it's something I hope I can be a part of, too, as I work on more shows and spend time with everyone.'

Just before ten o'clock, a crowd of twenty-somethings, beers in tow, filed in and covered the remaining free spaces on the venue floor (the staircase was much too crowded with seated guests for me to have examined the balcony). The show started on time, per Salon policy: 'We believe the artist should never have to wait for the audience [to be ready],' Ufuk had told me.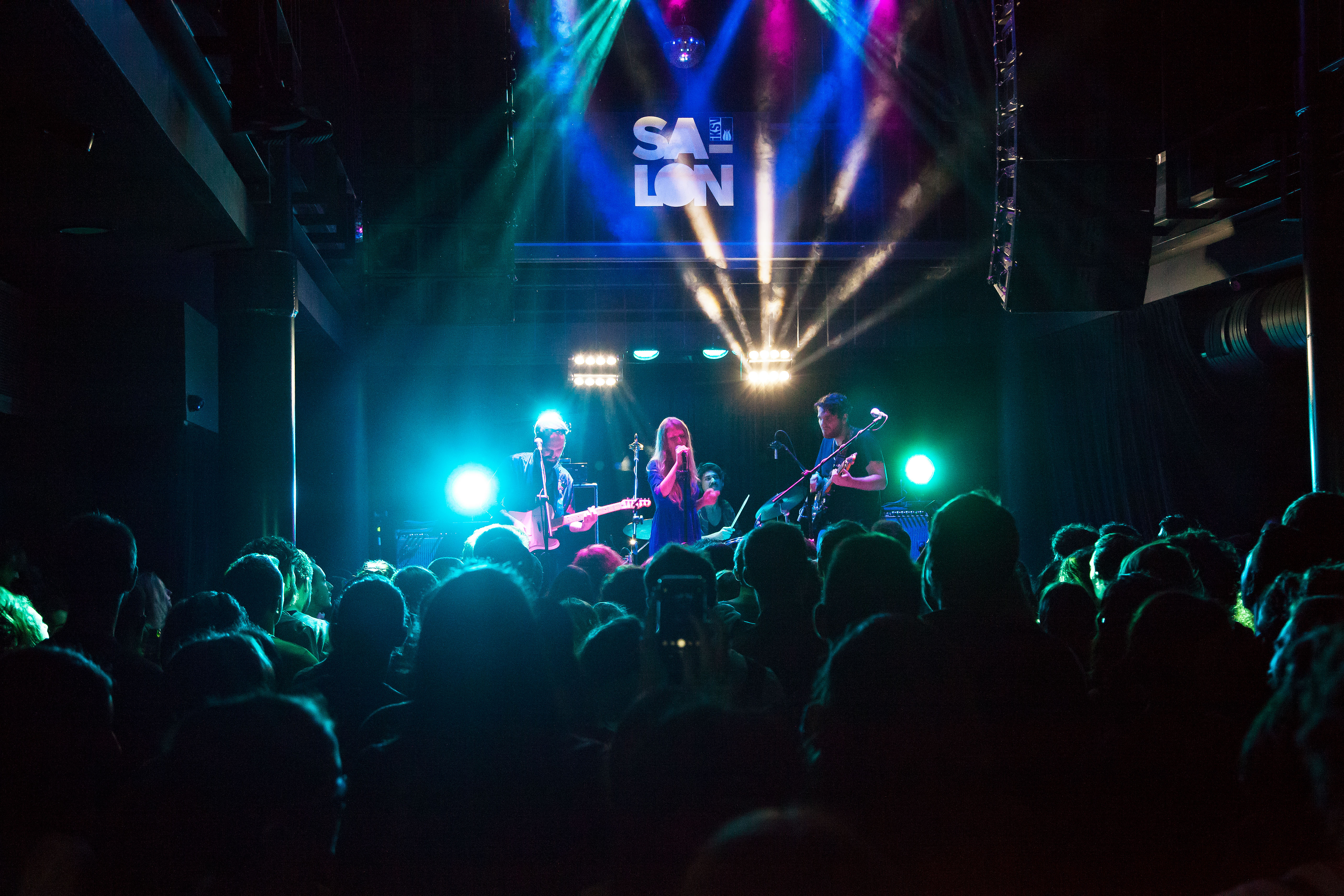 Ninety minutes later, unbeknownst to the foot-tapping, swaying audience, the Salon staff had guided another show to its successful completion. The Away Days hopped off stage right and into the green room following their set. Content concertgoers lingered in and outside of Salon–including a small crowd in the alley behind the Eczacıbaşı Building–as Burak, Ufuk and Cenk worked quickly to return the stage to its pre-soundcheck state. Fifteen minutes later, the venue was totally empty and the house lights on, revealing a once-pristine floor covered in beer bottles, plastic cups and a rainbow of bendy straws. But that, too, was swept and mopped to pre-soundcheck spotlessness in a few minutes' time.

Mert, who was studying what appeared to be a metres-long sales record, looked up from the counter to set out drinks for the crew. They kindly offered me a 'yorgunluk' (fatigue) beer, a term Ufuk had used earlier when I asked him about his post-show responsibilities. It had been a long night for all of us, and the staff had to do it all over again the next day, so I thanked them for their hospitality and left them to rest together, in the company of friends.