Was it Horatio or his chelengk that attracted Emma? In the 1941 film That Hamilton Woman Laurence Olivier played Lord Nelson opposite Vivien Leigh's Emma Hamilton. The wife of the British Ambassador in Naples, William Hamilton, was clearly not the only feather in the admiral's cap.
The sparkling turban decoration, çelenk in Turkish, was the highest military decoration, given to him by Sultan Selim III in gratitude for his victory over the French at the 1798 Battle of the Nile, its 13 petals representing the 13 French ships destroyed or captured in the battle. At the time of the film, this most famous jewel that started a fashion was in the care of the National Maritime Museum in Greenwich, but it was stolen 10 years later and has not been seen since.
Now a replica is on show in the Nelson Gallery at Portsmouth Historic Dockyard. With the help of Martyn Downer (pictured here) who has been researching his new book, Nelson's Lost Jewel, it was made by London jeweller Philip Denyer using traditional techniques and incorporating more than 300 diamonds. It also contains a clockwork mechanism that turns the central diamond star, which was a feature of the original.
Downer, describes the chelengk as "one of the most historic, bizarre and instantly recognisable jewels in British history", and points out that it can be seen not only in the many portraits of Nelson, but also on his statue high above Trafalgar Square. Nelson even had its image incorporated in his coat of arms.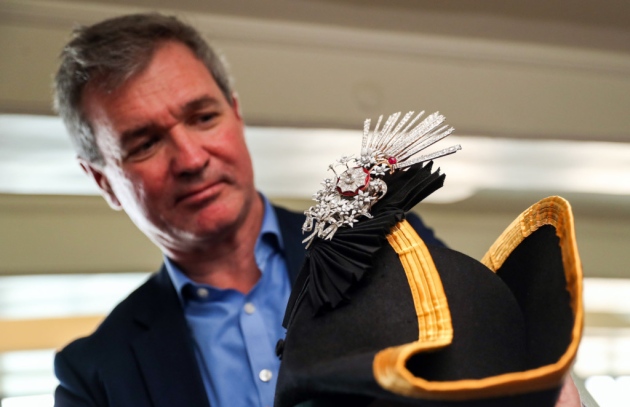 Andrew Matthews/PA Wire
It goes on display beside another re-creation, the admiral's cocked hat, made by Lock & Co of St James's, which has kept the full details of the requisites of its famous customer. Nelson settled his bill with the world's oldest hat-maker before leaving for Cape Trafalgar.
*Every issue of Cornucopia has news of treasures from the salerooms. See the beautiful 17th-century pilgrim's flask in the latest issue, No.56.