The Venice Biennale, now rescheduled to take place between May and November 2022, offers an exciting opportunity to observe developments in contemporary art across the world as each country projects its own carefully curated examples.
In 2019 the Turkish Pavilion confirmed its growing reputation with İnci Eviner's installation We, Elsewhere, which, as the late Roger Williams wrote in the Cornucopia blog, combined drawings, video, sound and performance, with ramps leading into courtyards where visitors could peer through cracks in the walls. In his review, A subtle depth in Venice (May 11, 2019), Tim Cornwell called it 'total art'. 'The work troubles the mind,' he says. 'Walking round and over the structure, surfaces seem to have shifted like tectonic plates: ramps, railings, steps, pathways present dislocated angles.'
In 2022, the conceptual artist Füsun Onur steps into the limelight (photograph courtesy of EgeArt Archive). Born in Kuzguncuk, Istanbul, in 1938, she studied sculpture at the Ali Hadi Bara studio of the Istanbul Academy of Fine Arts, before going on to complete her master's in sculpture at the Maryland Institute College of Art in 1967. Her work combines painting, sculpture and installation art, often tackling the boundaries between life and art. She manipulates found objects, rearranging pieces of old furniture in unusual combinations with other materials such as clothes and coverings. The result seems to have emerged from another world of meaning and sensation.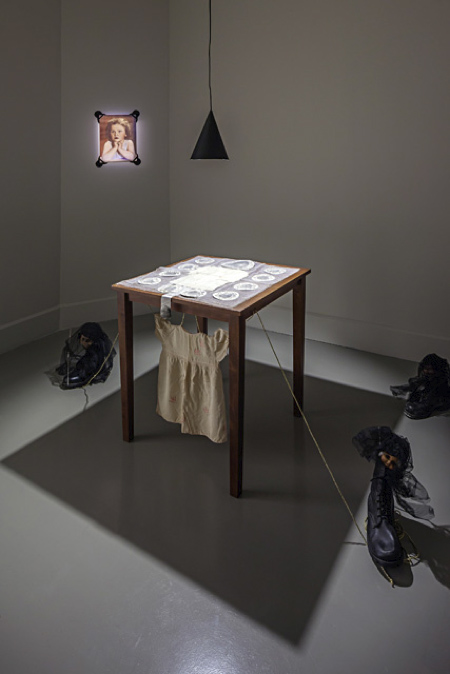 Füsun Onur, War through the Eyes of a Child, 1994. Table, photographs, boot, doll, and a child's dress. Installation in Through the Looking Glass, ARTER, 2014. Photo: Murat Germen
In her installation War through the Eyes of a Child, Onur formed a connection between the collective memory of the Second World War and her own experience of the period, recreating a sense of fragility through her own belongings and photographs. In all her work, Onur sets out to capture the multiple layers of meaning that the objects have to offer, with an emphasis on conceptual depth over aesthetic quality.
Her early works (some on display at Arter – Istanbul's new temple to conceptual art – in its inaugural exhibition What Time is It?) were more tactile than sensory – canvas surfaces ripped and knotted, torn pieces of cloth attached to wooden structures. Onur questioned notions of time and space while simultaneously exploring different mediums, with canvases incorporating sculptural elements such as plaster and lime. Her later works are often seen as a continuation of the transformative language she developed in those early years.
Onur belongs to a generation of female artists who stirred up avant-garde tendencies in Turkish art in the 1970s. At a time when 'art' was largely confined to painting or sculpture, her inclusion of objects not previously considered as art, particulary in the New Tendencies exhibitions [1977–87], positioned her at the contemporary edge of the Turkish art scene. As the art historian Ahu Antmen notes 'what has made artists such as Füsun Onur and Ayşe Erkmen recognisable… was the way they pushed back 'the boundaries of painting and sculpture and questioned what art is'1.
Her work has lost none of its relevance. Reviewing the inaugural show at Arter in the latest Cornucopia, No 60, Thomas Rouché, writes: 'Works by Füsun Onur, in particular Icons of Time, speak to a sense of loss and of entropy. Onur, one of Turkey's most important and pioneering conceptual artists, famously discarded many of the works she made earlier in her career; here we see the importance of Arter's role in preserving these vital fragments of Turkey's cultural heritage.'
The curator in Venice will be Bige Örer, director of the Istanbul Biennial and contemporary art projects at IKSV, who curated Flâneuses at the Institut Français d'Istanbul last year. Füsun Onur's plans for the Pavilion are still firmly under wraps.
---
1 Ahu Antmen, 'Çağdaş Sanatın Öncülerinin Kimlikleri Neden Pembe?', in Kimlikli Bedenler - Sanat, Kimlik, Cinsiyet (Sel Yayıncılık, 2014)