That Howard Hodgkin (1932–2017) was an important collector of Indian Art is well known – not least from the frequent displays of his work internationally (two might be Visions of Mughal India: The Collection of Howard Hodgkin, at the Ashmolean, Oxford; and Sultans of Deccan India, 1500-1700, Opulence and Fantasy, at the Metropolitan Museum of Art, New York). Despite its fame, this was not a collection the artist lived with. However, 453 works of art from his private collection do come up for auction at Sotheby's during Islamic Art Week, which commences next weekend – objects he lived with that give an insight into his life as an artist and a collector. An essay introducing the sale catalogue by Antony Peattie, Hodgkin's partner of more than 30 years, tells us that the objects reveal 'the relationship between what he bought and what he made'.
Despite being one of Britain's greatest artists, Hodgkin suffered in his reputation from not belonging to any particular school or grouping. In the second half of the 20th century, as abstract art gave way to minimalism and conceptualism, Hodgkin's insistence that his work was, first and foremost, representational, had a tendency to disturb critics and audiences. His much quoted jibe that 'the English are afraid of colour', rang all too true. As a result, his Indian collection was often looked at as a key to unlocking the supposed 'hidden meanings' in his own paintings – a tendency Hodgkin disliked intensely.
The auction at Sotheby's, Portrait of an Artist, provides just that, a portrait. It is rare that the descriptions of lots in an auction catalogue can really be read, but over 368 pages one develops a keen sense of Hodgkin's personal taste, of his playful and persistent collecting. Peattie says that the catalogue is, indeed, 'an object lesson in displaying things by putting different things together'. In the introduction he recalls Hodgkin's insistence that 'Collecting is, ultimately, shopping'; the lots at Sotheby's highlight the knowing and playful irony of such a comment – it was clearly much more to him than that.
Hodgkin was born into a family of haute bourgeois connoisseurs – the list of his relatives' achievements is long and includes the composer John Eliot Gardiner, the collectors John and Edith Eliot Hodgkin, and the gardener Eliot Hodgkin – and the catalogue shows an antique photograph of his great-grandparents' house, which, with its brown furniture, tiles on the wall and good carpets, is the very image of a genteel late-Victorian home. Growing up, these were tropes he came to loathe; he recalled rebelling against his parents' brown furniture (to protestations from his mother about their quality). In the lots on sale, one certainly gets a sense of Hodgkin's interest in the unusual, the special, the unique. Within the forms of art that interested him – be it Iznik, Flemish tapestry or sculpture – it seems that the particular example, rather than the form itself, was more important. If you're afraid of colour, then look away now.
The scale of Hodgkin's collection must be noted. While 453 lots may seem a lot, a visit to the artist's house and studio in an unassuming street opposite the British Museum reveals not an inch of empty space on the wall, not a liberated corner. Much clearly has stayed in situ, not least two wonderfully over-the-top, impossibly ornate gold Portuguese columns. An incredibly, unbelievably, ostentatiously huge golden clock sits in a corner like an ever so slightly overbearing visitor, more at home in Sanssouci than drab Bloomsbury. Peattie watched Hodgkin collect for years, and was himself surprised by things he found in the house. 'There were things I didn't know Howard had.' In the library-cum-storage room below the studio he found a complete series of Hogarth's prints of the Harlot's Progress: 'I didn't know when he acquired them, how he acquired them – I couldn't actually connect the Harlot's Progress to any of his work.' Likewise he found a folder of paintings and engravings connected to Eton, probably collected by Hodgkin's parents.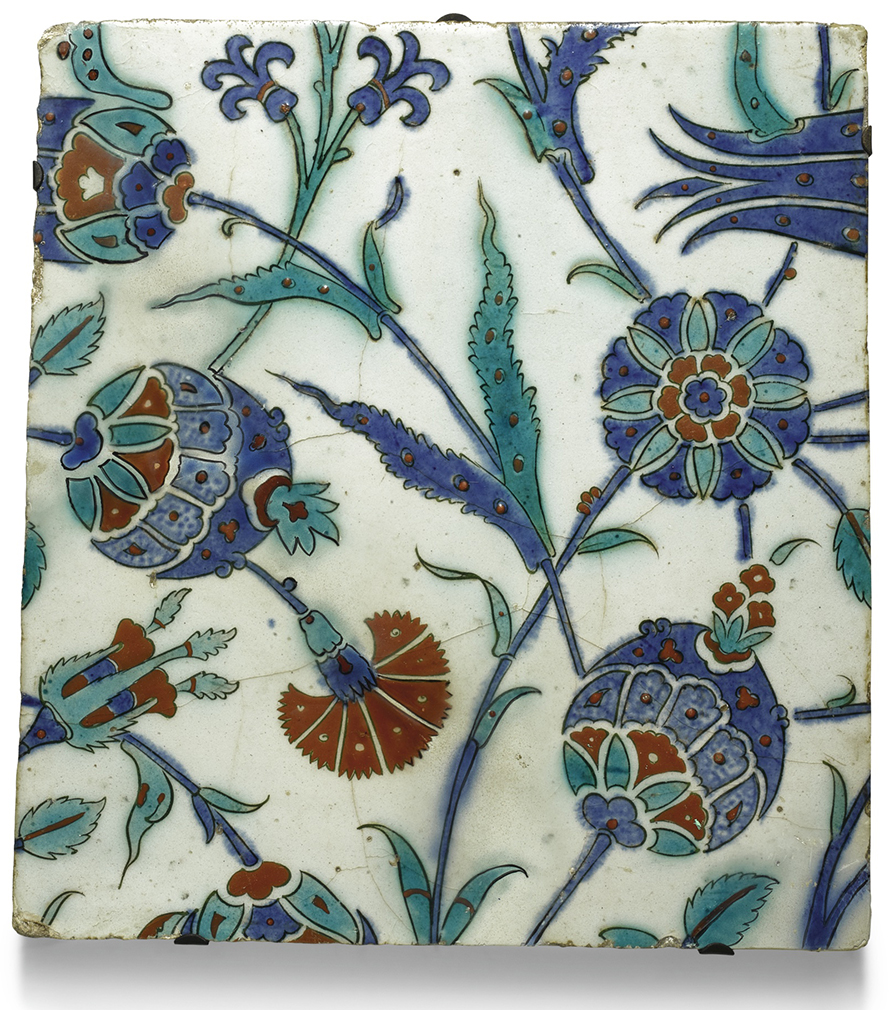 Iznik tile with pomegranates and carnations (Lot 2 est £7,000 — 10,000, Howard Hodgkin, Portrait of An Artist, Sotheby's Ocy 24)
Iznik was clearly a passion, but not the figurative tiles. Peattie recalls that, 'within Iznik he was very discriminating. He was never interested in the representational Iznik of sailing boats, or animals – he called them dis-objects. Interviewed for Desert Island Discs in 1994, Hodgkin commented that 'masterpieces are so difficult to live with'. Clearly he meant grand paintings, but coming from someone who lived with a metre-long carved wooden salmon and a vast carved giltwood console table – hardly easy objects – let alone a glorious fragment from the Von Hirsch Garden Carpet, that seems a bit rich.
The glorious compositional interiors seen in the catalogue (and in November's issue of World of Interiors) are in each case held together (unsurprisingly) by the striking colours in which the walls are painted.
To conclude: the sale is an embarrassment of riches. There is so much to love here. The works are innately charming, collected by someone with a profound understanding and sympathy for ornament and the decorative – it is sad to say that it would be hard to find two concepts less fashionable in the world of contemporary art today – and of course, a deep understanding of colour. Discussing the auction with a friend who knew Hodgkin (he has fond memories of long evenings in lot 240, the Hans Coray armchairs), he commented that the works are all perhaps, au fond, 'about gesture'. And if that isn't a beautiful way of thinking about fine Iznik, Uşak and all the rest, I really don't know what is.

In this film, Hodgkin's partner Antony Peattie guides us through the extraordinary collection of objects in the artist's collection. The auction Howard Hodgkin, Portrait of the Artist takes place in London on 24 October 2017. 'In conversation with Antony Peattie', Howard Hodgkin's partner, takes place on Sunday 22 October at 2pm at Sotheby's New Bond Street. Please email isabel.paulus@sothebys.com to reserve your place.