İstiklal Caddesi is one of those confounding urban space that can be a heavenly mix of history, vitality and culture, or a hellish experience stumbling over concrete slabs and construction sites, so it's only appropriate that two exhibitions on the avenue explore the holy and the profane.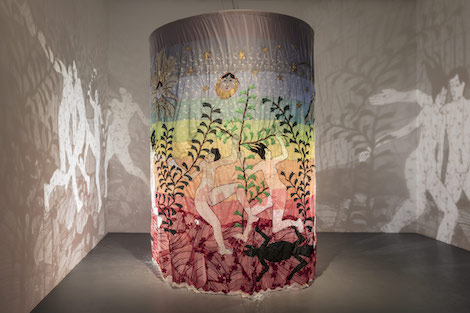 Behind Mt. Qaf at ARTER, Beyoğlu
CANAN's solo show at ARTER is eye-catching even before you slip into the space's side entrance. Through the Istiklal-facing window, passers-by can spy fantastical monsters in sparkles and wild hues hanging from the ceiling and twisting in the air. This ground-floor level is Heaven, an installation of colours and creatures and rotating rainbow light-boxes. CANAN's inverted divine comedy lets you rise, rather than descend, to Purgatory, where a new spinning light-box has had its colours drained. Rocks of various shapes dot the floor and a room scrawled with stories and harsh white light lies around the corner.
Really, though, this is just a preamble for Hell, on ARTER'S top floor. You're given a glow-in-the-dark strip of tape for your shirt before disappearing behind a thick dark curtain. I'd rather let you experience this rather than describe it and spoil the discovery, but I whooped with delight at the simple but hugely effective space. I like art that builds worlds, and this show does that wonderfully.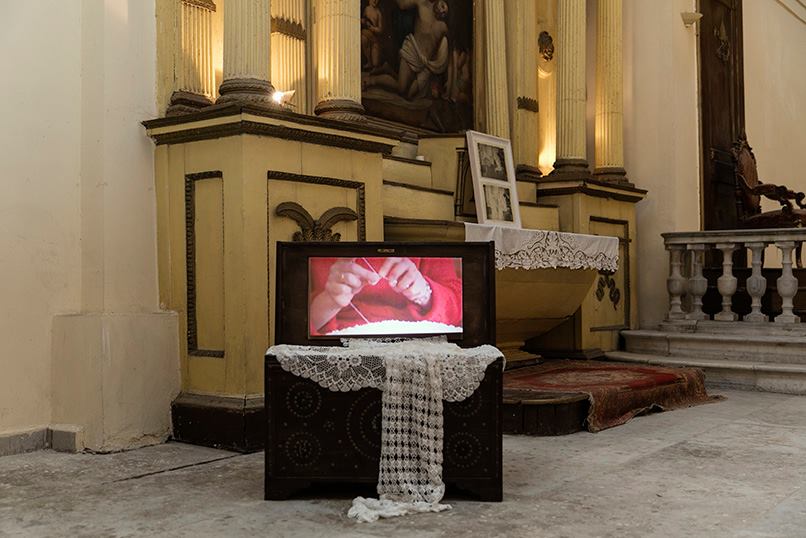 trans-ID at Surp Yerrortutyun Church, Beyoğlu
Not far down Istiklal, the next exhibition is literally in a house of God. The creative minds behind the gallery Space Debris Art and the magazine Exhibist have curated a fascinating exhibition in the Surp Yerrortutyun Church, an atypical dimly-lit space that works with the art, rather than against it. I was pleased to see how well the pieces in this group show used the quirks of the space, creating a dialogue with the room that might have been unplanned and fortuitous, but felt deliberate and perfect. The exhibit itself deals with themes of transnational identities, and the space itself seemed to take on a dual identity: both church and alternative art space. It's enveloping, in a completely different way than the exhibit at ARTER. Both are terrific; seen together, during the same Istiklal gallery stroll, they are transcendent.