With this, the fifth instalment in our series of articles on composers who wrote chansons – French art songs – we continue our exploration of the songs of Gabriel Fauré (1845–1924), this time covering his middle period. Previous instalments have focused on the songs of Reynaldo Hahn, Debussy's earlier and later vocal works, and Fauré's earlier chansons. In this particular blog we will be examining the songs Fauré wrote between 1878 and 1896. This photograph was taken in 1887, the year he composed his Pavane.
The story so far: after his participation in the Franco-Prussian War of 1870, Gabriel began to suffer periodic bouts of depression.*
The year 1877 was very much a mixed bag for Fauré: in January he achieved public recognition for the first time – but with a violin sonata, not a song. In July he became engaged to Marianne Viardot, the daughter of Pauline Viardot, a famous mezzo-soprano who in her youth had been courted (unsuccessfully) by Alfred de Musset and Ivan Turgenev. Turgenev, who knew Marianne well and was favourably disposed towards Gabriel, was one of the match-makers. In November, however, disaster struck when Marianne, with whom Fauré was deeply in love, broke off their engagement, and his friend and mentor Camille Saint-Saëns took him to Weimar in the hope of taking his mind off his troubles. Whether or not the trip enabled him to put himself together again is questionable (the bouts of depression did not go away), but it certainly gave him the travel bug. Meanwhile, he continued to hold down a demanding job – that of choirmaster at the Église de la Madeleine in Paris.
It is in the composer's 'middle period' that some of his best songs were written. For the moment, however, I will mean-spiritedly withhold three of them, and save them for the final instalment. (In life's Scrabble game, 'withhold' is one of the words Saturn loves to plonk down on the high-scoring squares.) That is not to say that Nell, a setting of a poem by Leconte de Lisle composed in 1878, is anything but a fine piece of music. Here is Christopher Goldsack's translation of the poem on the Mélodies Treasury website:
In the following video, the performers are the Dutch soprano Elly Ameling (1933–) and the American pianist Dalton Baldwin (1931–2019) – an ace accompanist whose contribution to our knowledge, and our enjoyment, of the chanson repertoire is immense:
Automne, a setting of a poem by Armand Silvestre, was written the following year. A translation by Richard Stokes, Professor of Lieder at the Royal Academy of Music, is available on the Oxford Lieder website: https://www.oxfordlieder.co.uk/song/72
In this recording we hear the amazing Philippe Jaroussky, accompanied by Jérome Ducros. Are the sombre bass octaves in the piano part a railing against the pain of lost love, one wonders?
Les Berceaux, also composed in 1879, is yet another blockbuster. The poem is by Sully Prudhomme. Here is Christopher Goldsack's translation, again on the Mélodies Treasury website.
The first of the two performances I will list is by the celebrated French baritone Gérard Souzay (1918–2004), whose parents met each other at one of the first performances of Debussy's Pelléas et Mélisande, and whose first public appearance in Britain was in Fauré's Requiem – at a centenary tribute concert for the composer in 1945. He is accompanied here by the ubiquitous Dalton Baldwin. This video has some well-chosen visuals, by the way – and when Souzay hits that top note, your computer may well vibrate in sympathy and edge itself off the table, so make sure you keep it under control!
Les berceaux lends itself to instrumental arrangements of various kinds. Here is one in which cellist Mischa Maisky (who performed in the Hagia Eirene during the İKSV Festival in June 2018 – how far away it seems now!) is accompanied by the French pianist Daria Hovora:
Now, a somewhat more adventurous arrangement featuring a singer (Anne-Catherine Gillet), a pianist (Nathanaël Gouin) and a cellist (Sébastien Walnier):
But the evil day can no longer be put off: sooner or later I will have to make a terrible admission. Unveil the pyramid of stone, and let the awful truth be known… with very few (and very honourable) exceptions, I don't like Fauré's song cycles very much. I will not, however, deprive the reader of the opportunity to come to her or his own conclusions as to their merits. My confession is a belated one, as Poème d'un jour, consisting of three settings of poems by Charles Grandmougin (Rencontre, Toujours! and Adieu), was composed in 1878, a year prior to Les berceaux. And speaking of all things retro, this recording by Georges Thill (1897–1984) is a very old one, and thus has a gritty, gramophone-like sound that I find appealing: it reminds me of the 78rpm records I listened to in my early years before the old queen died. (That last expression means 'a long time ago', by the way. The queen referred to is Queen Victoria, and the expression was used by people who could remember her reign.) Georges Thill was one of France's most famous opera singers, reaching his peak in the 1930s. This recording – the accompanist is not named, unfortunately – was made in 1937:
In the first of the two recordings of this straight-to-the-heart confession that I will present to you, the singer is my personal favourite, Régine Crespin, and her accompanist John Wustman:
The second rendition of Le Secret is by Barbara Bonney, with Warren Jones at the piano. Ms Bonney's top notes are a stream of gold (but mind your tea-glass doesn't shatter), and Mr Jones's accompaniment is exemplary in its restraint: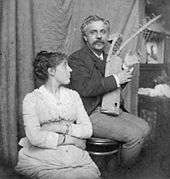 We now move ahead to 1883, the year in which Gabriel married Marie Fremiet, the daughter of a famous sculptor. The couple are seen here six years later, in 1889. Wikipedia notes the following: 'The marriage was affectionate, but Marie became resentful of Fauré's frequent absences, his dislike of domestic life – 'horreur du domicile' – and his love affairs, while she remained at home. Though Fauré valued Marie as a friend and confidante, writing to her often – sometimes daily – when away from home, she did not share his passionate nature, which found fulfilment elsewhere.'
We will let that last sentence resonate as it will. For those interested in the subject of Fauré's emotional life, here is a link to an article by Georg Predota on the Interlude website that lays it all bare. Don't miss the two bizarrely beturbaned gentlemen sitting on the sofa in the first photograph (which you may need to enlarge). They are straight out of some Orientalist painting: https://interlude.hk/babe-magnet-gabriel-fauremarianne-viardot-and-marie-fremiet/
1887 was a good year for Fauré's creative output. It was then that he completed his Pavane for orchestra, a piece he himself dismissed as 'elegant, but not otherwise important'. Posterity has thought otherwise. In fact, the popularity of this piece started a fashion: following Fauré's lead, both Debussy and Ravel produced their own versions of this stately dance from the Spanish court – Debussy in the Passepied (originally entitled Pavane) from his Suite bergamasque, and Ravel in his Pavane pour une infante défunte. The tempo at which these pieces should be played has sometimes been a bone of contention between composers and performers. When the conductor Sir Adrian Boult heard Fauré play his Pavane on the piano, he was amazed to hear him bang it out much faster than it is usually played by orchestras. In Ravel's case, the reverse was true: he played his piece extremely slowly. There were limits, however. Once, after a performance of his Pavane pour une infante défunte, he wryly commented: 'I called this piece "Pavane for a dead princess", not "Dead pavane for a princess".'
It was in 1887, too, that Fauré began composing his Requiem, the best known of his larger-scale works. In it, one searches in vain for any outpouring of emotion: such grief as there is, is expressed in a manner that is impeccably polite. Taurean placidity and liking for a harmonious atmosphere, perhaps, or Cancerian concern for emotional security? I leave you to decide. Here is the Requiem played by the Ensemble Orchestral de Paris and sung by the Choeur Accentus – an outfit founded by the lady you see conducting, Laurence Equilbey:
The ending (for which you will need to scroll on to 33:17) is an illustration of what I mean by 'placidity' and 'concern for emotional security'. Fauré himself wrote: 'Everything I managed to entertain by way of religious illusion I put into my Requiem, which moreover is dominated from beginning to end by a very human feeling of faith in eternal rest.' Note that phrase 'religious illusion': in my previous piece on Fauré, I observed that his Saturn-Neptune conjunction – in rebellious Aquarius, and in a challenging square aspect to his Sun – debarred him from any firm commitment to organised religion. I also drew attention to Saturn's deadening effect on his ego, especially in the area of career: after the first performance of his Requiem at the Église de la Madeleine in January 1888, the priest in charge said to the composer: 'We don't need these novelties: the Madeleine's repertoire is quite rich enough.'
So let us brighten things up, and reassure Fauré's ghost that he is not universally undervalued. Here is Clair de lune, a classic chanson dating from 1887. Notice the crafty way he brings the voice in 'prematurely' on the borderline of 0:36 and 0:37 – at a point where you are expecting the piano to finish its phrase before the singer enters. At 01:19 the voice comes in together with the piano, with no complications, just to put you off guard. But then he plays the premature-entry trick on you once again: this time it is the piano that comes in 'too early' – the reiteration of its initial theme starts at 01:32, before the singer has finished her phrase. In the following video, this masterpiece of subtlety and misdirection (both these qualities being, of course, eminently lunar) is performed by Régine Crespin and John Wustman:
Now for a new male voice, this time an English one: Ian Bostridge (1964–) is a man of many parts – he is not only the great-grandson of John 'Tiny' Joyce, a famous goalkeeper for Tottenham Hotspur, but a historian to boot (sorry!), being the author of Witchcraft and Its Transformations, c1650-1750. In this performance, he is accompanied by Julius Drake:
Time for two more song-cycles. Firstly, Cinq mélodies 'de Venise', written in 1891. It consists of settings of five poems by Verlaine (Mandoline, En sourdine, Green, A Clymène and C'est l'extase). I will not comment except to say that I like the first song, at least, and that the second one has its moments. Here are Richard Stokes's translations of the poems on the Oxford Lieder website. You will need to click on the individual song titles: https://www.oxfordlieder.co.uk/song/107
Among the various renditions by women, I like the one by Joyce DiDonato. As in the previous video, the accompanist is Julius Drake. The excellent notes under the YouTube version give you the background to Cinq mélodies: they describe Fauré's despondency over the fact that in 1890 his projected collaboration with Verlaine over an opera – which promised to bring him fortune and fame – had come to nothing owing to the poet's alcoholism. (The composer's Saturn-Neptune conjunction strikes again, Saturn the spoilsport ganging up with boozy, delusional Neptune.) In consequence of the debacle, Gabriel suffered yet another bout of depression – but was then considerably perked up by a two-month holiday in Venice as the guest of Winnaretta de Scey-Montbéliard, heiress to the Singer sewing-machine fortune. The notes under the video also confirm that Mrs Fauré had a lot to complain about:
Now, here is a performance of Cinq mélodies 'de Venise' by Gérard Souzay and Dalton Baldwin:
With La bonne chanson – Fauré's third song cycle, consisting of nine songs composed between 1892 and 1894 – we come to a parting of the ways. I cannot live with the endless modulations, no doubt prompted by the new music he was hearing from some of his contemporaries. Bulls, being stuck in their ways and quite happy to be so, do not find it easy to adapt to change; slick and speedy Mercury, famed for his nifty footwork, is none too happy in Taurus. What are (in my view) our composer's aimless meanderings from key to key, and the languishings in limbo during transitions between them, do not entitle this new style to be hailed as a 'new idiom'. To me, it just sounds gratuitously ungrounded, taking off this way and that like a firework fizzing around in long grass. I readily concede that towards the end of his life Fauré did indeed succeed in creating an idiom that reconciled his instinctive formalism with his desire for a new form of expression. But in La bonne chanson, those days are still a long way off.
After this blatant attempt to prejudice your judgement, I hope these programme notes from the Hollywood Bowl website will go some way towards redressing the balance. Their author, John Mangum, offers the following opinion:
'Some of his greatest works (the Requiem, his opera Pénélope, and the present song cycle) could be compared to the paintings of Renoir or Monet for their fastidiousness, taste, and refinement. Such impressionist works of art occupy a similar interstitial space between the overt Romanticism of painters like Delacroix and the modernism of a Picasso or a Braque.'
I cannot resist commenting that I see the phrase 'a similar interstitial space' as an admission that in La bonne chanson Fauré's musical style falls between two stools: having abandoned conventional harmonic progression, he fails to create a replacement that is both modern and musically satisfying. (Debussy, by contrast, takes this fence in style in his Études, and Ravel sails over it as if it was not even there.) But I must rein in my critical edge, refrain from whipping poor Gabriel any further, and describe the background to the work's composition. Wikipedia gives us the following information:
'Much of the cycle was composed in the summers of 1892 and 1893 while Fauré was staying in Bougival as the guest of the banker Sigismond Bardac and his wife, the soprano Emma Bardac. Fauré was in love with her (although she later married Claude Debussy). Fauré wrote later that the cycle was his most spontaneous creation, with Bardac singing the newly composed material for him each day.'
Here is a link to Richard Stokes's translations of the nine poems by Verlaine. Once again, you will need to click on the individual song titles: https://www.oxfordlieder.co.uk/song/113
First, a rendition of La bonne chanson by Gérard Souzay and Dalton Baldwin:
Now, a different approach: in the next recording, Anne Sofie von Otter is accompanied not just by Bengt Forsberg on the piano but also by a small string ensemble. I think this arrangement works very well: the contrasting timbres of the stringed instruments serve to dramatise the modulations, rendering them more meaningful – so much so, in fact, that I am almost converted. The notes under the YouTube version go into the subject of the five motifs that Fauré uses as a unifying feature throughout the cycle:
Time for a biographical insert: here is a link to another article by Georg Predota on the 'Interlude' website in which he describes Fauré's relationship with Emma Bardac – and yes, his subsequent liaisons with Adela Maddison and Marguerite Hasselmans as well. Also touched on are the rumours surrounding the paternity of Emma's daughter Hélène, the 'Dolly' of Fauré's Dolly Suite: https://interlude.hk/babe-magnet-gabriel-faureemma-bardac-cie/
But let us avert our eyes from shame and scandal, and cut to the chase. In 1896 Gabriel's career took a much-deserved, but equally long-delayed, upward turn. He now received two appointments – that of chief organist at the Église de la Madeleine, and that of teacher of composition at the Conservatoire. No doubt the financial boost was very welcome. While employed as choirmaster at the Madeleine he had been obliged to give piano and harmony lessons to supplement his income and support his family – which now included two sons (Emmanuel, born in 1883, and Philippe, born in 1889). His compositions, meanwhile, had produced next to nothing in terms of income: he had sold his songs to his publisher, complete with copyright, for a pittance, and never received a sou in royalties.
The newcomer's arrival at the Conservatoire was not greeted with universal approbation. The old guard regarded Gabriel as dangerously modern. He proved to be a good teacher, however, and was responsible for the education of a good many pupils who later achieved fame – including Nadia Boulanger and Maurice Ravel. Jean Roger-Ducasse, another student, later wrote: 'Taking up whatever the pupils were working on, he would evoke the rules of the form at hand... and refer to examples, always drawn from the masters.' This is surely sound Taurean conservatism at its most useful. The French musicologist Henry Prunières, meanwhile, lays emphasis on his willingness to let his students find their own voice: 'What Fauré developed among his pupils was taste, harmonic sensibility, the love of pure lines, of unexpected and colorful modulations; but he never gave them [recipes] for composing according to his style, and that is why they all sought and found their own paths in many different, and often opposed, directions.'
Those four characteristics – 'Taste, harmonic sensibility, the love of pure lines, of unexpected and colorful modulations' – sum up Fauré's own style as neatly as you could wish.
---
* Predictably, I have ascribed this to his astrological make-up, which although basically harmonious – his Sun and Ascendant being in Taurus, and his Moon in bull-friendly Cancer – also reveals stressful squares not only between his Sun and his success-denying Saturn-Neptune conjunction in the tenth house, but also between his Moon and arch-underminer Pluto (hunkered down in the twelfth house, that of self-undoing).
**Those interested in pursuing an astrological paper-chase will recognise a recurring Taurean motif here: despondent bulls can fail to perceive that irrespective of their level of creditworthiness, they are intrinsically worthy of being in clover. This lack of self-assigned value inevitably finds its reflection in the outer world in the form of poverty – the Five of Pentacles in the Tarot, which shows two down-and-outs, is associated with the sign of Taurus.