Katie Nadworny & Alison Luntz, 'Dreamspace 1', 2016, Pigment Fine Art Print (35mm), 50x70 cm
As Cornucopia's Online Arts Editor, I spend much of my time visiting and reading and writing about exhibitions all over Istanbul. But I am an artist as well– a photographer working in analogue, with old cameras and tangible film. Though I've participated in two themed group exhibitions in Istanbul (The Mixup at Space Debris Art and Art on a Card at Circuit), the current group exhibition at Orjin Maslak, Water, is slightly different and much more special for me. The two photographs of mine that are in this show constitute the first public showing of any part of The Dreamspace, my collaborative ongoing project with the photographer Alison Luntz.
Our project combines a fascination with analogue photography and the love of our adopted homes. I shoot a roll of film in Istanbul, capturing the swoop of seagulls over the Bosphorus or boats bobbing off Burgazada or portraits of people on the Kadıköy streets. She shoots her roll in New York City, snatching images of shadows under L Train overpasses or performance art in parks or window display on Fifth Avenue. We then swap rolls and shoot a double exposure, so each picture is simultaneously a love letter to Istanbul and NYC, and a dialogue between the places we live. It's the dreamspace between the two cities where our photographs nestle.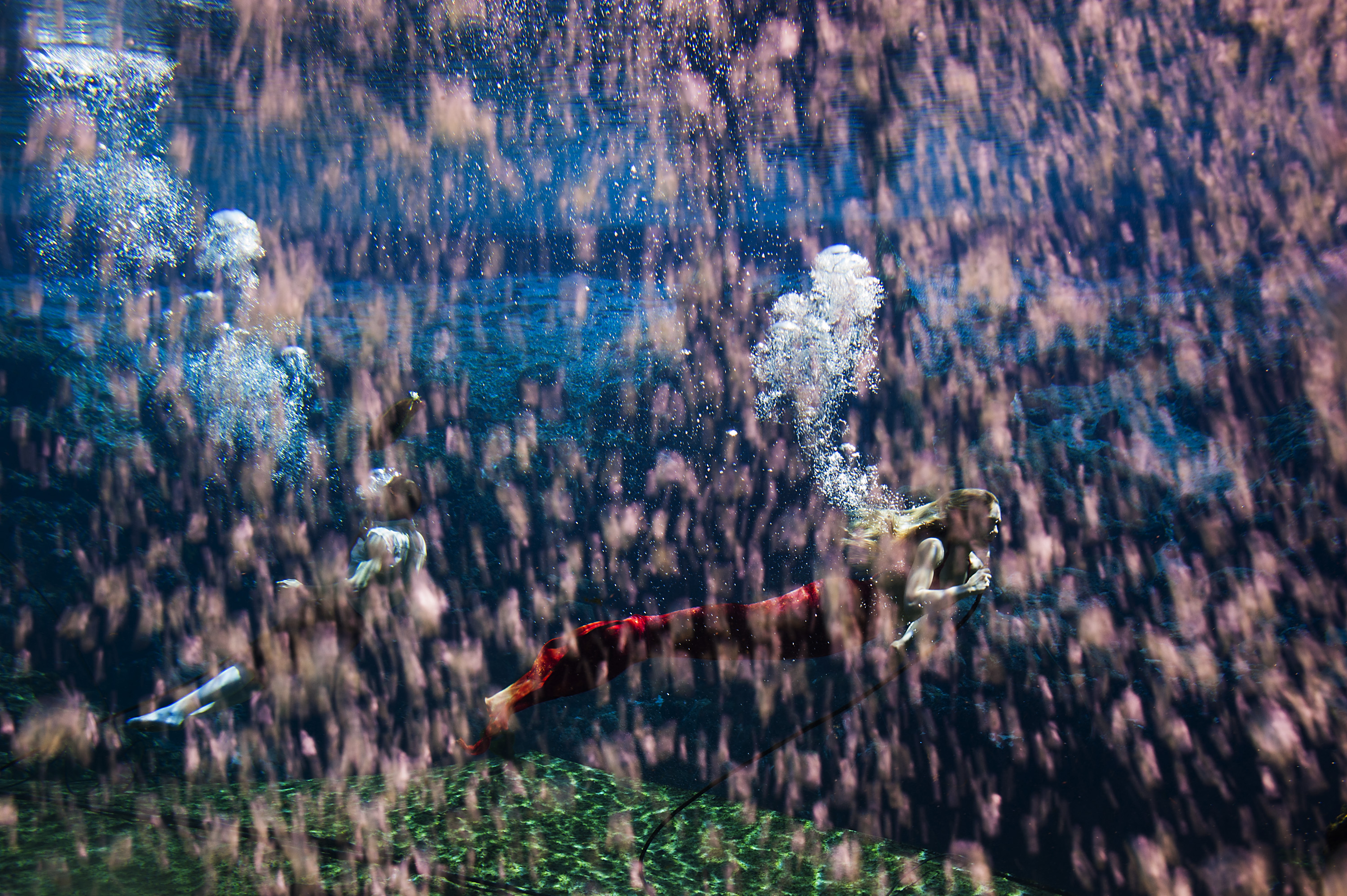 Christian Hansen, 'Weeki Wachee Memaids', 2009 Pigment Fine Art Print, 20x30cm
Two of our earliest images fit neatly into the themes of Water. The show is all about the fluidity of memory and experience, interpreted and re-interpreted through a few different distinctive artistic visions. 'Memory itself is formed through diverse lenses ranging from personal to collective ones, featuring digitized and manipulated versions of ourselves,' according to the exhibition notes. While my project creates a collective memory, other pieces in the show go in different ethereal and abstract directions. Ayça Telgeren's intricate lace-like paper cutouts cast dancing shadows under the gallery lights and beg both a closer look and an invite to interpret. Christian Hansen's photographs are bright and surreal, featuring hazy mermaids and women lounging waterside. The slightly blurred sensation of looking through water adds to the sense that his images are almost-forgotten memories.
Ayça Telgeren, 'Cosmic Girl', 2017 Acidfree paper, hand cut, 50x10 cm
Seyhan Musaoğlu, the curator of Water and the owner of Space Debris Art, was drawn to our photographs thanks to her own layers of experience, for she used to live in Brooklyn before she came back to Istanbul. The cities that interact and intersect in our photographs live in her memories, too. When she saw our photograph of boats off Burgazada seemingly parked on a street in Brooklyn, she recognized her past in our pictures. 'I know that street. I used to walk on that street all the time when I lived in New York. I know exactly where it is.' And thus, the fluidity of memory, of Water, carries us all.