Shabaz Afridi hadn't quite realised the significance of opening his new gallery on the day of the Brexit referendum. The small advertisement he had placed in the Financial Times appeared following the vote — and as newspapers were being picked over on news broadcasts, the name of the Afridi gallery was on television.
"It was just chance," Shabaz says. "People asked me how I did it. I couldn't have hoped for better publicity."
The 2016 gallery opening was a great success, even though it was pouring with rain. "I didn't know if people would come, he says, "but they did – so many people I knew, many clients I had been dealing with over the past 25 years: architects, collectors, designers. It was one of the best evenings of my life."
Today, with a current display titled 'Gardens of Delight' the gallery is thriving, and we are talking in MazeGrill, an unobtrusive Gordon Ramsay restaurant a couple of doors away from the Chelsea gallery. The Afridi team consists of Anthea Roberts, who has worked at Sotheby's and at the Haughton International Fairs, and Chloe Burman, an Australian who has a background in events and marketing. It is Chloe's birthday, and she is enjoying Eton Mess for her pudding.
"There is no hierarchy," says Afridi. "We all work together, and ask each other what we think of how the items should be displayed."
Above and top: a powerful 19th-century eleven-medalion suzani, priced £16,900
On the corner of Paradise Walk, beyond the Royal Hospital and Army Museum in Royal Hospital Road, the gallery is not likely to attract passers by. But that is how Afridi likes it: in the heart of things, but just a little tucked away. It means that visitors come for the right reasons, and have time to look around the three rooms to see his assemblage of textiles and furniture of mainly Asian and Islamic work in shows that change four times a year.
On display at the moment are fabulous Suzani textiles from Central Asia, from Tashkent, Bukhara and Samarkand, the earliest from the 14th century, and all still with vibrant red, green and blue patterns. Some are from bridal dowries, perhaps used as bed coverings. They are, says Shabaz, in as good a condition as they ever get. There is diverse furniture, too, including a Mies Van der Rohe bookcase, and a 1950s cabinet where the office coffee machine is kept. (He makes excellent coffee.) Ceramics are ancient and modern, some of it commissioned. The gallery has had the work of the Turkish ceramicist Alev Siesbye, who featured on the cover of Cornucopia 27, there is a pot by David Leech, and a beautiful contemporary piece based on traditional West African ware. Shabaz is concerned with encouraging living craft workers.
The displays are lit with an array of 20th- and 21st-century designer wall and table lamps: Maxim Ingrand, FontanArte, Pierre Guarriche, Stilnova. "I love lighting," says Shabaz. "It has given me a lot of pleasure."
Born in Karachi, from the age of four Afridi grew up in south-west London. Despite his success, he says he has never been forgiven by his mother for dropping out of his osteopathy training to follow his love of Indian fabrics. "You have to start with the things you know," he says.
Gallery owner Shabaz Afridi, back turned, and a 19th-century suzani of flowers in a diamond lattice, price £36,000
Detail of the diamon lattice above
Shabaz Afridi's knowledge has been broadened by his wife, Irène Momtaz, a leading specialist in Islamic Art, and today his vision is clear in the Afridi gallery: quality items, from the past to the present, that sit in harmony, a sometimes surprising but entirely successful mix in which well chosen items are mutually enhancing.
'Gardens of Delight' runs until July 7.
Photographs by Monica Fritz

————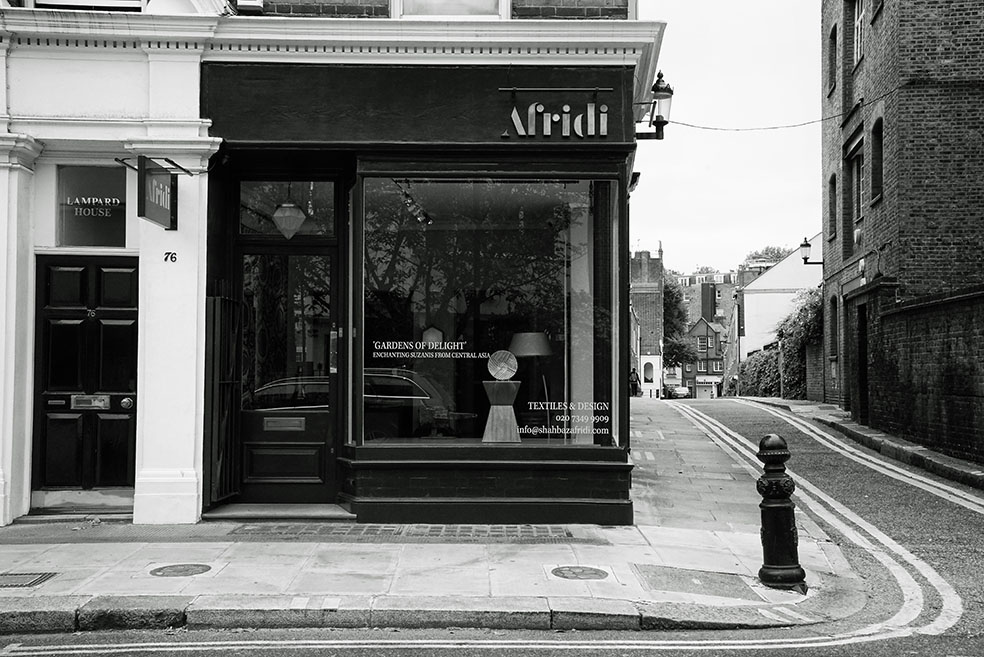 Afridi Gallery
76 Royal Hospital Road
London SW3 4HN
Tel: 020 7349 9909