Friends and family of the textile artist Bettina Franckenberg, who died after a short illness in October, will be gathering in Bodrum later this week to remember a rare talent and a remarkable personality. Bettina's patchwork art sprung initiallly from her fascination with and active involvement in occupational therapy. As her sister and fellow artist Kathrin Franckenberg told us, 'Her life was her art.'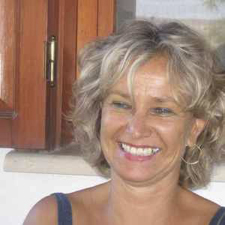 Fluent in Turkish and English as well as her native German, Bettina was born in Essen on February 3, 1956, to parents keen to encourage an interest in art and handicrafts. After school, she studied occupational therapy with a special interest in psychiatry. Graduating in 1979, it was at this time that she discovered both the possibilities of patchwork art and an affinity for the Mediterranean. After living for two years in Greece, it was at Bodrum Castle on Turkey's southwestern Aegean coast, that, in 1986, she held her first solo exhibition. She would settle permanently on the Bodrum peninsula in 1992, her studio in Karakaya Sokak becoming a popular meeting place for everyone involved in the arts.
Saatchi Art, the curated online art catalogue, exhibits more than a dozen of her textiles, including the collage wallhanging male and female dialogue, above.
Bettina felt deeply for the natural beauty of the Bodrum Peninsula, and felt tremendous sadness at the damage inflicted on it by the 'egosim' of developers. She wrote how 'My heart tenses when I see this persistent destruction, this cruelty and disregard for nature'. What Happened to the Trees, an installation in textiles, stone on paper and stone also listed by Saatchi, was her protest, created 'in mourning for nature and the exceptional topography of the Bodrum Peninsula'. 'With my tree mobile What Happened to the Trees? I want to call on all of us – above all, those responsible for this destruction to think about the future of this peninsula and to come to uncompromising decisions!'
A call that will remain one of her lasting legacies.
The installation above is from one of her most ambtious projects, Lifesteps, 'started with the study of matriarchal mythology'. It was exhibited in the C.A.M. gallery in Teşvikiye, Istanbul, in 2001 (now relocated to Çukurcuma).
For more information about Bettina's work, please email her sister ines.franckenberg @ gmail.com.