One of the advantages offered by Cornucopia Bookshop is that it can come up with catalogues for past exhibitions, and they are always worth searching for (see 'Exhibitions sale'). This is clearly the case judging from latest sales figures, which show that a large consignment of The Four-Legged Municipality, a catalogue for the 2016–17 exhibition at Istanbul Research Institute, were shipped to Turkey around the same time as conference in Bursa was organised to help educate veterinarians from all over the country who work in animal shelters.
The imaginativie archival exhibition (pictured above) revealed how Istanbul's street dogs have been an integral part of the city's street life for more than two centuries. Once guardians of public property, they proved such a problem for the municipal authorities that in the decaninization of 1910 some 80,000 were rounded up and sent to perish on Hayırsızada ("the useless island", below), one of the Princes Island, still uninhabited and today called Sivriada. The exhibition was reviewed in a Cornucopia blog at the time: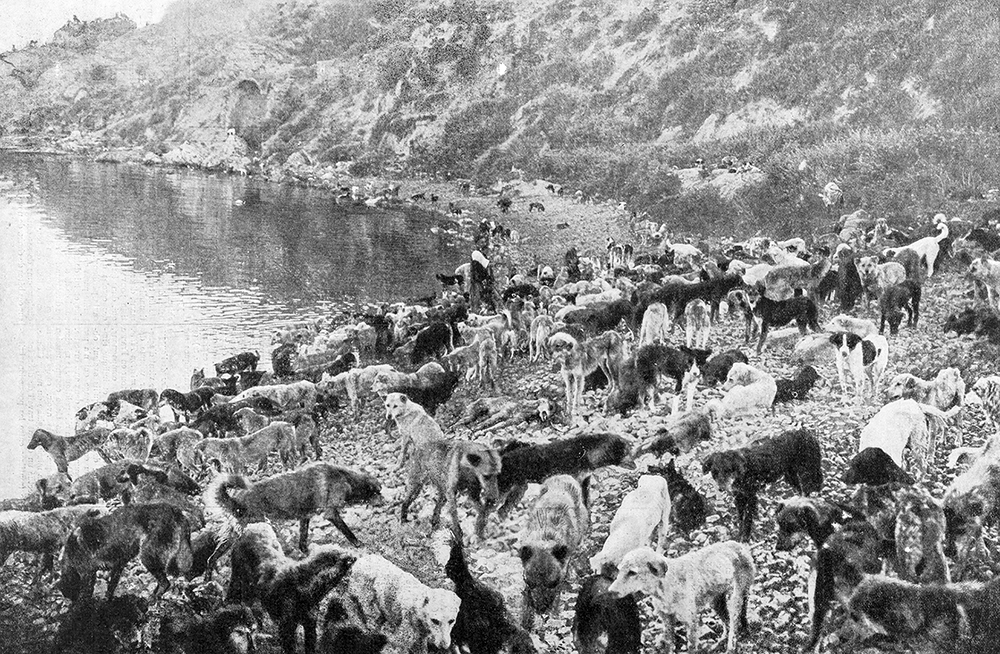 Control of free-roaming dogs and cats is a continuing world-wide problem, and there may be up to 150,000 street dogs in Istanbul. Taşkafa: Stories from the Street was a 2013 documentary about the city's dogs made by the German artist Andrea Luka Zimmerman and narrated by the art critic John Berger, which explored how dogs contribute to the emotional and psychological health of the city. It showed at the Istanbul Film Festival in 2013, and at the Alchemy Film and Moving Image Festival in Hawick. This year's Alchemy festival, with the theme 'Embrace the Strange' (below) runs from to May 2–6 and has a complete programme of short films by Turkish filmmakers.