Paris has its Centre Pompidou. There's the Whitney Museum of American Art in New York City; in Athens, the Stavros Niarchos Foundation Cultural Center (SNFCC). And now Istanbul, too, has a major contribution from Pritzker Prize-winning architect Renzo Piano. After a wait of five years, the Istanbul Modern – the city's major collection of modern and contemporary art - has reopened it doors on its original quay-side site in Karaköy– a building as exciting as the work it was built to house.
"We wanted to make a building to defy gravity where there is nothing obstructing the gaze," Mr Piano told us.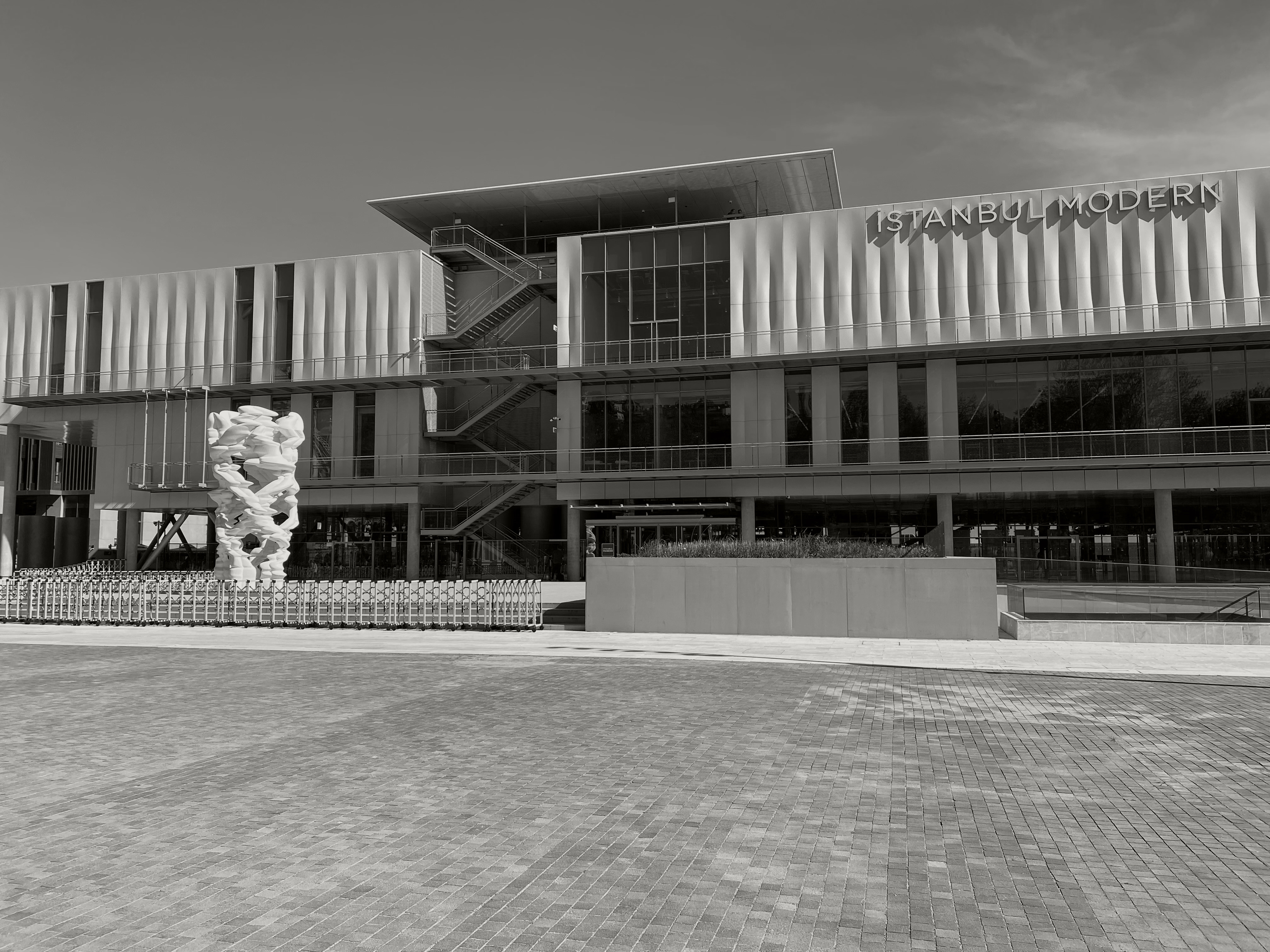 Unlike London's Piano icon - the controversial skyscraper Shard, the new Istanbul Modern does not joust with its surrounds. From the waterfront it almost appears to be a spruced-up version of the industrial dockland warehouse it replaced and which served as the museum's initial premises from 2004. Inside is a different story – an amazing constellation of light and space and broad vistas from grand open staircases. There is even a roof top viewing platform where a shallow pool is frequented not by art connoisseurs but seagulls and which offers spectacular views across the Golden Horn of the historical city.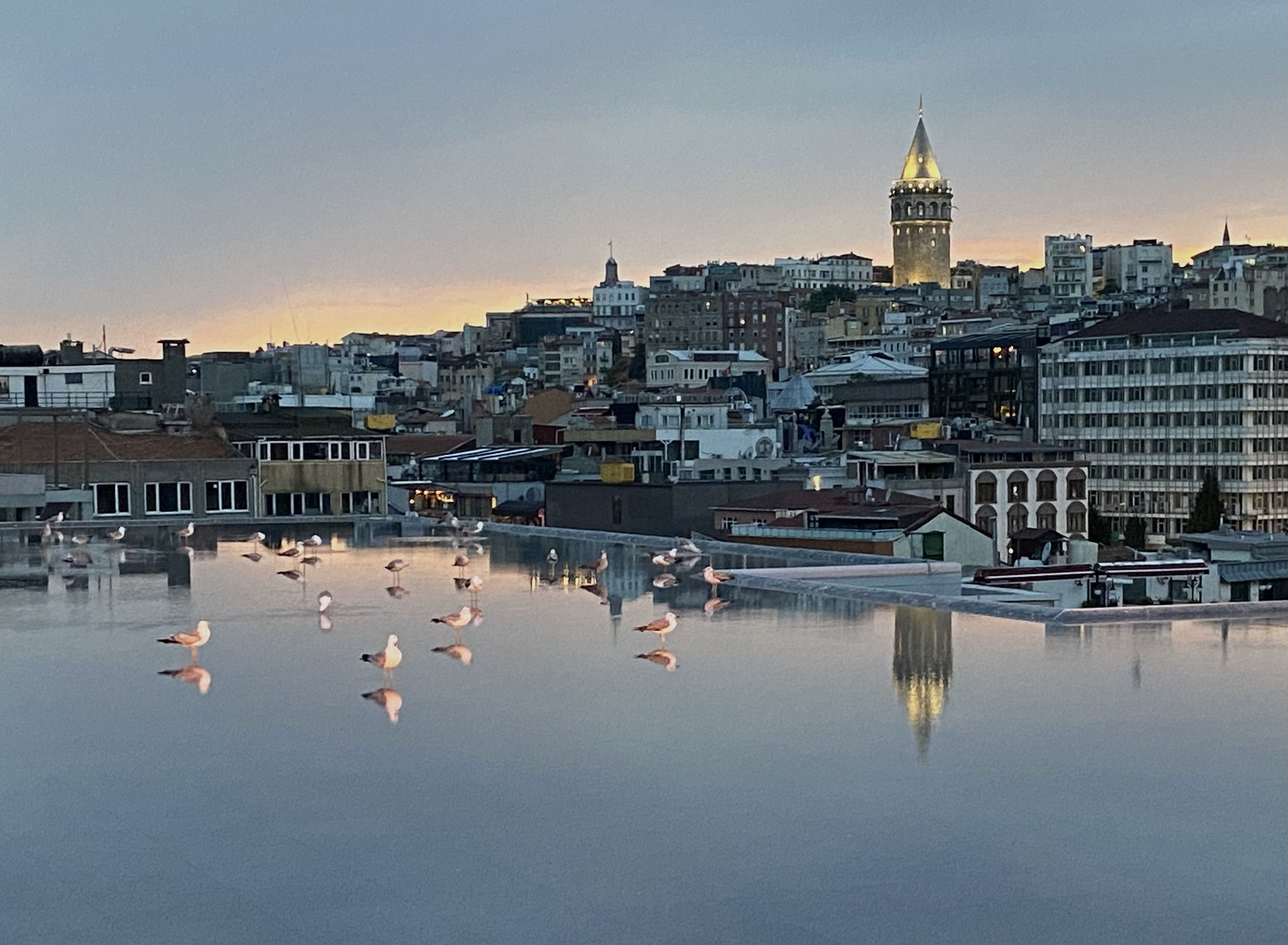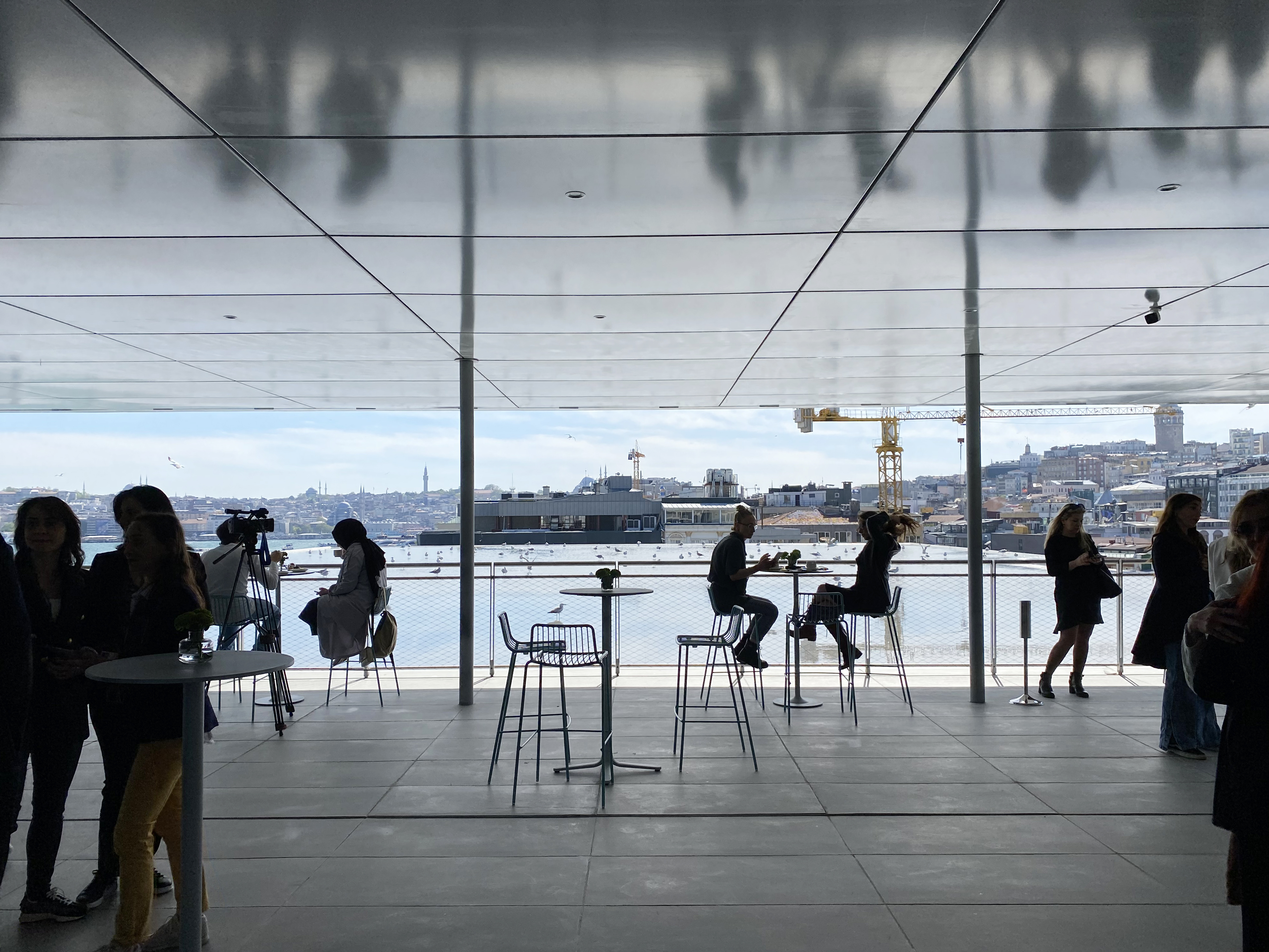 Rooftop terrace and reflection pool
It is a homage to Istanbul and Bosphorus straits what the architect describes as a "dialogue between the building and the water." Unfortunately, butting into that conversation are cruise ships moored to Istanbul's passenger port which, when they arrive, block off some of the natural light. The museum is situated at the far end of Galata Port, a luxury strip mall that tries to lure in ocean liner travellers and high-end tourists but this is a diversion easily avoided. The land side of the museum faces a pleasant square and visitors at least now have access to the neo-classical Tophane (Nusretiye) clock tower beside the Kiliç Ali Paşa mosque.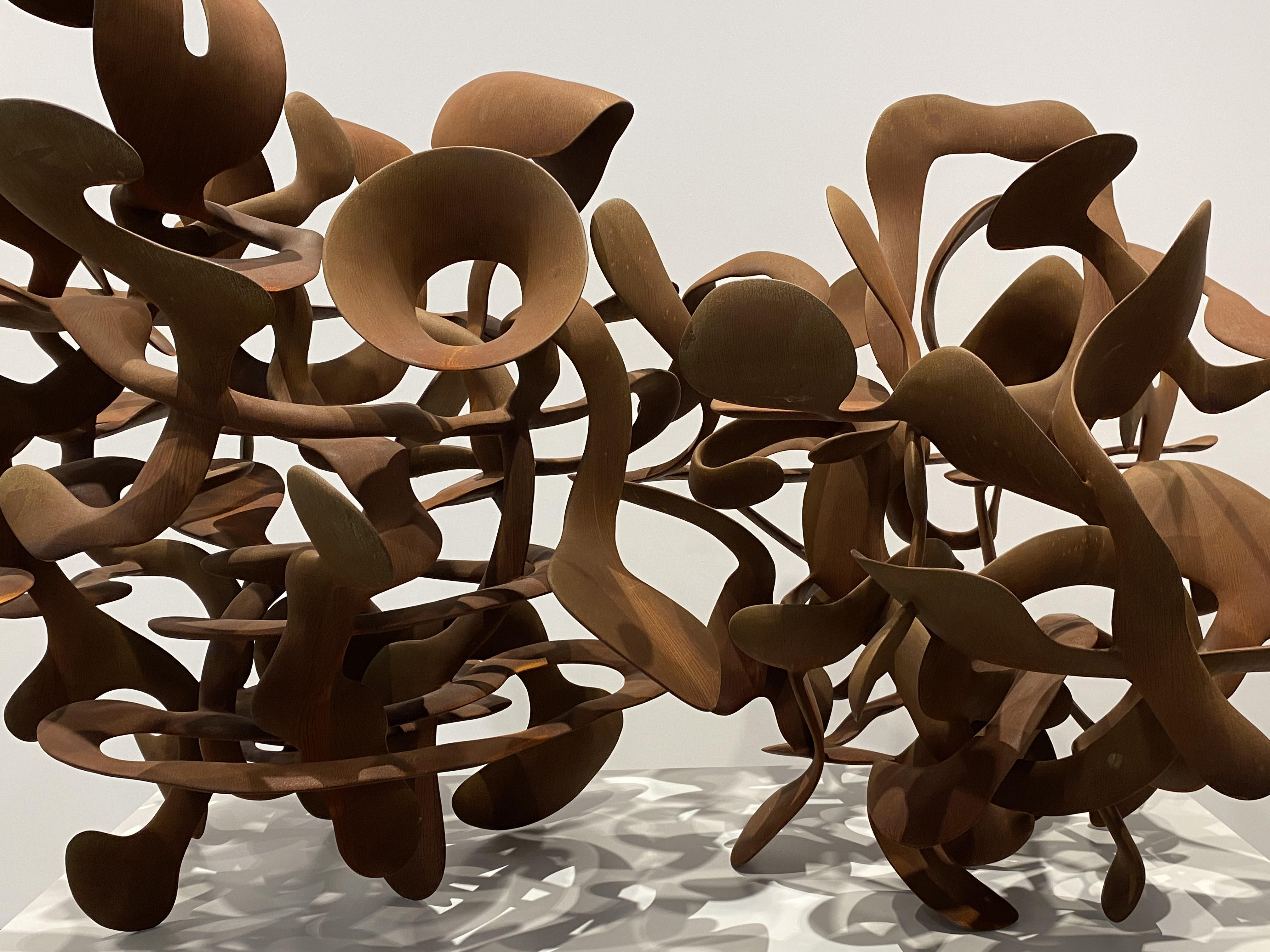 Sculpture by Tony Cragg
As one might imagine, the curators have pulled out all the stops for the museum's reopening. The main exhibition "Floating Islands" displays over 280 works by Turkish and Internationally renowned modern and contemporary artists including, Yüksel Arslan, Mark Bradford, Tony Cragg, Olafur Eliasson, Gülsün Karamustafa, Anselm Kiefer, Laure Prouvost, Sarkis, Nil Yalter, Fahrelnissa Zeid, Komet, Omer Uluç, İpek Aksüğür Duben, Erol Akyavaş and Refik Anadol. There are many pieces from the museum's collection on display for the first time and work created specifically for the new museum building. Although not arranged chronologically as in previous Istanbul Modern shows, the work presents an extraordinary visual quide to the history of the Turkish Republic, as powerful as any intellectual history
There is a solo photography show by film director/ photographer Nuri Bilge Ceylan. Sculptures on exhibit in the outdoor event space are by Adrian Villar Rojas, Richard Deacon, Yilmaz Zenger and Selma Gürbüz.

"Always Here" is the title of another opening exhibition featuring 11 Turkish women artists sponsored by Bank of America and supported by the Istanbul Modern Women Artists Fund. This show brings together women of different generations using different mediums such as sculpture, drawing and video. Included in this group are Inci Eviner, Hera Büyüktaşçıyan, Sibel Horada, and Bengü Karaduman..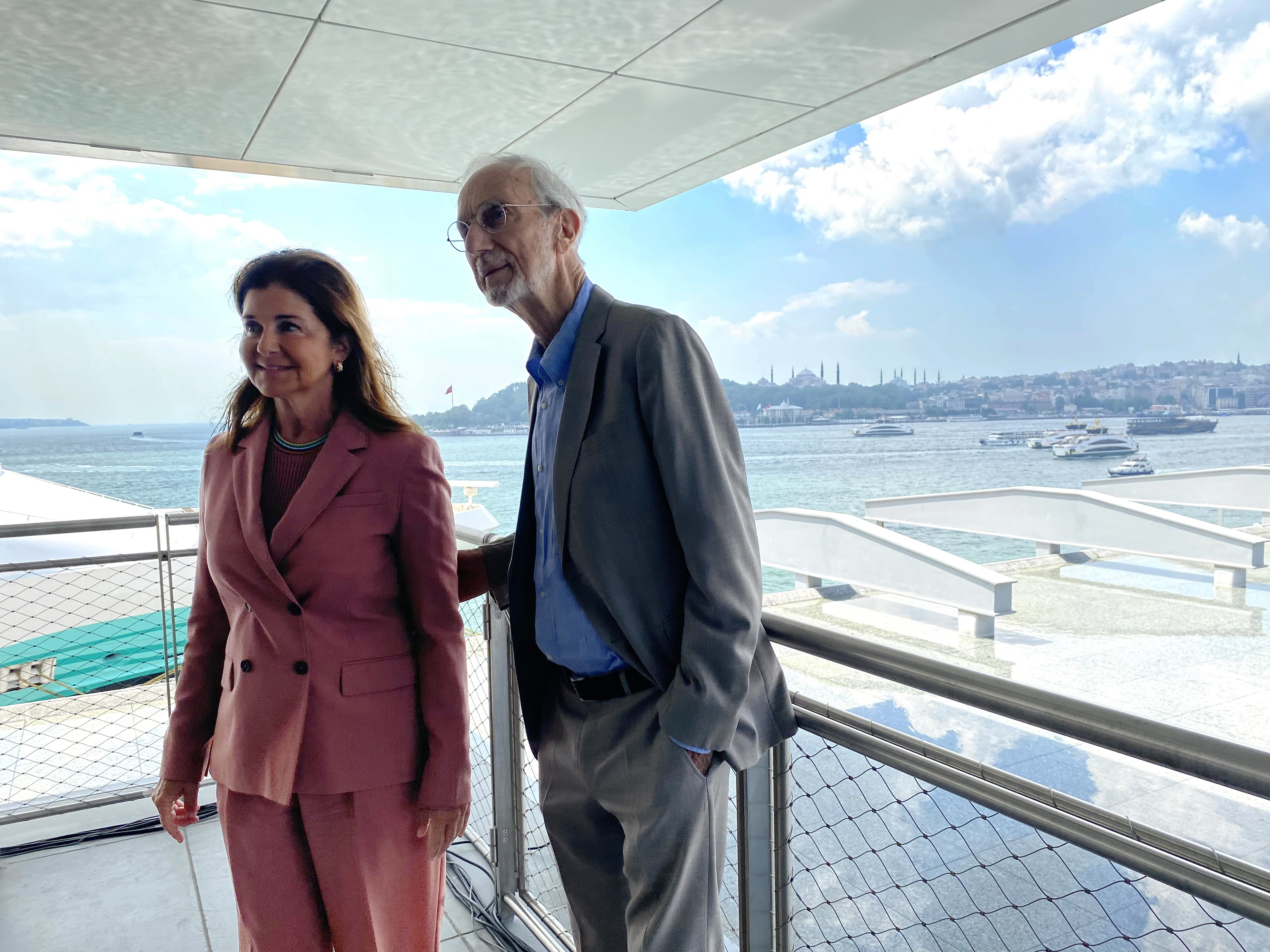 Oya Eczacıbaşı and Renzo Piano
The head of the museum's board, Oya Eczacıbaşı spoke of the museum's mission to "expand and support the production and visibility of women artists." She also described the commitment to expand the space and content of our art education programs for children and young people. And of course, the museum "will introduce Turkey's art to visitors from all over the world."
How did Renzo Piano become involved in contructing his his first building in Istanbul? With Oya Eczacıbaşı, looking on, Renzo Piano tells of her first visit to his offices in Genoa. "No one can say no to Oya," he confessed.
Photography: Monica Fritz
The museum hours are Tuesday - Sunday 10am - 6pm Friday 10am - 8pm
Closed Mondays
Fees: Residents 120tl comps 80tl non-residents 300tl comps 200tl
Free admission Thursdays for residents and Tuesdays from 2pm to 6pm for youth between 18 and 25 years old.
Istanbul Modern members, handicapped and children under 12 are free.
https://www.istanbulmodern.org/en
The restaurant as was before, is on the waterfront, there is also a cafe, library, museum shop, spaces for educational workshops, a photography gallery, pop-up gallery and a 156 seat auditorium and underground mezzanine.