A highly atmospheric take on Constantinople (Italian School, c1600) – every detail an Oriental Christmas card waiting to to be made, this monumental oil painting is being offered by Christie's London in its Old Masters evening sale (December 6, Lot 26, est £100,000–150,000). An inscription at the back of the painting, now obscured by the relining of the canvas, reveals that it was painted for one 'Conte Pietro Dal Verme' – the Dal Vermes were a powerful family from Verona in the Renaissance, with strong Venetian ties, which would explain an association in Constantinople. The painting may have been commissioned to commemorate a celebrated ancestor, Luchino Dal Verme (c1320–67), enobled by Venice for crushing a revolt and restoring Venetian rule in Crete. The great condotierre died in the then Byzantine capital by the Bosphorus in 1389. The painting measures almost three metres across and has been dated to the late 16th or early 17th century.
The anonymous Italian artist may never seen a minaret in his life, let alone the walls of Constantinople, but he would have found ample inspiration in engravings of the time. Combined with a vivid imagination, the view, seen from the heights of Pera, is a wonderfully evocative record.
All the familiar Istanbul landmarks are there, scattered across the peninsula, but mingled with fortified towers plucked from the hill towns of Tuscany. On the far left are the gardens of Topkapı Palace (above), and the domes of Ayasofya. A mysterious galleon can be seen on the horizon.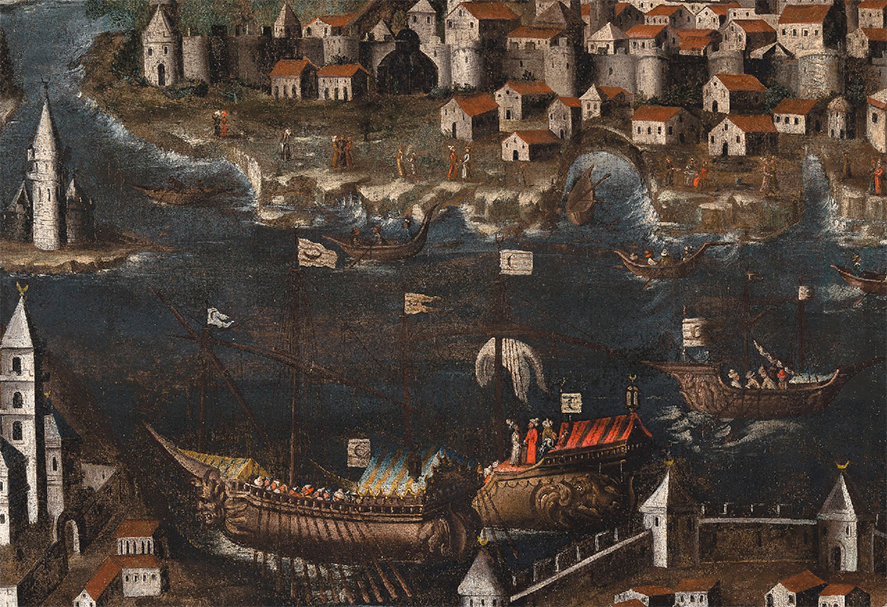 The Leander Tower stands on its islet in the Bosphorus, and the somewhat sparsely inhabited walled quarter of Pera in the foreground overlooks the entrance to the Golden Horn, where galleasses reminiscent of the often celebrated Battle Lepanto of 1571 can be seen. On the far right we can glimpse the Byzantine Aqueduct of Valens (below).
Courtesy of Christie's King Street
Special thanks to Brendan Lynch for alerting us about this painting.