A work by Deborah Wargon at her recent Istanbul exhibition. Photograph: Monica Fritz
In a house in Balat on a quiet street just past St Mary of the Mongols, a fish is pinned to the wall above a bed. 'My friend, the owner of this house, tells me this house belonged to a fisherman, so I've left it for her as a thank you,' explains paper artist Deborah Wargon. The fish is a flounder, holding a snake in its mouth and like all of Wargon's work in this remarkable exhibition, Expansions in Black – from The Paper Diaries 2015, it has been deftly 'extracted' from one piece of black paper. Nearby, a free-hanging piece cascades down the wall of the stairwell, looking like a worm frolicking with a ball, or from another angle, like an elegant virus under a microscope.
Downstairs, a whole wall is taken up with specimen box frames from Berlin's Natural History Museum, in which Wargon has displayed a series of floating symmetrical pieces. Some shapes look like 'hat' or calligraphy fashioned into hands of Fatima or pears, but Wargon points out that some of them depict women. The entomological needles she has used to pin each paper sculpture to its box enhances their fragility, and in some specimen boxes, a real insect's leg and handwritten labels remind the viewer of the boxes' past function. This series looks dramatic as a set, but each piece is mesmerising in its own way.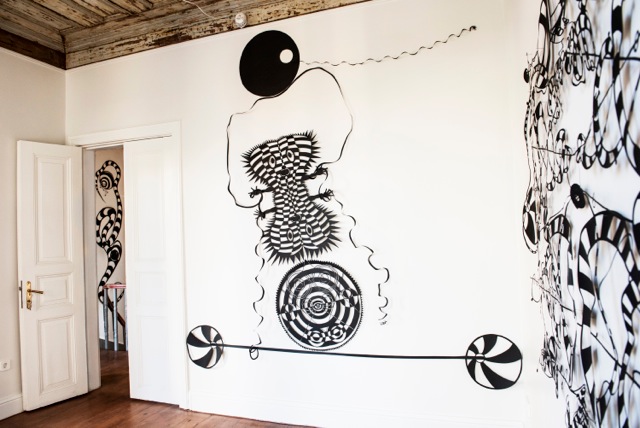 Mesmerising Expansions in Black. Photograph: Charlotte Schmitz
Unlike her paper creations, Wargon is hard to pin down to one place or label. An Australian-born composer and actress based in Berlin, she only began to cut paper five years ago when a Scandinavian friend brought her Christmas biscuits in paper that inspired them to start cutting shapes out. A warm, expansive personality, Wargon is the personality opposite of her precious, fragile work; one can imagine her playing the violin as well as she can liberate exquisite shapes from paper. This is her first exhibition in Turkey.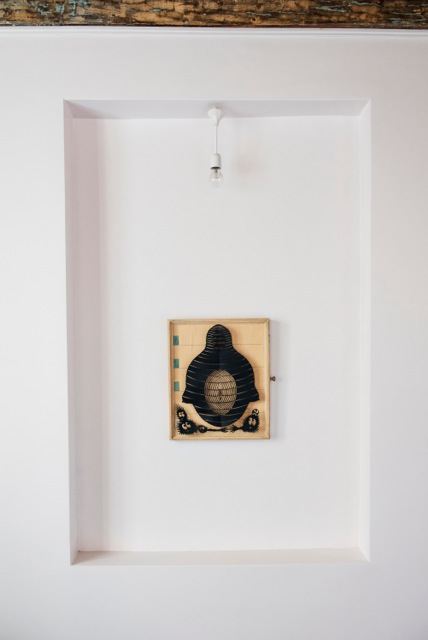 Framed 'Expansions' available from Hiç Contemporary Crafts. Photographs: Charlotte Schmitz
If you missed the show in Balat, you can still see the eleven framed pieces – all for sale – at Hiç Contemporary Crafts at Lüleci Hendek Caddesi 35 in Galata, from Thursday, November 26 onwards. Cornucopia readers familiar with the Ibrahim Pasha Hotel's elegant decor might recognise the hand of Emel Güntaş, owner of Hiç; she is married to the owner Mehmet Umur.