Kemal Demirasal, The Counter's Executive Chef
I confess that on my increasingly frequent trips to London, I rarely seek out Turkish food. It
seems the wrong ritual, much in the same way I almost never drink rakı at my own Istanbul
dinner table. Emigré cuisine can be like émigré politics, more to do with exile than what is
really going on 'back home'. Of course, there is a whole invasive species of British kebab
restaurants, but even those places that court authenticity can feel frozen in time – serving
the aubergine or lamb chop people were eating a decade ago rather than being part of an
ever-evolving tradition.
There have been attempts to educate a British public that there is more to Turkish cuisine
than humous and döner. I never ate at the long-shuttered Chintamani which tried to break
the mould by serving what it described as Ottoman cuisine at a posh Jermyn Street location.
I understand one reason that it failed to catch on was that diners refused to take the bait or
to think of Turkish food as anything other than genre (think Indian chicken tika or Chinese
spring roll), an inexpensive bite before a film, and not an experience worth an upmarket
detour.
Yet, what if… there was a restaurant outside Turkey that served food inspired by that country's cuisine, but far from relying on yesteryear's stuffed pepper was not just innovative
but driven by intelligence and skill– somewhere not reminiscent of that meal you had on
holiday a few years ago but only hope you might be able to find in Istanbul one day? Let me cut to the chase. We had dinner at The Counter, a meze and kebab place in what was once a twilight zone north of Ladbroke Grove and London's Westway. The food was great, and I would go happily go again tomorrow.
That I enjoyed myself came as no surprise. I have long admired The Counter's executive
chef, Kemal Demirasal, from meals I sampled in Alaçatı (a resort town outside Izmir) and in
Istanbul. I can recall interviewing him, sitting next to a centrifuge that was working to extract
the different components of basil oil, before sampling an umpteen-course-tasting menu
that included an extraordinary sweetbread, crunchy on the outside and molten within,
pulled lamb cheeks in brain sauce – a meal that began with fermented mushroom broth and
worked its way to kerepiç (soapwort root) marshmallow frozen in liquid nitrogen – all served
in a temple-like atmosphere on a carefully chosen array of stone dishes and artful crockery.
Before I too fall victim to nostalgia, let me stress that The Counter is not that same old highly
regulated, fine-dining experience. It is a stylish but informal kebab restaurant – bare brick
walls and wood furniture, noisy and packed, and on a street with pubs and revellers all
having a good time. But if it is a genre restaurant, it is one that Demirasal has made all his
own.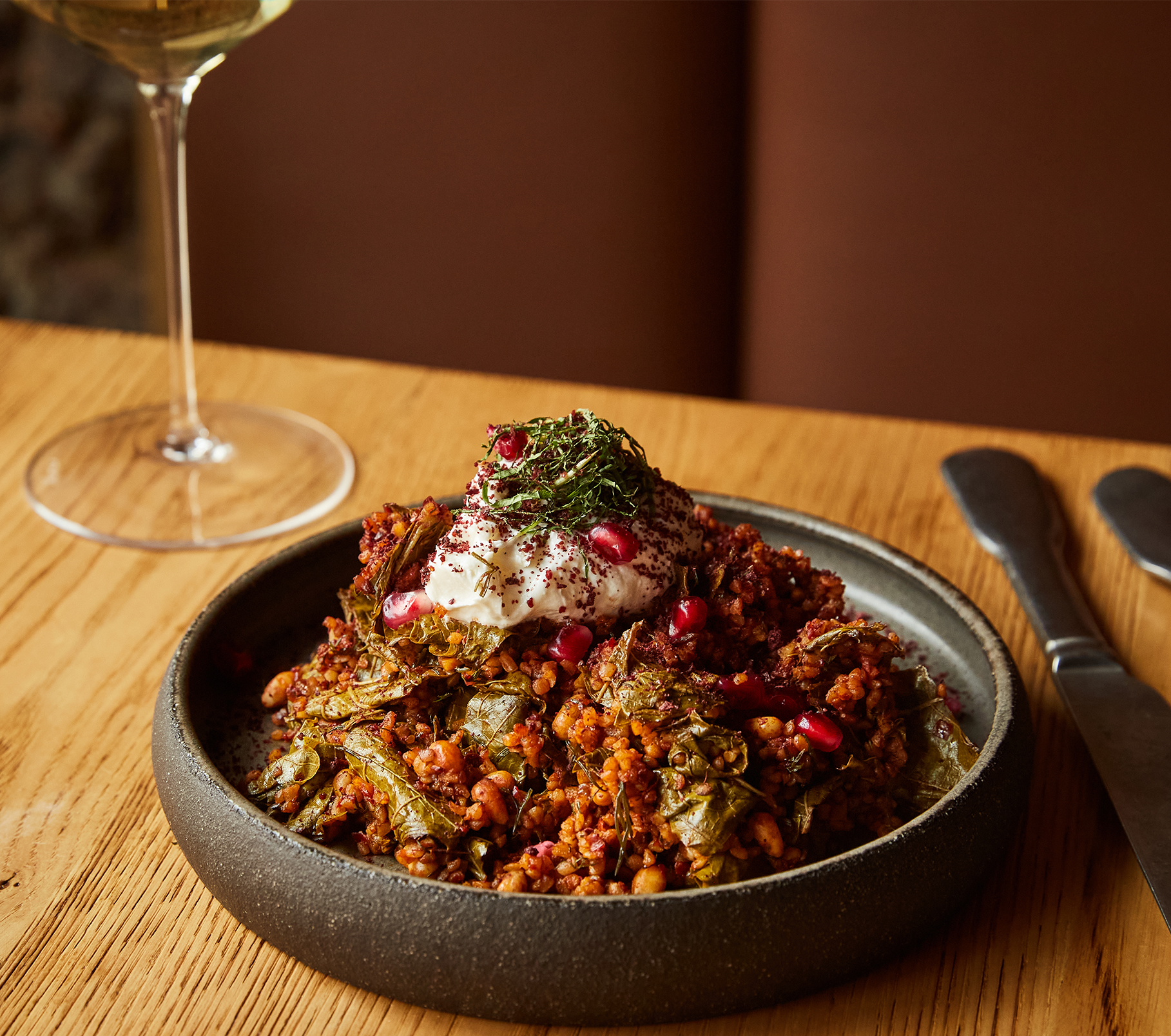 Dolma deconstructed
An example of this was the 'unstuffed' vine leaves, dolma deconstructed as a sort of bulgur pilavı, scented with cinnamon and mint and pomegranate molasses. Not just clever but truly exceptional was the chargrilled aubergine salad thickened with white chocolate. This might sound gimmicky, but it really worked. The Counter sees itself as part of a culinary tradition, with spices and other ingredients sourced from the producers and appropriate regions in Turkey. The flavours are familiar and strong, but there is also a strong element of imagination, and with that comes a dose of surprise. The green-pepper borani looked pedestrian but carried a punch with a tahini yoghurt dressing, and for once the içli köfte (kibbeh) – poached not fried – had a subtle filling, not a doughy lump but a well-prepared dumpling in a tangy sauce. Kemal Demirasal's great virtue is knowing when to experiment and when to leave well enough alone.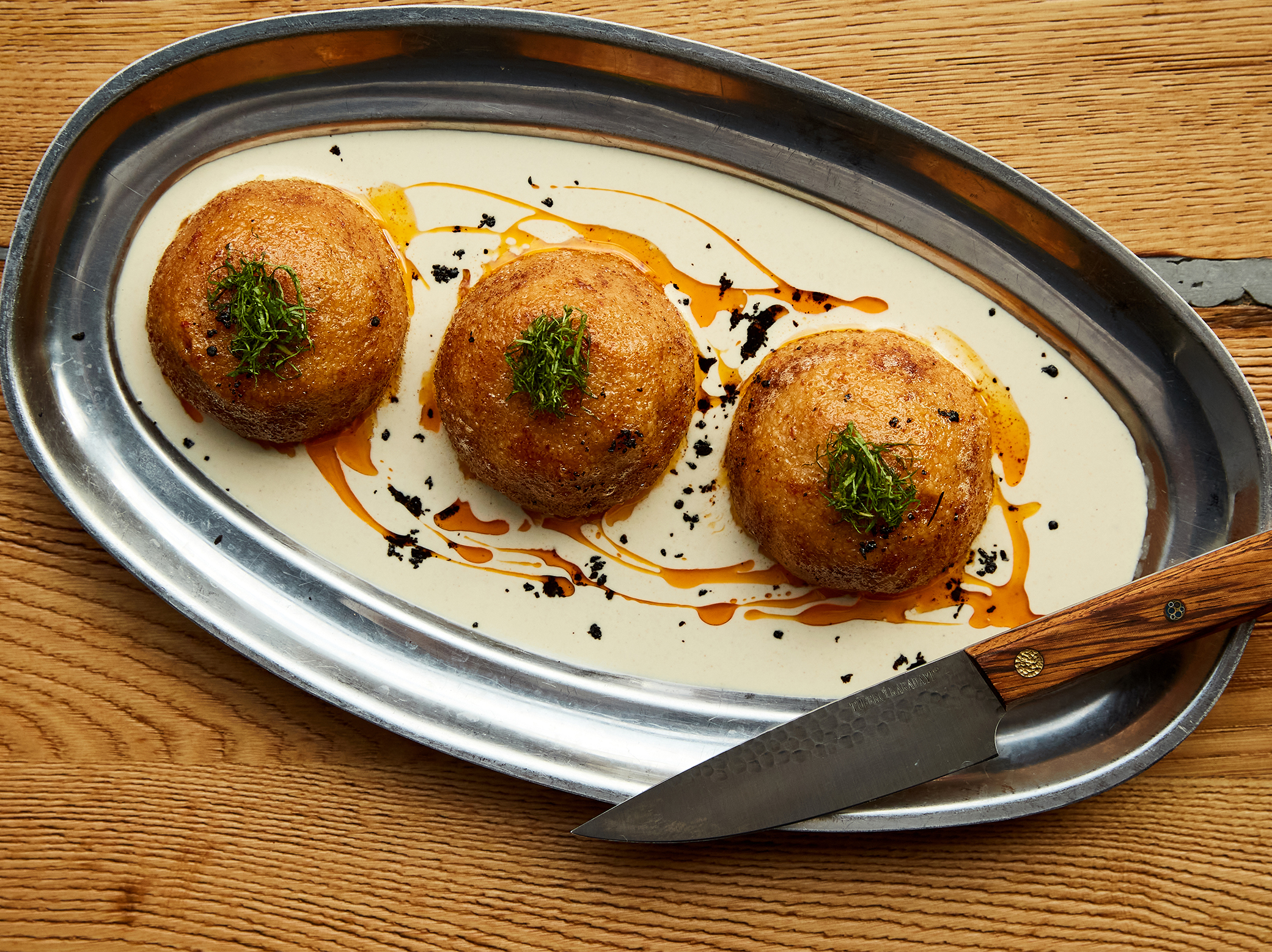 A new take on içli köfte
There was almost no room for kebabs but we shared a portion of meat balls with a crunchy meaty crust, served on toast to absorb the juice. The grilled, well-marinated skewers of chicken on a tangy teretur sauce, were accompanied by grilled gem lettuce – a clever juxtaposition and a memorable dish.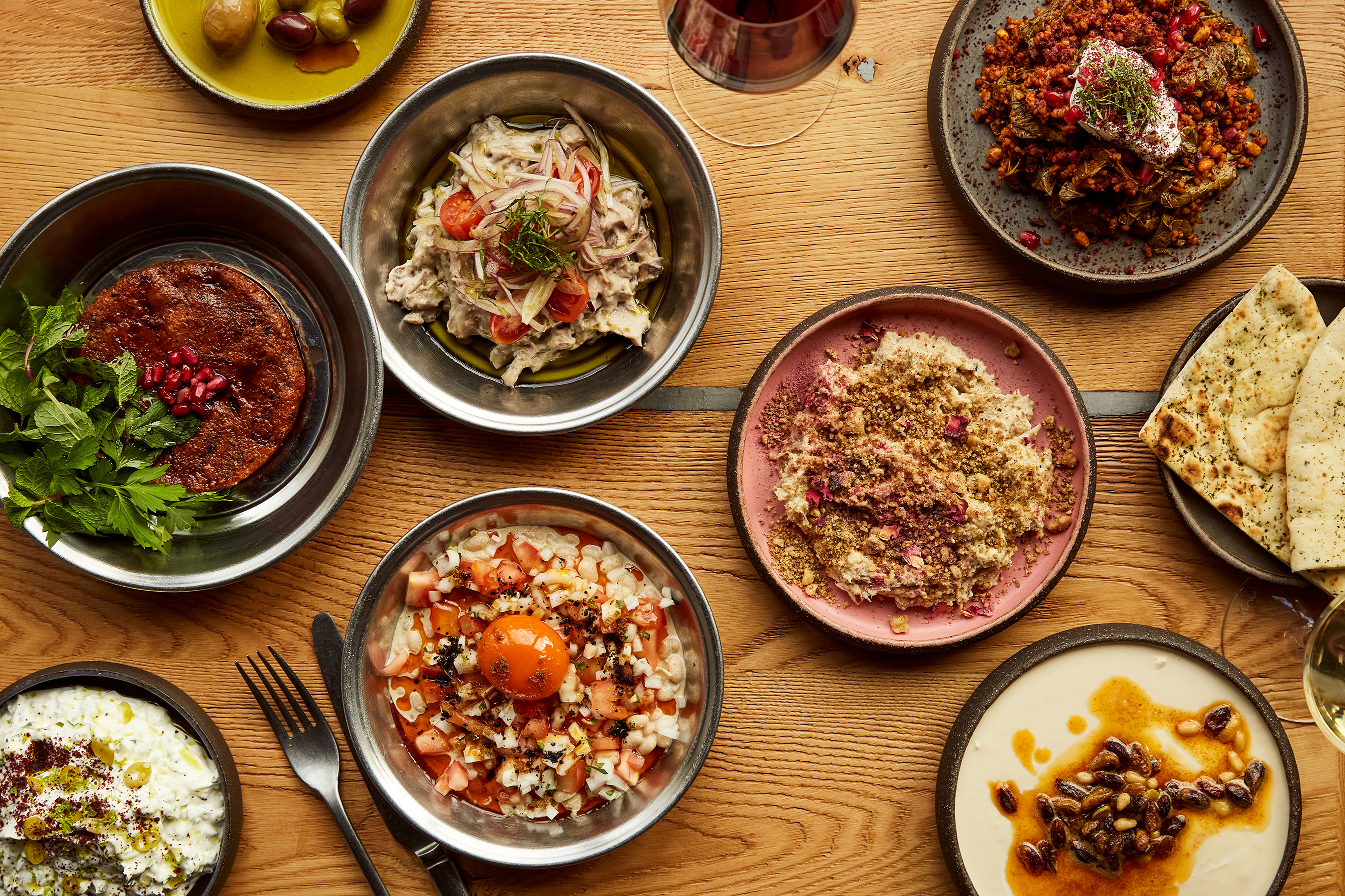 Not so much modern, as post-modern meze
We gave up before dessert. I know from his previous restaurants that Demirasal makes a point of serving exotic cocktails and I wish I could be more enthusiastic. I know the idea is to
have fun; şalgam is based on the kebab-house staple of fermented black carrot juice of that ilk – and there is one with mutton fat washed rye whisky and other grill spices. Killjoy that I
am, I think I might switch to rakı next time. There is an extensive wine list including new generation, much improved Turkish wines. Come September, The Counter will turn into an
Aegean fish restaurant for Sunday lunch. It is a journey I hope to make.

The Counter
108 Golborne Rd, London W10 5PS
info@thecounterlondon.com
Booking: +44 7500 612914
opentable.co.uk/r/the-counter-londone
/thecounterlondon.com/
Check for evening opening times. Lunch is served Friday–Sunday
Prices are 'mid-London' £50+ per head