Sergei Parajanov's 'Repentance (Variations on themes by Pinturicchio and Raphael)', 1989 (courtesy of the Pera Museum)
Occupying the fourth and fifth floors of Istanbul's Pera Museum until March 17, Parajanov with Sarkis is an exhibition that is simultaneously about, to and of its subject, the Armenian-Georgian film-maker Sergei Parajanov (1924–90). 'About' in the sense that roughly a third of the fourth floor is given over to a biography of his life; 'to' in that the fifth floor contains an homage to Parajanov by the Armenian-Turkish contemporary artist Sarkis; and 'of' in that the remaining two-thirds of the fourth floor display the work of Parajanov's own hands: a selection of collages, sculptures and assemblages on loan from the Sergei Parajanov Museum in Yerevan, Armenia.
The other elements of the exhibition are numerous monitors showing looped segments of his films and a permanent screening of Patrick Cazals' affectionate 52-minute documentary, Sergei Parajanov: The Rebel (2003). Designed by Bülent Erkmen, the experience of the whole is pleasingly delirious. Bird sounds compete with chanting Armenian monks; Ukrainian shepherds' flutes tootle over croaking violins; monitor wires are twisted into loopy patterns on the walls. As Sarkis said when describing the desired atmosphere at a previous Parajanov-inspired exhibition, it is 'as if one had stopped by at a caravanserai'.
Installation photo of Sarkis's homage 'To Parajanov's Sayat Nova' (photo: Monica Fritz)
It is comforting to think that Parajanov would have been pleased with the effect. In a moving interview given by his ex-wife Svetlana Shcherbatyuk after his death, she describes the first exhibition of his artworks in Tbilisi in January of 1985. It included a life-size self-portrait assembled by the artist – black feathers for eyebrows, a white pipebrush beard, and a live parrot in the turban-like birdcage on its head. 'When Sergei was inviting people to this exhibition, women were to wear evening gowns, sparkling with jewellery. Music played all the time. Children were clad in early-century dresses… His friends came from Armenia, and brought, of course, Armenian cognac, cheeses, lavash, wines. Women baked fabulous cakes. And everything was served. There were wonderful Georgian wines. There reigned a festive atmosphere. A real festivity. And Sergei was happy.'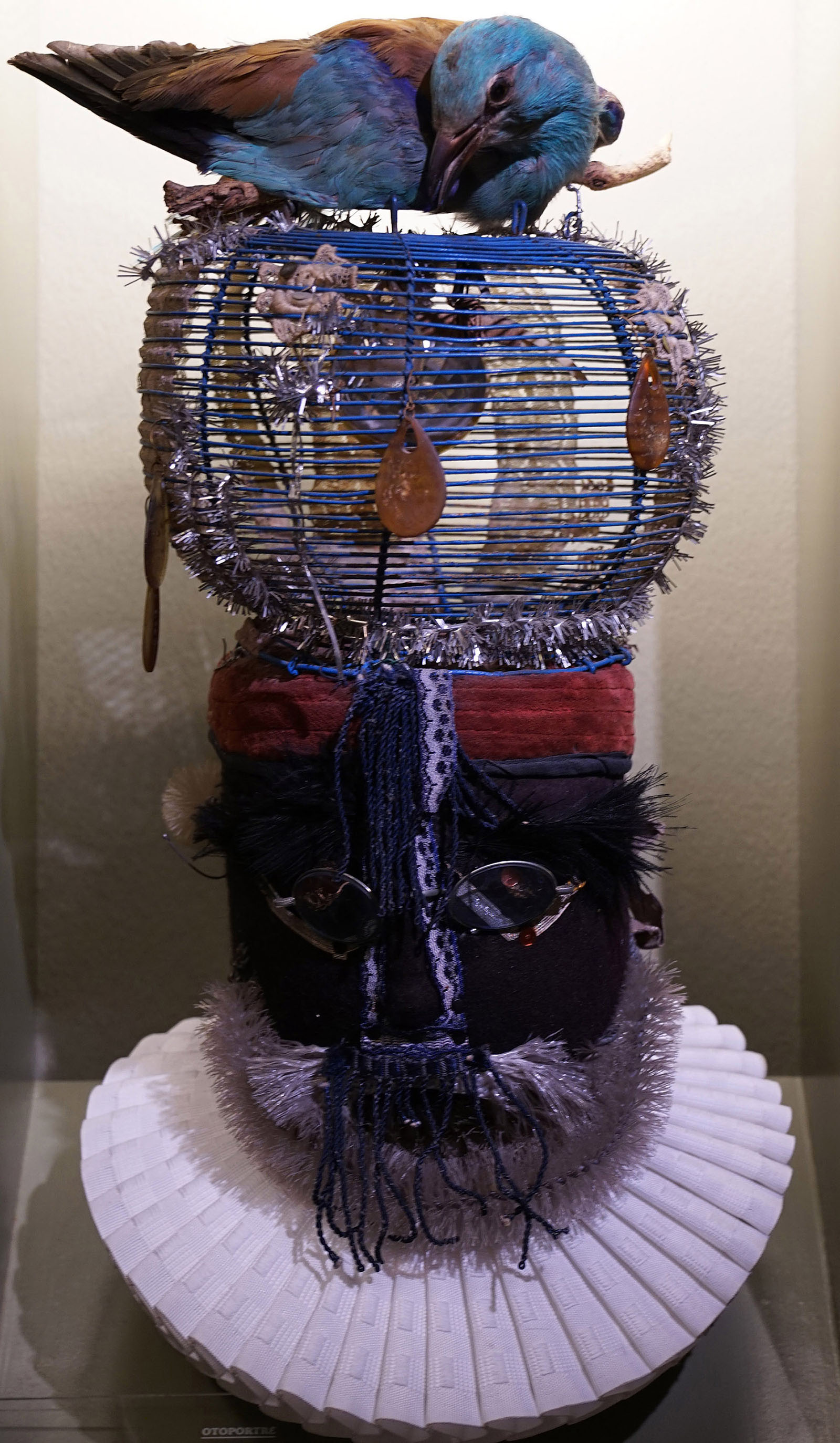 Sergei Parajanov: installation view of the head of 'Self-Portrait', 1983 (photo: Monica Fritz)
You could be forgiven for thinking such moments of happiness were relatively rare for Sergei. 'His first marriage was with a Tatar student, in Moscow. However, she was murdered by her own family,' is only the most chilling detail in a biography laden with lows. (Though no further information is included, other sources suggest the murder was either because she had converted to Christianity to marry Parajanov or because he did not pay the expected bride price.)
By this point the young film-maker had already spent his first stint in prison: three months in 1948 on charges of homosexuality in his association with the writer and Soviet security agency officer, Nikolai Mikava. But his troubles really started once he discovered the cinematic form for which he is now celebrated. His 1962 film Shadows of our Forgotten Ancestors brought him to the attention of the authorities when it was championed by leading anti-Soviet Ukrainian intellectuals, while his 1968 film Sayat Nova (later rereleased as The Colour of Pomegranates) solidified his reputation as the most esoteric proponent of 'poetic cinema', a form viewed as deliberately flaunting the tenets of the Soviet house style, Socialist Realism.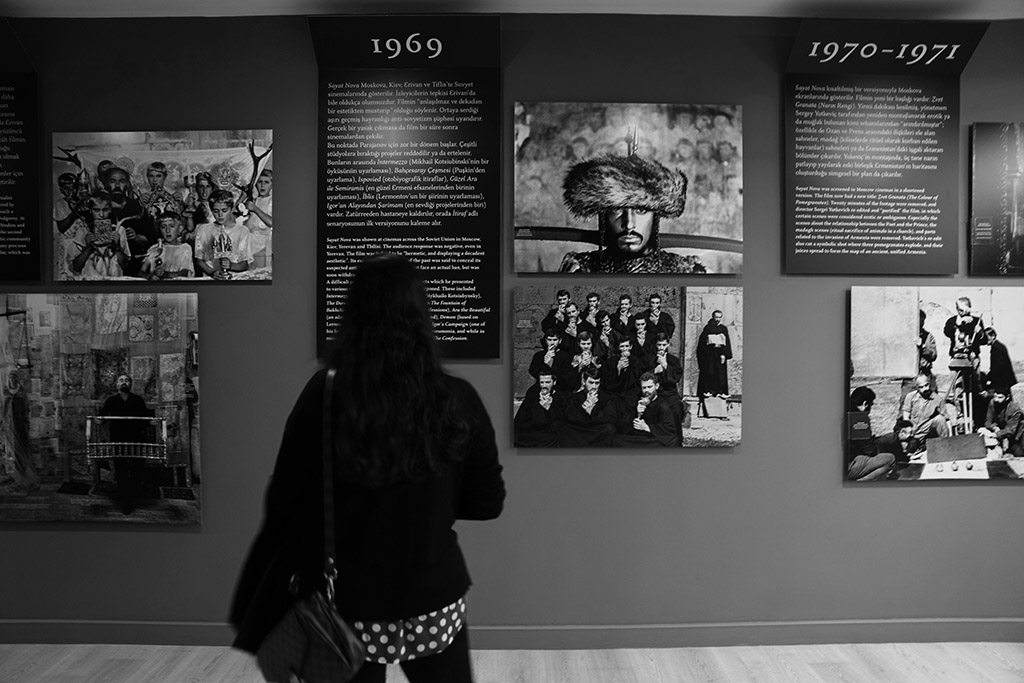 A viewer in the biography section of 'Parajanov with Sarkis' (photo: Monica Fritz)
As a result, the period 1968-73 saw him repeatedly frustrated by rejected and cancelled film projects at a time that should have been his creative peak. When Parajanov was arrested for a second time in December 1973, his sexuality (bi-, by all accounts) functioned as a handy pretence to put him away on 'non-political' grounds, while also allowing the state to conduct a closed trial. In reality, his mockery of the state's ignorance of art during a 1971 speech in Minsk was probably a more decisive factor in his arrest. He was sentenced to five years 'in a corrective labour colony of strict regime'. Many of the artworks on display at the Pera Museum date from this period. 'I would paint playing cards in the Persian style for thieves in exchange for packages of tea. I painted a picture of Jesus on the cloth they put over a cadaver. I did a lot of things for those jailbirds and they had respect for me.'
That he was not to release another film until 1985, five years before his death, is rightly considered a tragedy for cinema and a damning reflection of a dark period in Soviet Union history. (If you're not convinced, watch The Colour of Pomegranates. Jean-Luc Godard suggested that 'you have to live at least 15 miles away and feel the need to walk there on foot to see it'; I think a pair of well-rested eyes and an active sense of curiosity will do – see below for links.)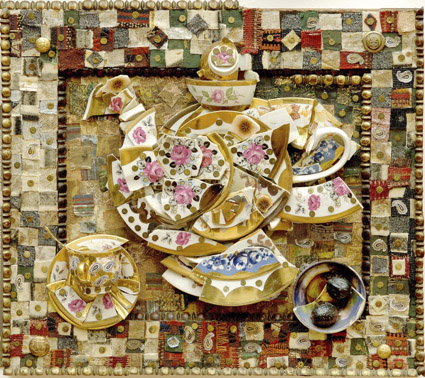 Sergei Parajanov, 'Grandma's Walnut Preserve', 1986 (courtesy of the Pera Museum)
But the torrid biographical background to the production of these works makes their whimsy, humour and ingenuity all the more moving. Who could argue that the ballpoint self-portrait sent by John Updike is not improved by Parajanov's addition of a men's-magazine cut-out and a wooden umbrella handle? Or that there is not something wonderfully disarming about imagining Parajanov's hands tenderly sewing details on his sackcloth doll rendering of his friend and champion, Lilya Brik? Being what he created alone when he was broke, censored or in prison, these works come across as the purest essence of Parajanov's creativity – the Dionysian, physical, playful counterpart to the Appolonian vision of his cinema. Rejected by the Pompidou in 1993 on the grounds that they were 'not art', the display of Parajanov's gallery of exuberant hand-mades at the Pera Museum prompts the cheering – if possibly optimistic – thought that museums may be shaking off their snobbery towards work as low-brow, unserious and utterly enjoyable as this.
Selected Films of Sergei Parajanov on Youtube
Shadows of Forgotten Ancestors (1964)
Hakob Hovnatanyan (1967)
The Colour of Pomegranates (1969)
The Legend of Suram Fortress (1985)
Ashik Kerib (1988)