At first glance, Where Are We? (Neredeyiz?) appears out of place in an archaeology museum. The Erimtan Archaeology and Arts Museum's first two floors are occupied by the permanent collection, laden with ancient objects recovered from the Hittite, Urartu, Assyrian, Achaemenid and Byzantine sites. Delicate ceramic fragments, votive statues and white-washed busts are familiar sights in a museum devoted to ancient art, albeit superbly displayed. Then as you as work your way down through the floors you come to Where Are We? Curated by Didem Çapa, the temporary exhibition leaps forward centuries,offers works by some of Turkey's leading contemporary artists.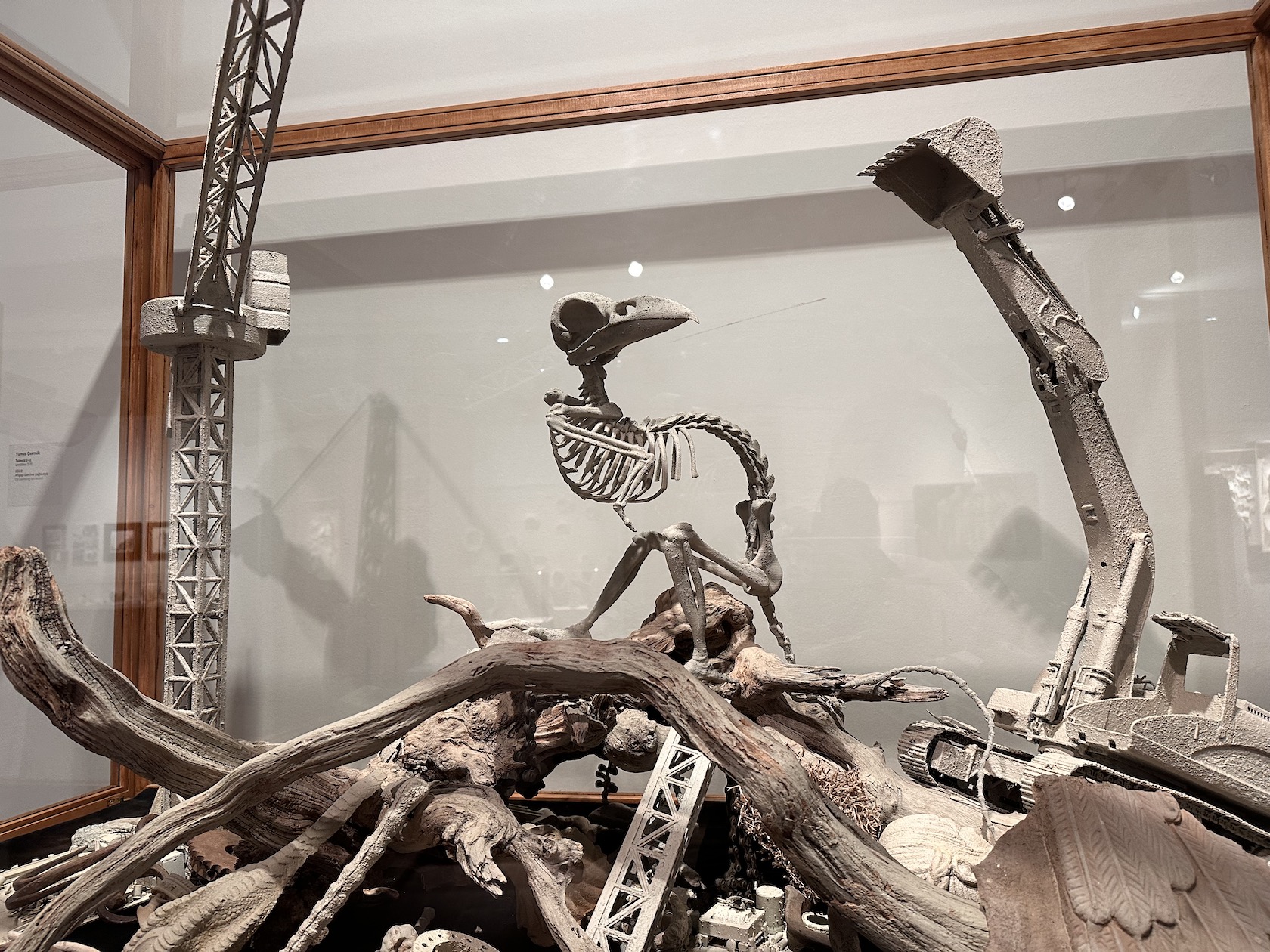 Güneş Çınar, When All Colours Fade, 2018
Paintings, sculptures, photographs and videos tell the story of Turkey's progress in the last 70 years as it moves forward in technology, innovation and infrastructure. Originally displayed by the Maçka Art Gallery in Istanbul, the exhibition's latest iteration invites wider participation from Ankara-based artists.
With a pointed lack of commentary, the exhibition allows the viewer to come to their own conclusions to the question 'where are we'? Where is Turkey? But the art itself provides a resounding answer.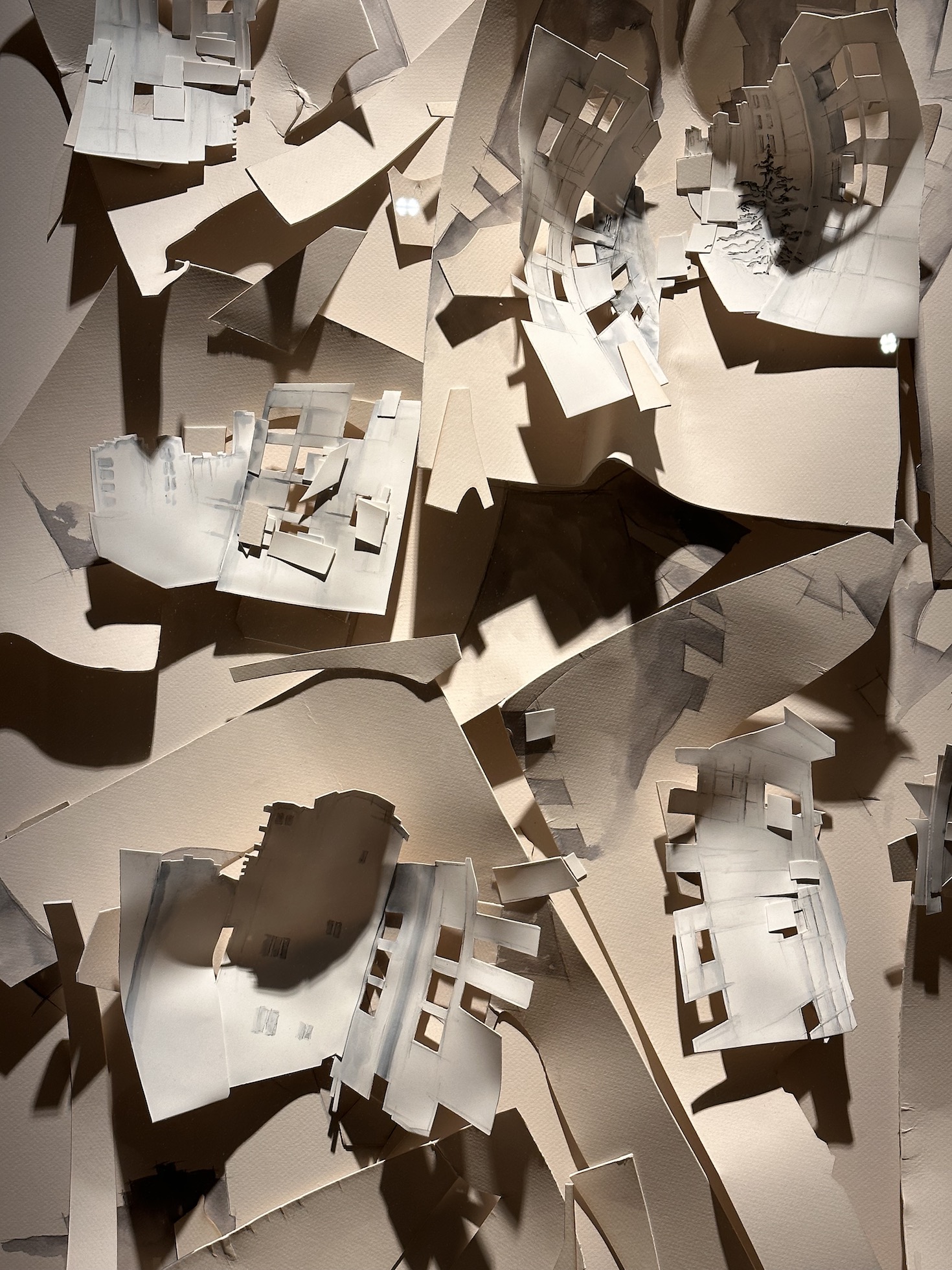 Esra Carus, Here We Are, 2023
Dystopian cityscapes are a common theme, as voracious cities are depicted as ever-expanding and ever-consuming. Crumbling buildings, infinite infrastructure, and an incompatible past and present greet the viewer. Güneş Çınar's When All Colors Fade (2018) depicts a lone skeletal bird sitting atop an ongoing build, with tree branches weaving among the rubble. In turn, Esra Carus' Here We Are (2023) presents warped fragments of paper buildings that seem to have no distinct form or identity.
The exhibition's bleak message seems particularly apt located below the museum's trove of artifacts left over from bygone eras. Although institutions such as the Erimtan Museum and the Istanbul Archaeology Museum heroically work to preserve the past, Turkey's booming industrial expansion and urbanization endanger the region's rich past and multicultural history. Despite historical preservation initiatives by the Ministry of Culture and Tourism, government-sponsored infrastructure has led to the ruin of several historic sites, including the Roman towns of Allianoi and Zeugma (Commagene). Notoriously in 2020, despite protests from both international and local archaeologists, the ancient settlement of Hasankeyf was submerged due to the Ilısu Dam project.
With the increased participation of artists from Ankara, Where Are We? removes the conversation from an Istanbul-centric perspective and reveals how urbanisation and modernisation have affected the entire country. Next to the Erimtan Museum lies the historic Ankara castle, built circa 800 BC by the Phrygians and later occupied by Roman, Byzantine, Seljuk and Ottoman empires. When looking out from atop the castle, Ankara's expanse itself appears as a monolith, echoing the art located a few steps away.
Where Are We? is on display until September 3 at the Erimtan Archaeology and Arts Museum, open Tuesday to Sunday from 10:00 am to 6:00 pm.