The first impression of Under, the Dubai art installation created by the Turkish artist Hale Tenger, and her long-time collaborator musician Serdar Ateşer, is that someone has put a tree in a box.
The box in question lies in Alserkal Avenue, a striking but treeless zone of leading Middle Eastern galleries in an industrial area of Dubai. Alserkal – celebrating its 10th anniversary this spring – is mostly made of several rows of giant cojoined aluminium-sided warehouses that gleam white metal in the desert sun. 
Under is also made of white aluminium, indistinguishable from its surroundings, but on a slightly smaller scale. And that is the point, says Mari Spirito, founding director of the Protocinema art organisation, who curated the project. It's about repressed feelings, she says, and repressed feelings are the ones we don't even see.
"When you come into the yard you also don't notice it because it looks like something that's already here, it's been here a long time, it's made of the same fabric as everything else. This is also part of the artwork. Then when you go inside you have a different feeling."
The four-sided box is open the sun. Planted – or trapped – inside it, the trunk emerging from the floor, is a dark-leaved Bursara tree. Indigenous to South America, but from a nursery in Dubai, also known as a gumbo-limbo, turpentine, or copperwood tree, because of the copper tones on the trunk. And just below the branches, just over our heads, a low net, catching the leaves it has shed, because the tree has struggled with this move, particularly, it is thought, with the fumes from the brown-painted box.

Hale Tenger was in Venice in 2017 with a seven-channel video installation Balloons on the Sea, also with music by Ateşer. It was a couple of years ago, however, that she came across an essay on freedom of speech and expression that included the telling story of how birds were prepared for hunting with nets slung low between trees. They learned to live by flying low – and when the nets were removed, for the arrival of the hunting parties, they had forgotten how to fly high.
On several levels, then, the piece is actually a lament and an essay on control; and bafflement from without turns to sadness when you step inside onto the wooden floor.
Tenger spent some time trying to source the story, then decided to write the words herself. "If birds can forget to fly in the sky," asks the actress intoning Ateser's sound installation against a background of bird song, "what have we humans forgotten?" Skepticism gives way to admiration, helped by Ateser's skilful multi-speaker sound.
Alserkal was founded by the Emirati philanthropist Abdelmonem bin Eisa Alserkal. Its galleries runs a series of openings alongside Art Dubai, which together with the art foundations and public galleries of Sharjah, and the Louvre Abu Dhabi, makes March the time to be in the Gulf.
Particular stand-outs this year included the Mouaquat-Temporary "open studio" by the Gaza-born artist Hazem Harb, who seems certain of a formidable future. Against archive maps, art catalogues and photo-albums, his wall works use period photographs and transparent overlays of colour to create a powerfully nostalgic but unsentimental evocation of lost time in the Palestinian past.
Other highlights were a live unpacking of Farhad Bakhtiar's formidable collection of African and Iranian art, with the works by a cross-section of major artists displayed on and around their wooden packing boxes.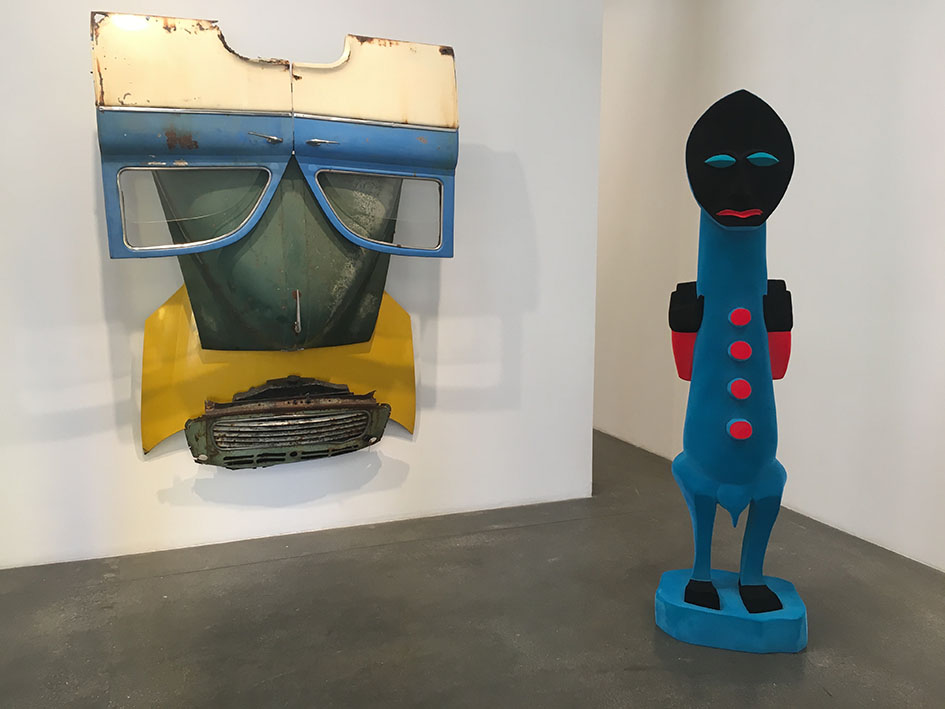 The Lebanese-Armenian jeweller-turned-artist Jean Boghossian reprised his fire paintings from the Venice Biennale in the Ayyam Gallery, in an even stronger setting; while the British Trinidadian artist Zak Ové (above) showed at the Lawrie Shabibi gallery with Star Liner, parlaying his colourful work into a rocket series around the notion of a black man shooting into space.
Meanwhile the Cultural Narratives project showed hundreds of Middle Eastern artists, from newcomers to established names, in an art project mapping the region country by country, but through works that must be 20 by 20 cm.
Overseen by Rima Nasser, founder of Selections magazine, the leading Beirut art publication, they dotted the walls country by country, ranging from a miniature ceramic piece by Iraq's Dia Azzawi to Boghossian and the Palestinian Samia Halaby, among others.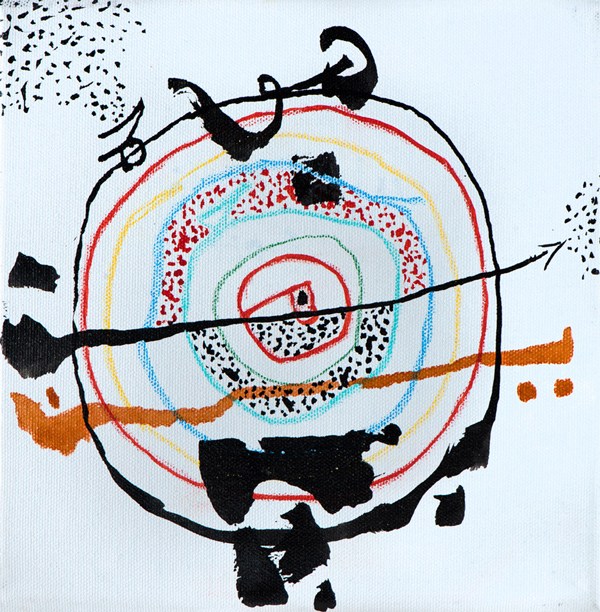 These are not postcard pictures, but full blown finished pieces, by more than 200 artists and rising. Most of the artists, including established and rising names from Tunisia's Khaled Beb Slimane (above) to Syria's Elias Izoli (below), typically work in vastly larger formats.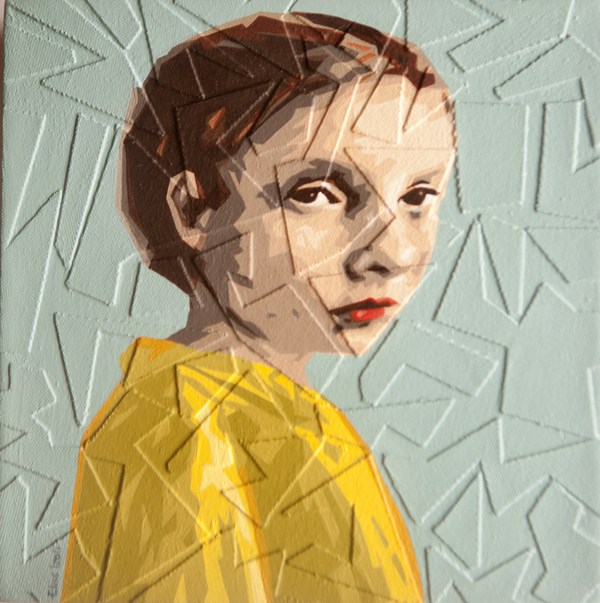 This art showcase in miniature has toured from Beirut to Dubai and appears set to show in France and elsewhere. "We will be including shortly Turkey, India, and Saudi Arabia. It shows clearly the style of each artist," said Nasser. "It's a big enough format to let the artist express what they want to say, to pass the message. The purpose of the show is to give visibility to artists of the Middle East." The aim will be to show about 100 artists from each country, or perhaps reach a symbolic 1001 works altogether.
Art Dubai remains the regional art fair to watch. Photographs of stunned Iraqi and Palestinian refugees, sitting in the halls of the Louvre, by the Iranian-born Reza Aramesh, were among top offering, selling in the high-end Leila Heller Gallery for $45,000.
With 104 galleries from 47 countries, it is claimed as the most regionally diverse fair to date. For the first time there are galleries from Iceland, Ethiopia, Argentina, and Ghana; from Accra's Gallery 1957, the Nigeria-based artist Modupeola Fadugba, with her 'synchronised swimming' of swimmers, submerged and seemingly part of the water bubbling around them.
In a year of new Saudi initiatives in the arts, with Misk, the Saudi art foundation, sponsoring a major exhibition of Arab modernists, the fair still kept its cultural diversity, with an important Iranian presence in the Dastan's Basement and Ab-Anbar galleries.
Sharjah – through the Barjeel and Sharjah Art Foundations, and the Sharjah Art Museum - delivers intellectual and artistic clout to match Dubai's commercial art operation. The exhibition of the Lebanese modernist Paul Guiragossian (1926–93), titled Testimonies of Existence, at Barjeel, was a revelation.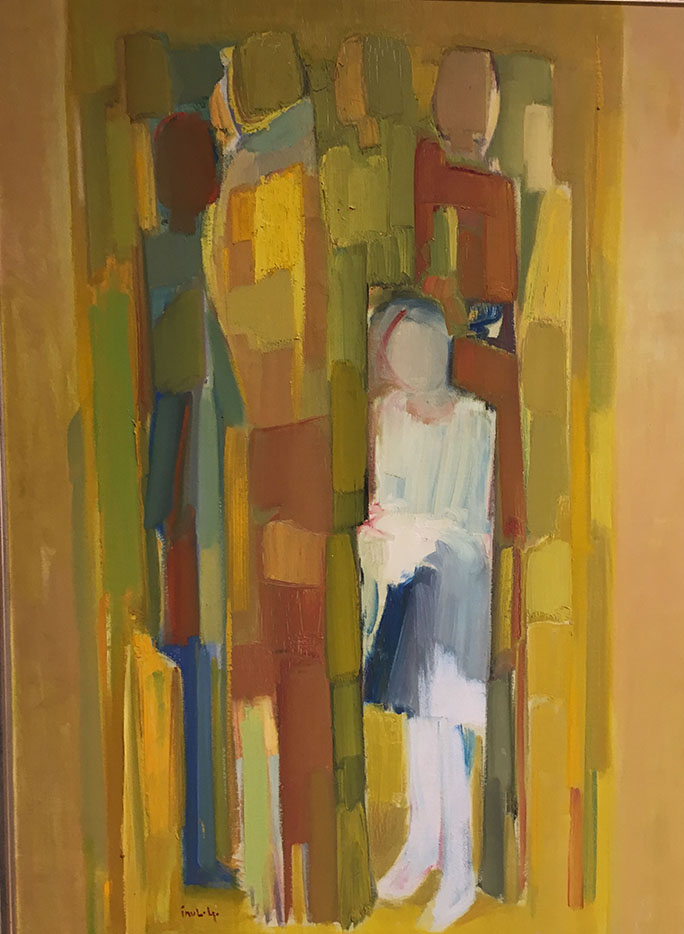 Each of his pieces, of more and less abstract figures, answer to a set of different shades; yellows here, full blues and reds there. Their characters range from the thoughtful child, aside and apart from the adults around, in Petite Fille dans la Rue (above) to much more abstract suggestions of sombre but richly coloured figures of covered women in silhouettes; or in one work, Joie de Vivre, full of motion. Guiragossian delivered a phenomenal output and his heavier painted works can become repetitive; but there was a master at work here to match the best of the West.