Founded in 2003 by Alp Toruner, Büyülübağ Winery, on the island of Avşa in the Sea of Marmara, is one of a new breed of quality Turkish wine producers, making modern wines by traditional methods and using local grapes as well as more familiar varieties.
Walking from Avşa ferryport, the way across the waist of the island begins near the Belediye building and a little green lead-domed mosque, and arrives quickly in open country. Through olive groves and rambling vineyards, their unfenced edges a mess of purple vetch, poppies and the parched husks of last year's grasses, the road gains gently on low hills for about two miles, an easy stroll in the mild heat of early summer. A cutting in a saddle of the hills gives good views back to the port and its beachside sprawl, and ahead down a steepish descent to the smaller coastal settlement of Yiğitler on the west coast.
At the crest of the rise a sun-bleached metal sign points down a dusty track to the Büyülübağ Winery, and soon I am descending into acres of carefully tended vines which stretch across the landscape in well-drilled rows. To the left a substantial building houses the industrial wine-making plant. Here I am greeted by Büyülübağ's manager, Bahri Bey, who began his career in Turkish viniculture more than a quarter of a century ago with Kavlakıdere, Turkey's oldest winery. Inside the lofty concrete cool of this most modern winery Bahri explains the 'gravity flow' system used here. Time-honoured and beloved of all the great domaines of Burgundy, this method is now being taken up by discriminating boutique growers worldwide. In order to cause the least disturbance to the wine, the process uses no pumps. From the moment the hand-picked grapes arrive at the cellar door – to be sorted, de-stemmed and crushed, and the liquid passed into the fermentation barrels, then into oak ageing barrels until finally the wine is bottled and stoppered with Spanish corks (very traditional, no screw-caps here) – only the force of gravity is used to move the delicate product through these stages. And to observe this at first hand we descend through halls of spotless stainless-steel machinery, past huge gleaming tanks, and down deep into the Avsa hillside until we reach the cool of the cellar where in quiet maturing sleep lie row upon row of maroon-stained casks of yet-to-be-bottled vintages.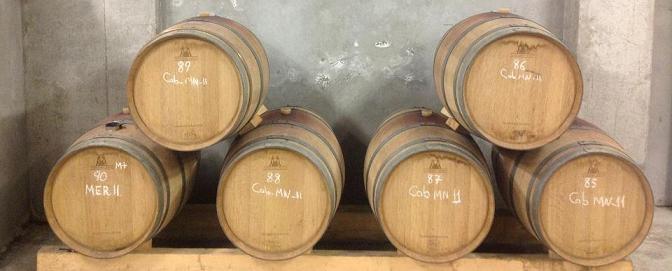 Back in the tasting room, Bahri's young assistant, Gürbet, appears like Khayyam's saki bearing a glass of glistening pink liquid, the first of the wines to be tasted, The 'Iris' Rose, 2011 vintage. With intimations of a lush harem of delights to follow, this prize-winning wine is no timid teenager's party pop, but a wine of experience, with deep honeyed scents of summer fruits and refreshing acidity. 'Iris' is the true nectar of Avşa, made from the local grape, Adakarası, unique to this region and one of over 600 varieties of grape identified in Turkey. Black Gemlik olives and crisp peynirli borek, and a table by the shore come to mind.
My reveries with 'Iris' are interrupted by the arrival of a glass of 'Öküzgözü Boğazkere' (OB) 2011. The product of two types of grape important in the wines of central Anatolia (Boğazkere is the mainstay of the ubiquitous 'Buzbag' wine), OB 2011 is still something of a brash youth, a strong red wine which elbows its way onto my palate with a gutsy halloo! of creaking packsaddles, wafts of olive press and a hint of dolma spice. Rich in fruit with distinctive scents of wayside wildflowers, given time it could mature into a great accompaniment for Adana Kebab or a spit-roasted goat.
Next, an unoaked Cabernet-Merlot 2011 is poured, tasting like too much light Bordeaux drunk too young off the supermarket shelves. The tannins are there, but, like youths, when will they sort themselves out?
Softer, moody as a favoured odalisque, with 12-14 months ageing in oak, the Cabernet Sauvignon Reserve 2010 is a step or three up from the last offering. At last I am entering the inner court of Büyülübağ's saray. Capricious tannins beginning to unfold to a warm and welcoming roundness in the mouth, dark fruit flavours edging to bursting with a velvety dryness that invites to drink deeply. A wine to take home and cellar a while. Unsurprisingly, the 2005 vintage of this wine returned with silver at the prestigious Vinalies International in 2009.
The single-grape Merlot 2010, barrelled in oak for 12 months, met the tongue with a pleasing acquiescence, firm and plump in the mouth as a kadinbudu and would drink well with a dish of these minced lamb kofte and some zeytiyağli taze fasuliye (fresh green beans in olive oil).
The tasting culminates in a very un-Turkish blend, Sirah-Tempranillo-Grenache 2011. Yet all three varieties are well suited to the hot summers and relatively mild winters of the Marmara and Izmir regions. This fresh-faced youthful draught comes on somewhat aloof, as unforgiving as a Scandinavian murder mini-series, yet with the restrained energy of a Balkan janissary tasting first blood – very, very dry, astringent as unripe almonds, green as erik plums and with sharp flavours of pomegranate. It will be interesting to see if this haughty drop can develop to the level of those big-flavoured wines full of flowers and herbs, cherries and berries of similar blends in Spain and Australia.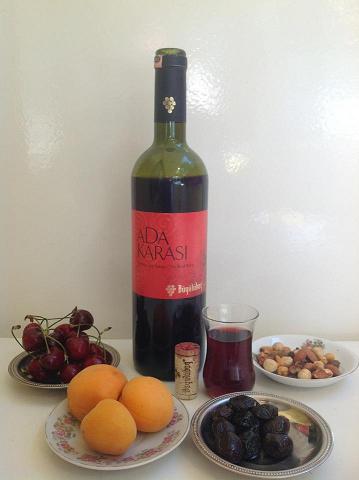 Tasting has its natural limitations, so in the evening back in Avşa town I browse the shelves of the little bakal next door. A dusty bottle of red Adakarası 2007 beckons. At 10TL I am suspicious, but curious to see whether the years have improved or taken their toll. Pulling the cork I do not even need to lift the bottle to sniff – aromas of sun-darkened fruits and sweet meadow herbs flood my nostrils and I fill my glass with a deep ochre-edged ruby liquid. On first tasting I am reminded of some old Lebanese wines, but it is the scent of the island that slowly comes to the fore. This is the taste of Avşa; it's name adakarası meaning 'island darkness' also translates as 'island earth'. In no time at all I am supping with Homer's heroes as I sip dark secrets of Avsa' earth, and the sun slips unnoticed into a wine-dark sea.

Christopher Ryan is a food writer and Turcophile based in Scotland. In 2011 he published The Story of The Damascus Drum, a novel about love and goats in 19th-century Syria. Together with his wife he owns a cafe that also sells books and Turkish carpets, called The Damascus Drum.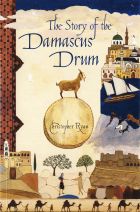 Büyülübağ Winery features in Cornucopia's online guide to a self-drive tour of quality vineyards in Thrace and the Dardanelles (link below).