Very sad news. The great John Freely passed away early yesterday morning. We have lost a cherished friend of the Bosphorus, author of more than 50 books, with at least 50 more ready to roll, and one of Irish nature's great raconteurs. John was the incomparable bard of old Stamboul. His best-loved work was the guidebook Strolling Through Istanbul, and his spirit will forever be strolling through the shadows of the great metropolis. He once wrote: 'For me, Istanbul is everything…' We offer his family our heart-felt sympathy for their loss. For all of us at Cornucopia his passing truly marks the end of an era.
In this photograph (taken by Tony Greenwood in 2011), the Byzantinist Bob Ousterhout (hat raised) invites John out on a late lap of honour of his beloved Land Walls. Next to John in the back seat is Dolores (Toots), his late wife, with whom he had signed a pact in blood that they would spend their life travelling. In the picture below (from his memoir The Art of Exile), true to the pact, John is seen with his family in 1965, sailing to Naxos, where he spent many idyllic summers completing his early books.
In Bob's words, hard to say goodbye…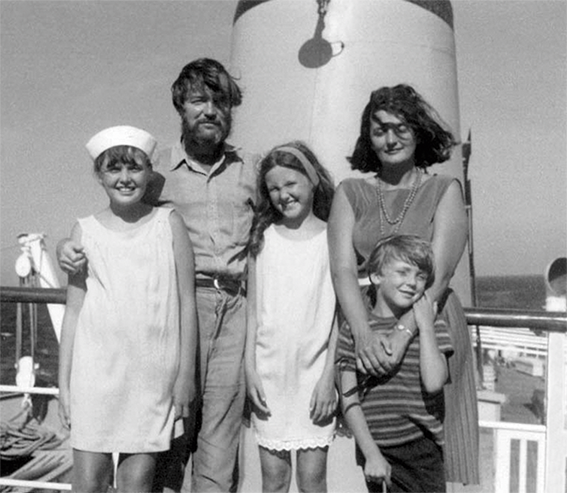 Two articles by Maureen Freely (on the left), Moving Freely and Memories light the corners of my mind, give an affectionate portrait of her father and are now available online.