Back in the naughty 90s, the Istanbul antiques fair was a highlight of the Istanbul arts calendar. Çigdem Simavi's Küsav foundation served up a brilliant blend of high art and high society, most memorably in the Armoury of Yıldız Palace. It was a mix of the flash and the famous, with lashings of generous hospitality and a good injection of eccentricity, most unforgetable being the annual Sotheby's party (one was in the one-stop Tünel underground line, accompanied by a soprano, another on the platform of Sirkeci station). Of course that fair was of its time and could never be repeated today.
Well here's news to bring a ray of sunshine to grey February skies. The antiques fair is back, grafted this time out of thin air not by connoisseurs and collectors, but by a down-to-earth fair organiser prepared to take risks and a handful of dealers, who have brilliantly musterd the troops. It is boldly called the Istanbul Arts and Antiques Fair. And the mayor was their to give it his blessing.
Even if a few big guns are waiting to see, there are good names too, and the company and atmosphere have been amazing – knowledgeable, eager, entertaining. It is not the same old same old clique of collectors – according to one dealer they have been selling up and moving abroad like there's no tomorrow – but a new generation of younger buyers has appeared ready to invest sensible money not bottomless fortunes.
And there have been good talks too. A highlight was Ömer Faruk Şerifoğlu's brilliant introduction to one of the great pioneers of Turksih art, Avni Lifij. And some smart shoppers, too, called in on the Cornucopia stand.
Sunday (the 23rd) is the last day, sadly. If you read this time, grab a cab. It is open till 7. The Istanbul Congress Centre is next to the Istanbul Hilton, a stone's throw from Taksim, so no need to drag yourself out to some soulless back-of-beyond. If you do come by taxi head for the underground carpark underneath the IAAF fair. From there it is just a short escalator ride.
There are essentially two fairs in one, an affordable modern art fair, including Federico Severino's Piccole Silenti, a diminutive bronze 43cm high (Galeri Selvin, 25,000 euros) and an impressive antiques fair. Here are just some of the things that caught the publisher's eye!
A cornucopia of pretty coffee cups…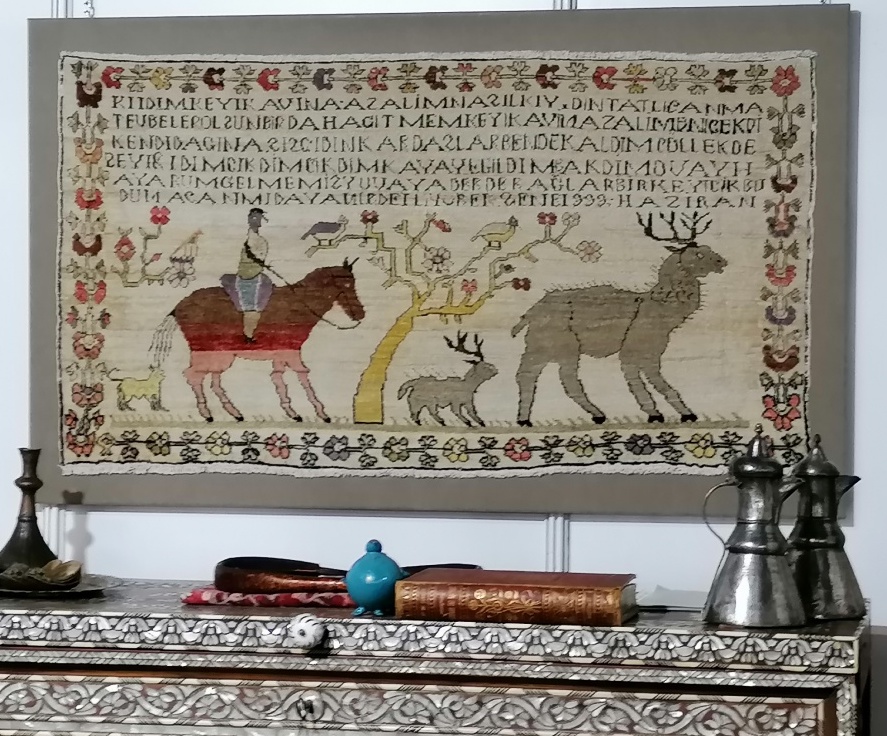 A poem woven into a Kayseri rug: oath never to hunt again after finding that the deer he had shot had left behind a fawn (Berze Antiques).
Next door, Selden Emre holds court, with a distinguised 17th-century blue and white platter on the wall behind her ($7,500).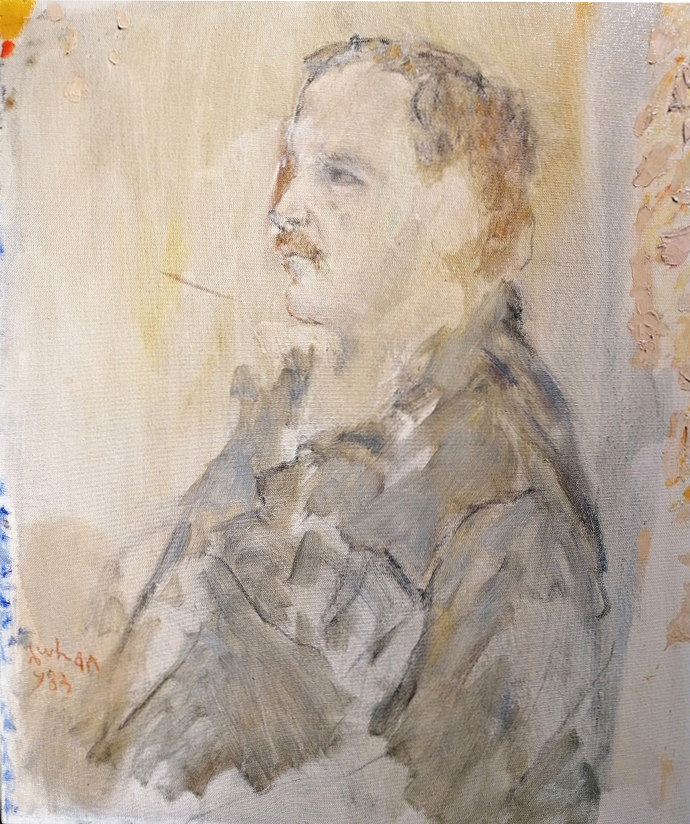 Distinguished 20th-century art was represented. This whimsical portrait of a man is by Burhan Uygur (1940–92)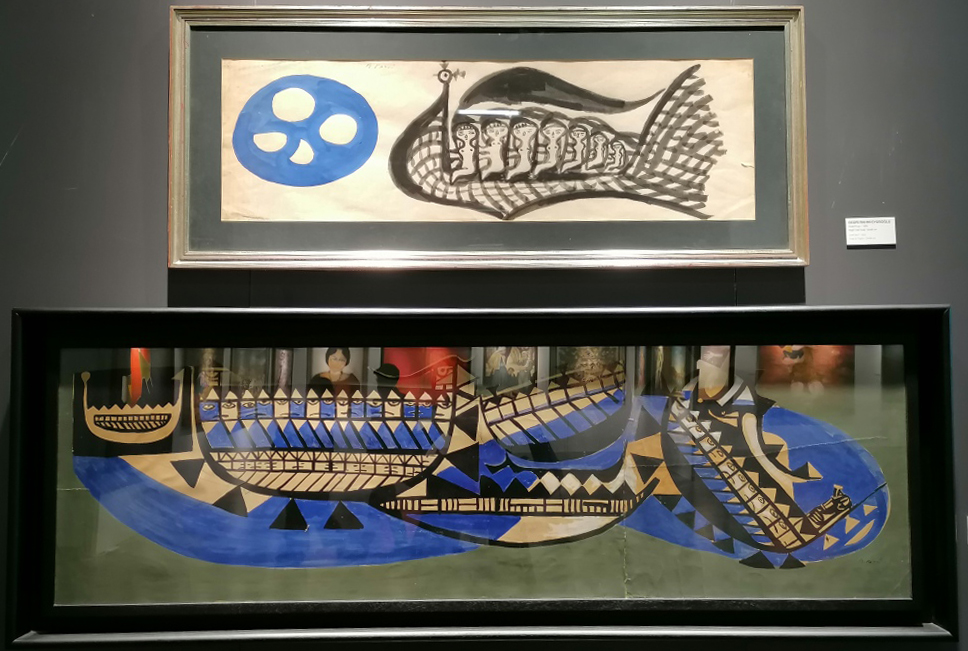 These two transports of delight are by the poet and painter Bedri Rahmi Eyüboğlu (1911–75), who taught Uygur at the Istanbul Fine Arts Academy by Bedri Rahmi Eyüboğlu.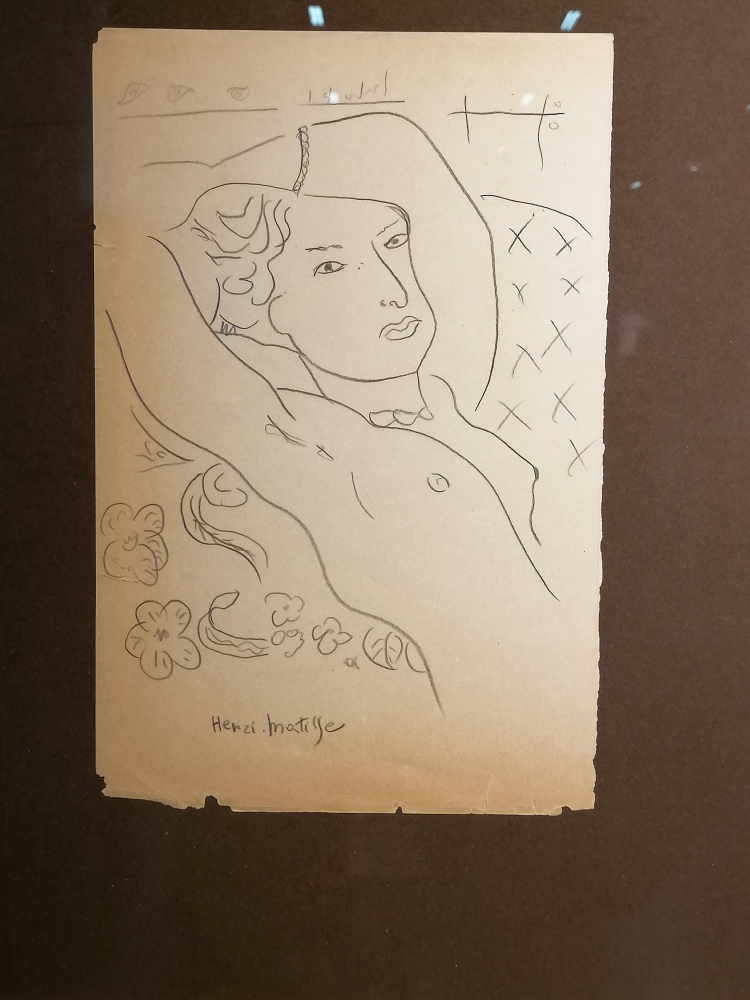 Matisse wasn't going to miss party. Alongside Picasso, of course, which we cannot publish for fear of being hunted down by his notorious copyright lawyers.
The self-taught İsfendiyer Söyler painted this large oil of an imagined train journey across the Alps.
A figure in an equally large dream-like landscape is by the Erzurum-born İsmail Tetikçi (Doruk Art Project)
Ercan Ayçiçek, who has been known to pay homage to Matisse, painted this clown (Galeri Soyut)
This fabulous Iznik plate, which has featured in Cornucopia, by Adnan Ergüler, part of a retrospective of one of the great 20th-century Iznik artists offered by the Iznik Classics Gallery.
We conclude our cabinet of curiosities with a cabinet full of spoons…
And more delightful cups…