The latest sales figures of Cornucopia's back numbers show an interest in issue No. 47, from 2012, which had a striking cover photograph of a young Josephine Powell (1921–2007) describing her as Queen of the Nomads (above left). An article by Andrew Finkel accompanied some of her thousands of photographs from half a century travelling around Anatolia: she was one of the first foreigners to travel into the remote eastern parts of Turkey. She was buried in the Protestant cemetery in Istanbul and her collection of flat fabrics, ethnographic artifacts and copies of all of her photographs from Anatolia were donated to the Vehbi Koç Foundation. The photographic archive is maintained by the Library of Anatolian Civilizations Research Center of Koç University (ANAMED) and many items from the collection of weaving and ethnographic works held by the Vehbi Koç Foundation can be seen at Vehbi Koç Buyukdere House in Sanyer.
Andrew Finkel knew Josephine Powell and had written a profile of her in Cornucopia 30, four years before her death, describing her as "an unusual cross between Gertrude Bell and Clint Eastwood". The article was accompanied by a very different but equally striking portrait of her taken for Cornucopia by Jurgen Frank (above right). What Josephine Saw, the catalogue for an exhibition of Josephine Powell's collections of Anatolian flat-weaves and ethnographic objects, is also still available through Cornucopia.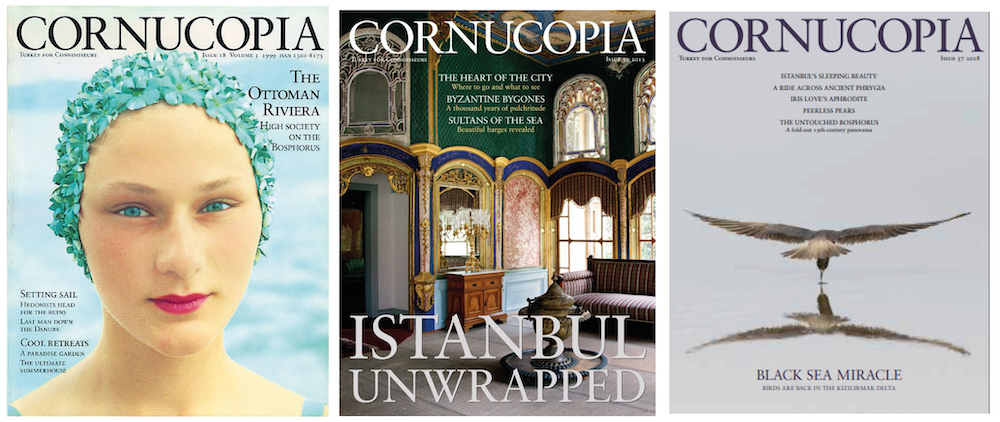 Other issues of the magazine to stand out in the latest sales figures are: Cornucopia 57: The Black Sea miracle, with stunning wildlife photographs; Cornucopia 50: Istanbul Unwrapped, the first of four issues devoted to the modern city; and Cornucopia 18: The Ottoman Riviera, from 1999, with a feature on Ratip Efendi's yali, last of the 18th-century seaside mansions in Bebek, written by Patricia Daunt, and recently published by Cornucopia in an omnibus book: The Palace Lady's Summerhouse – And other inside stories from a vanishing Turkey.
Back numbers of most issues are still available from Cornucopia's Archives, and are fast becoming collectors' treasures.