The great Croatian horn-player Radovan Vlatković is giving the first of this year's masterclasses at the Urla Music Academy (UMA). Four days of happy music-making culminate in a concert at 7pm on Saturday evening (September 17). Tickets are free (and donations towards a wonderful musical project most welcome).
Okan Akbaş on the horn, accompanied by Sait Karabulut, with the master Radovan Vlatković looking on (photo: Elif Pekin)
İnci Coşkuner hosts the masterclasses with her architect daughter, Elif Pekin, in the family's romantic stone house in the heart of old Urla, a distinguished 19th-century merchant's house built by one Kosto Efendi, which they have painstakingly restored. İnci Hanım wrote today to tell us how the days unfold. Each morning the distinguished professor leads his gifted young horn-players through a series of physical warming-up excercises, pausing to inspire them with practical, always positive words of advice on how a real artist must attain complete musical wholeness.
Kübra Çadırcıoğlu (M.S.Ü – İstanbul), one many young talents finding inspiration in Urla this September (photo: Mehmet Emeç)
İnci Coşkuner, herself a concert pianist from the Conservatoire National Superieur de Musique in Paris, is particularly proud of the musicianship evident in young Turkish horn-players such as Kübra Çadırcıoğlu, above. It has made the class particulary rewarding for Vlatković – once described by the Hamburger Abendblatt as 'the Croatian messenger of the gods of the valve horn'. Several of his numerous recordings, issued on the EMI, DECCA, Philips, Deutsche Grammophon, Teldec, Dabringhaus & Grimm and Denon labels, have won the German Critics Award. In 2014 he was awarded an Honorary Membership of the Royal Academy of Music (Hon RAM), an honour bestowed on only 300 distinguished musicians worldwide.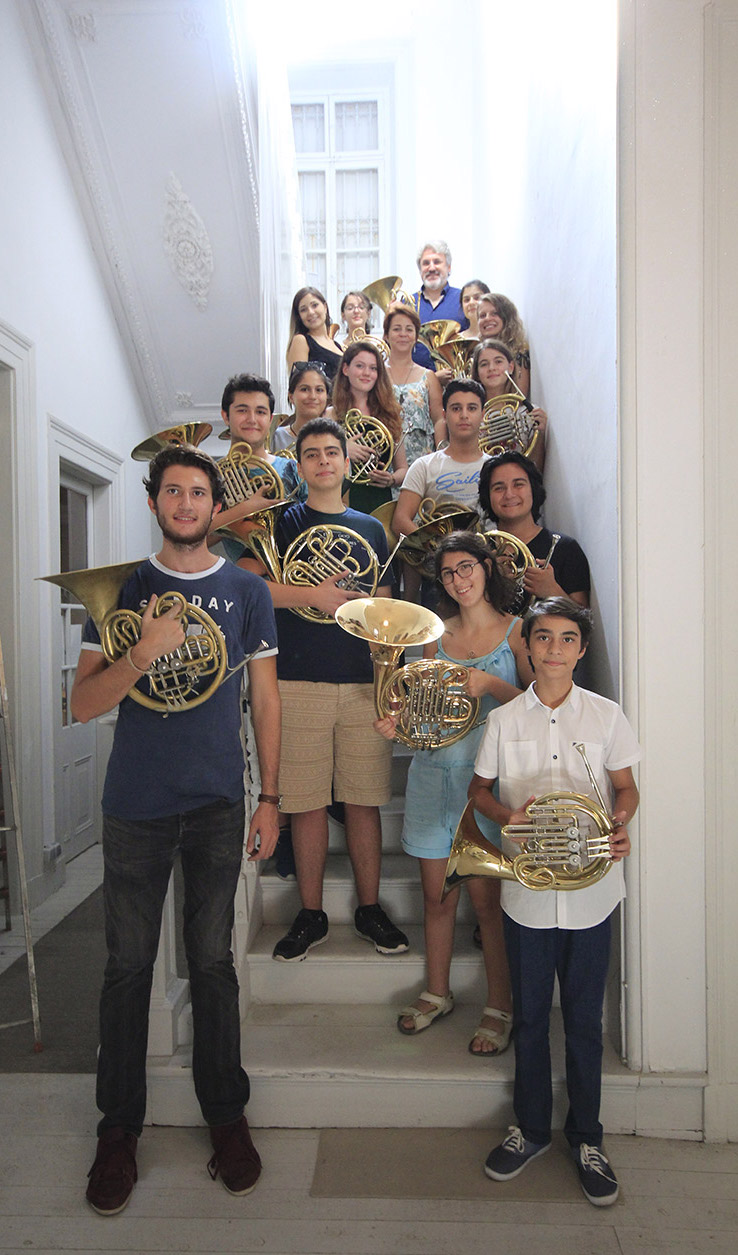 Radovan Vlatković's 2017 masterclass assembles on the elegant stairs. From top: Vlatković, Başak, Çişil Bebek Korkmaz, Begüm Gökmen, İrem Gürsoy, Kübra Çadırcıoğlu, Betül Akyüz, Nisan Dikeçligil, Bora Demir, Öykü Kaya, Okan Akbaş, Okan Korkmaz, Ceren Çelik, Barış Eren Türkmen, Nisan Atmaca, Ekin Tuna Tatar (photo: Mehmet Emeç)
The peaceful courtyard garden behind the house. French windows lead to the drawing room where the classes are held (photo: Mehmet Emeç)
Playing and listening…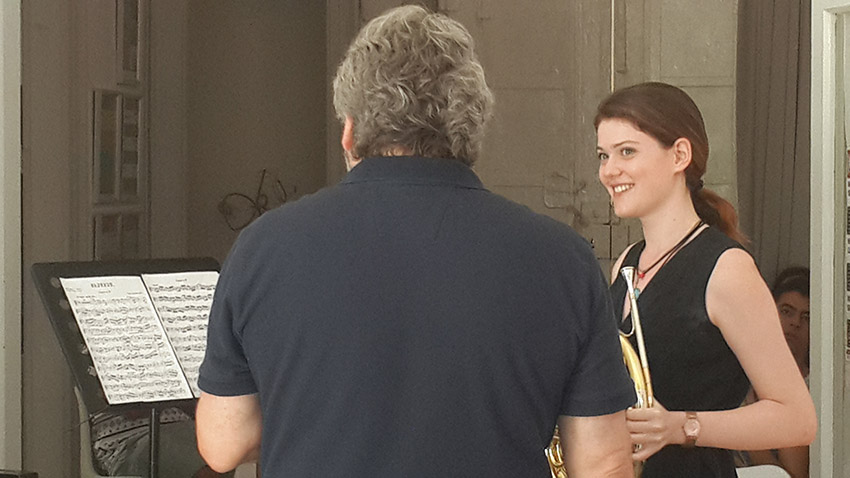 All explained…
The professor with his young musicians in the staircase hall, as they prepare to fill old Urla with the sound of horns (photo: Mehmet Emeç)
Vlatković' explains a finer point to Ekin Tuna Tatar (photo: Elif Pekin)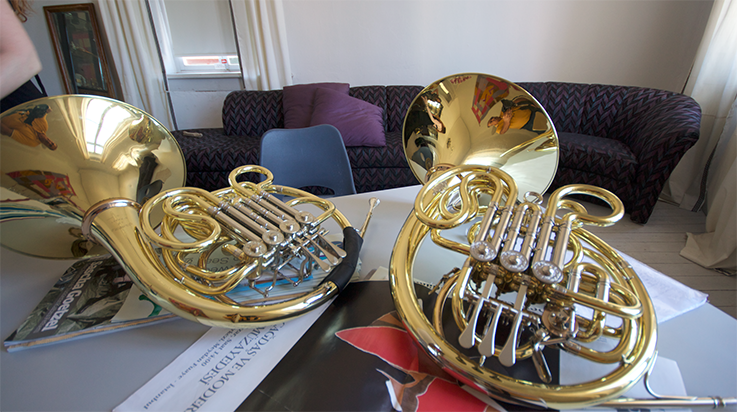 Two of the beautiful instruments (photo: Mehmet Emeç)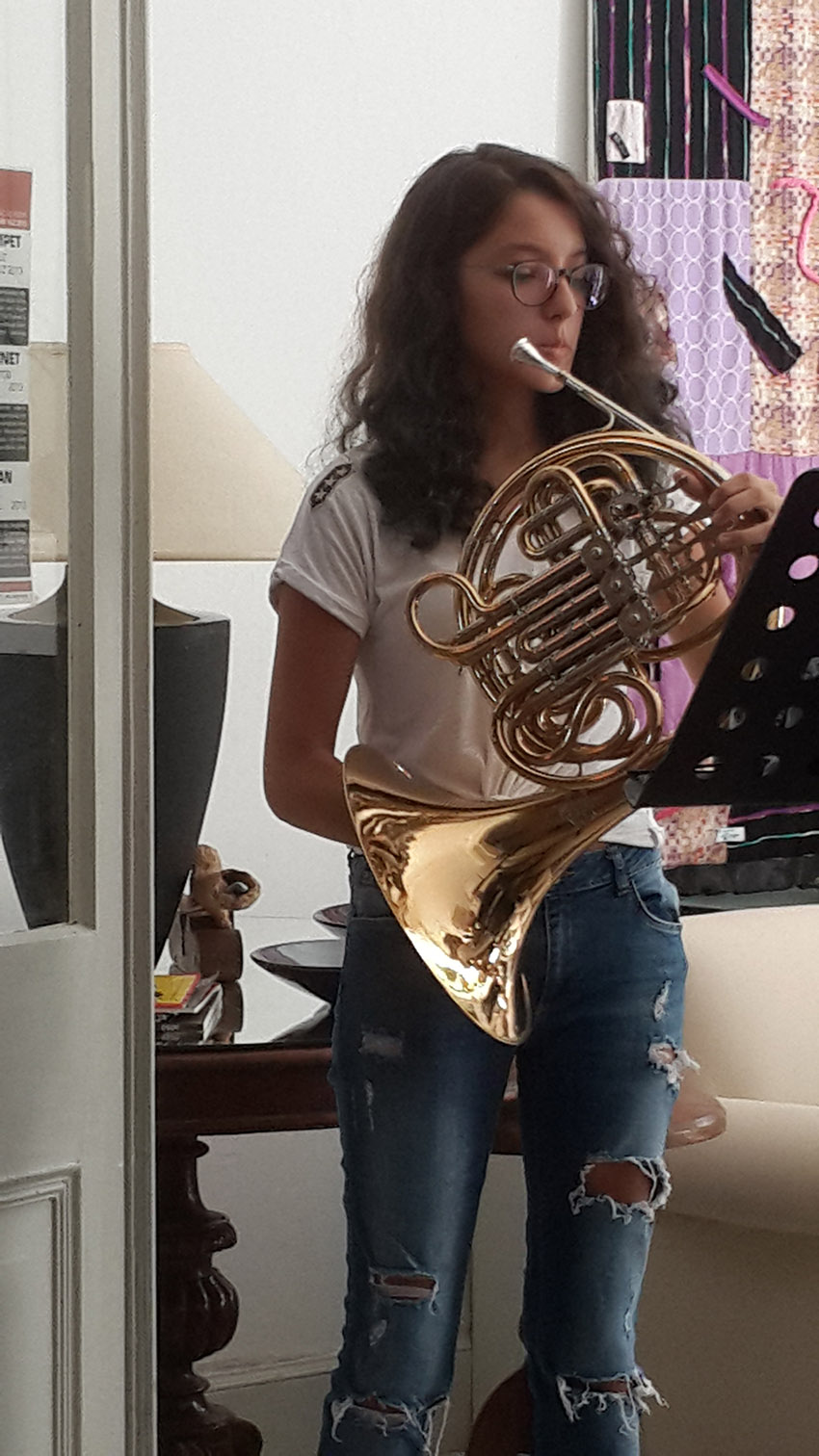 Absolute concentration: Çisil Bebek Korkmaz (9 Eylül University, İzmir) (photo: Elif Pekin)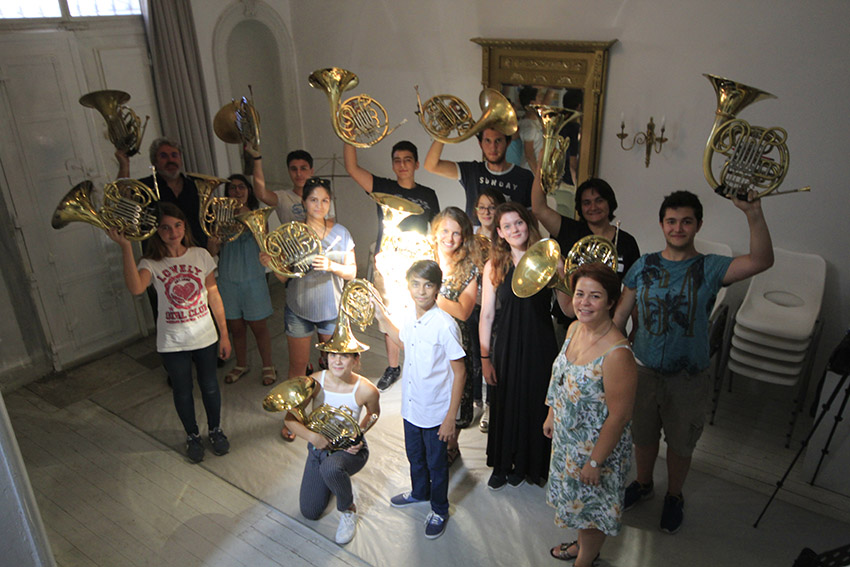 Ready to make the world their stage: a new ensemble shows its horns in the hallway of the house… (photo: Mehmet Emeç)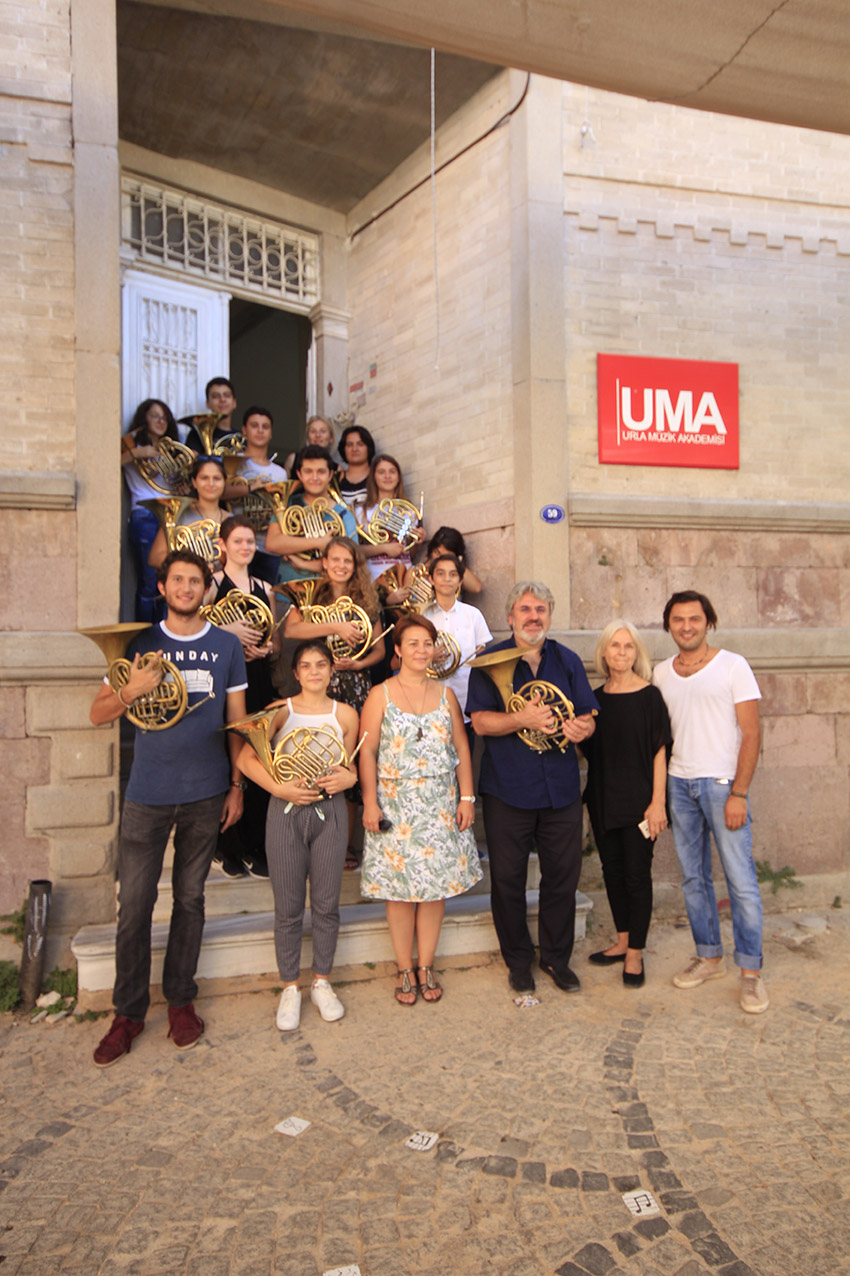 Cornucopia is very happy to be sponsoring UMA this year, in memory of our dear friends Uğur and Rose Bengisu. The Bengisus would winter in New York and summer in Gölcük, above Ödemiş, in the ancient Tmolus mountains overlooking the city of Sardis. Uğur, an architect like his great-niece, was İnci Hanım's uncle. Rose devoted her later years to tracing the extraordinary archaeolgical story behind the mythical birth of ancient music on Mount Tmolus (Kel Dağ), long associated with early legends of ancient Lydia and revered by the ancients as the abode of the gods; according to one ancient source, it was the birthplace of Zeus no less. Gölcük Lake, in front of their house, is identified as ancient Torrhebia. And it was here they identified what is perhaps the world's oldest caique, now preserved, thanks to them, in Bodrum Castle's Museum of Underwater Archaeology.
The eminent clarinetist Michel Lethiec continues the UMA masterclass series on Septmber 24–28. Watch this space.
To find out more about enrolling in classes and attending concerts, or indeed joining Cornucopia in sponsoring this excellent project, please write to İnci Çoşkuner at the Urla Müzik Akademisi.
Main picture: Ekin Tuna Tatar (9.Eylül Üniv, İzmir), photographed in Urla by Mehmet Emeç, September, 2017