'She was a sort of Canute, trying to halt the tide of modernity she saw eroding the nomad's dignity.' ('A nomad among nomads', by Andrew Finkel, Cornucopia 47)
---
Josephine Powell, photographed by Jürgen Frank (see Cornucopia 30, 2003)
… I only met Josephine Powell a few times (writes Monica Fritz), but her name was often heard in expat circles when I first moved to Istanbul. I enjoyed the few things we had in common, in spite of the age gap. We were both Manhattanites, albeit from different sides of 'The Park', we had both left at the same age, 27 – for Italy and then Istanbul – and we both had photography as a trade, even if we used it in different ways. Above all, we were both wanderers: my work took me to Yemen and hers to Anatolia and the East.
I remember Josephine's flat in Cihangir. Its high ceilings were reminiscent of Upper West Side apartments, it was filled with books, and the magnificent Bosphorus view was exciting. She was courteous but rarely smiled.

Josephine Powell was born on May 15, 1919 in New York and died in Istanbul in 2007. Andrew Finkel, a good friend of hers, wrote an eloquent tribute in Cornucopia's issue 30. It opened with: 'It is a line from her life, not a poem by Edward Lear: Josephine Powell once rode a chestnut mare to the magnificent Minaret of Jam. I have never met anyone else who has made that journey, but then few details of Josephine Powell's life have been less than extraordinary.' Further on he explains: 'And she rode back from Jam, the famous Selçuk monument in western Afghanistan, in 1960 with Sila, her Belgian sheepdog, tucked in a saddlebag.'
With the Saçıkara nomads at their winter camp north of Antakya, photographed by Josephine Powell in 1980 (from Cornucopia 30)
Wall-to-wall kilims in a landowner's house in Gölpınar, Malatya, photographed by Josephine Powell in 1970 (from Cornucopia 47)
Josephine Powell was a collector, a photographer, an expert on Anatolian handcrafts and natural dyes, and a great supporter of the women behind these crafts. She helped establish the Dobag Project, 'the first Turkish women's cooperative which makes carpets using authentic designs and natural dyes'.
Honamlı shepherds in traditional wide feld capes, photographed by Josephine Powell in 1982 (from Cornucopia 47)
Kimberly Hart describes Josephine in the catalogue to the 2012 exhibition What Josephine Saw as 'an intensely private, physically fragile person, she embarked on adventures, which few would dare to undertake. In these travels, she recorded what she saw with her camera, and for this Josephine was famous. Her living room, with a view of the Bosphorus and the peninsula of the old city, was a salon of sorts. Textile collectors, scholars, and friends came to the city, either as a destination, or a point in between other places.'
Paolo Girardelli, chair of the history department at Bosphorus University, remembers his first visit: 'When I first met Josephine in the summer 1988 she was painting bricks white to become bookshelves for her home in Cihangir. I had just finished my masters thesis and come back to Istanbul from my second trip hitching through eastern Anatolia. A friend from Rome had given me her phone number. My first encounter with Josephine was unforgettable. Casually I asked about an Italian architect who had worked in Istanbul around the turn of the century, Raimondo D'Aronco. Before I knew it, in her cool and informal way, she had finished spraying the last brick and called Reha Günay, a scholar and expert on Mimar Sinan, who in turn put me in touch with Afife Batur [who sadly died in December 2018], the most knowledgeable scholar on D'Aronco. These contacts were to change my life forever.'
Another old friend of Josephine's, Linda Robinson, particularly remembers their first encounter – and their last: 'I met Josephine because a friend of ours, Diane Mott, was on her way to visit her and I tagged along. This was in the mid-80s. She was living in Şişli, in a ground floor apartment that was very dreary and Incredibly crammed full of objects, photos, books. After a cup of tea, with me sitting there rather dazzled, we left. I thought about it afterwards and went back days later, knocked on the door and said, "I've come to help," and she said, "Fine. Go put the tea on." I worked with her there for several years, until she was able to move to a bright, sunny, beautiful apartment with a view in Cihangir. When she left to go there I said, "Well, it's been nice knowing you, but I will never visit you." I lived in Levent at the time, didn't know the Cihangir neighbourhood and wasn't interested in going down there. Years passed, and I ended up living upstairs from Josephine – where I still am, 27 years later. It was my habit to check on her in the mornings before I went out, and then in the evenings when I got home. But on this particular day she was going to the doctor, because she hadn't been feeling well. She called me at midday – something she never did – to report that the doctor had said she was fine. And then she paused and said, "Thank you for being interested." That evening I was very busy and didn't check on her. In the morning, when I went down, she was dead. She was lying across her desk with a pencil in her hand and a sketch of the migration path of her favourite nomadic tribe.'
Airy black nomads' tent on Mount Engizek, Kahramanmaras, photographed by Josephine Powell in 1981, Cornucopia 47
Andrew Finkel, in his Cornucopia article, elaborates: 'She understands the ritual of the caravan – with the oldest unmarried daughter leading the way, the kilims which covered the cauldrons on the camel's back perceived from a distance as the colourful standards of a benign army on the march. She empathises with a way of life in which the women had the time to produce woven works of art. In so many ways she feels it was more sophisticated, and certainly more hygienic, than contemporary urban life. To put it less kindly, she is a relic of another century, the last of the great occidental travellers collecting the relics of a disappearing sort of life.'
In an earlier interview, a few years before her death, Andrew Finkel asked her how she started travelling. She had just finished photographing mosaics in the Grand Palace in Istanbul for the Byzantinist David Talbot Rice and was waiting for the film to be developed (it took two weeks in those days), 'I thought that in this miserable Land Rover that I'd bought I would at least go across to Asia on the ferry. I put my dog and my luggage in the car. We went across, and getting off the ferryboat and the sweep of all the taxis that were surrounding me and pushing me and honking at me, I kept going for a long time, and then I just sort of rolled on.'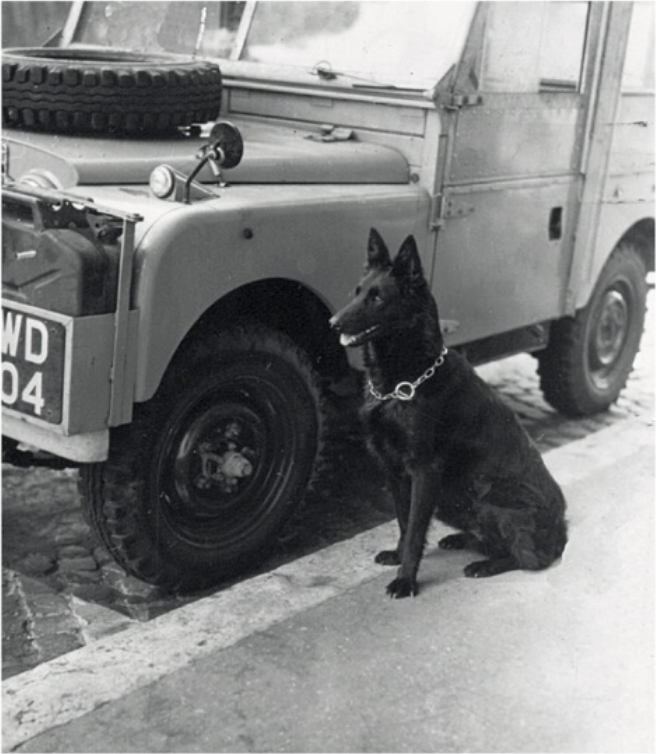 Josephine's Belgian sheepdog, Sila, guards her Land Rover
before her 1960 journey to Afghanistan (from Cornucopia 30)
---
Josephine Powell's photographs have twice featured on the cover of Cornucopia. No 30 (2003) had a remarkable portrait of a nomad woman out visiting in a brilliant blue headress, photographed by Josephine in the village of Ergani, Diyarbakır (Jospehine shared the issue with perhaps Turkey's finest 20th-century photographer, Cafer Türkmen). For No 47 (2012) we could not resist a deliciously enigmatic self-portrait as a young woman. Subscribers can go directly to the digital editions of these issue by clicking on the issue numbers above. Click on the covers below to order the print editions, delivered post-free worldwide.
WHAT JOSEPHINE SAW Twentieth Century Photographic Visions of Rural Anatolia, by Kimberly Hart (Koç University, 2012), is now out of print, but available on amazon.
Also see the research centre ANAMED's Josephine Powell Slides Collection.