Spring has arrived early in London this year, and with it Pietro Longhi's sumptuous Procession of the Venetian Bailo Francesco Gritti in Constantinople, painted in Venice in 1731. It is one of the highlights of this week's Islamic Sales, Lot 76, in Sotheby's Art of the Islamic World & India including Fine Rugs and Carpets (March 30). The painting measures 105.5cm by 128.5cm and its depiction of the splendid attire of both Venetians and Ottomans captures the extravagance of Venetian diplomacy in the early 18th century. IThe painting is also one in the highlights of the new 30th-anniversary issue of Cornucopia.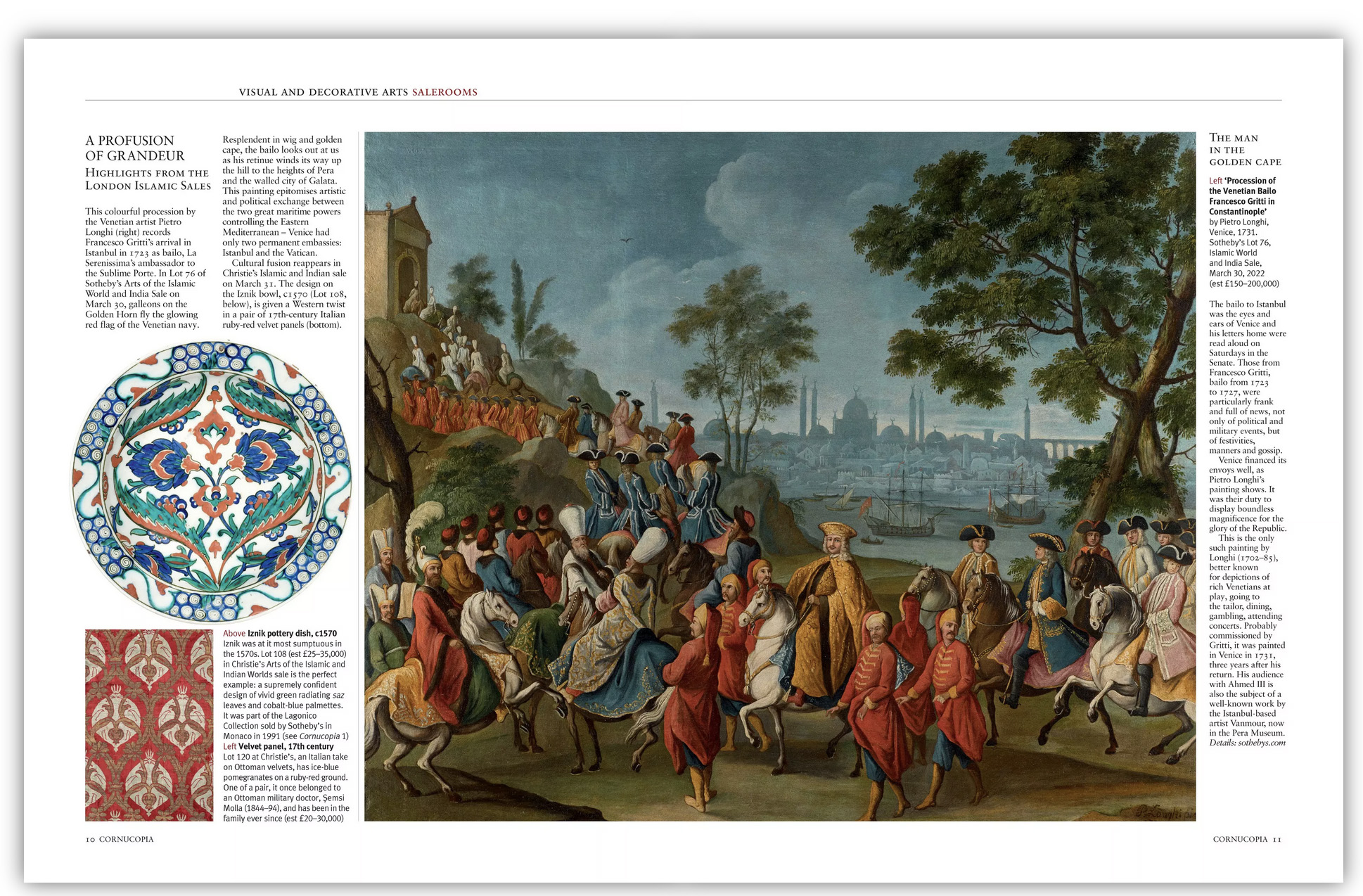 Alongside Longhi's Procession, the issue includes a vibrant Iznik bowl c1570, from Christie's Arts of the Islamic and Indian Worlds (Lot 108, est £25,000–35,000), on March 31, and from the same sale, an Italian 17th-century panel to rival contemporary Bursa embroideries (Lot 120, £20,000–30,000), once owned by a well-known 19th-century Ottoman military doctor, a reminder of how close Venetian and Ottoman 17th-century taste had grown.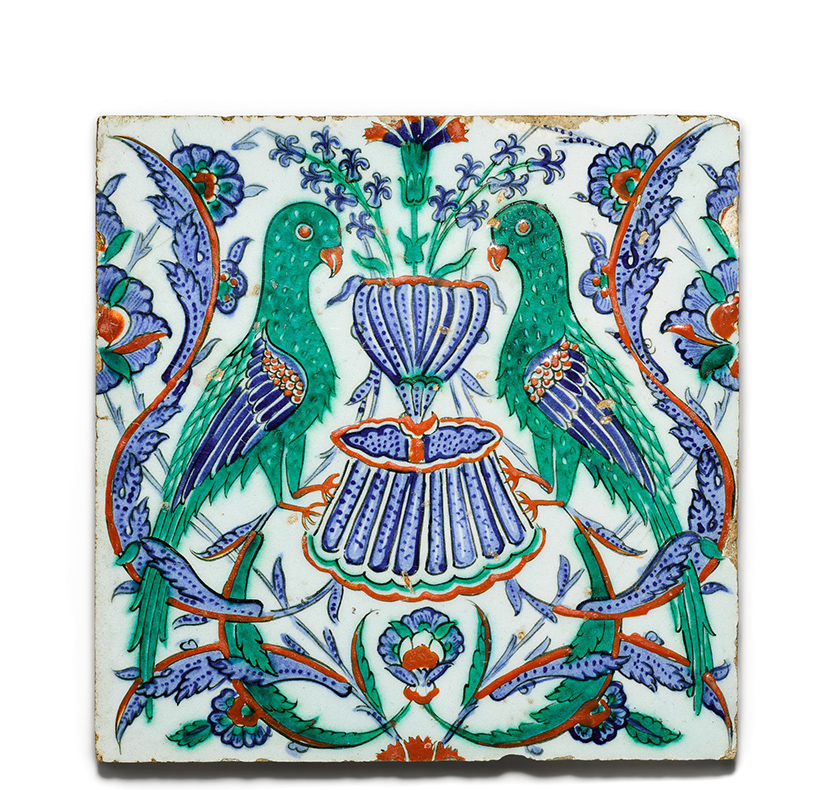 The Turkish star of Sotheby's Arts of the Islamic World & India Sale on March 30 is undoubtedly this Iznik tile, c1575. Two richly feathered birds – falcons perhaps – appear among the saz leaves, facing each other across a fanciful bird bath, their heads separated by hyacinths and a single carnation (Lot 132, est £100,000–150,000). This tile is part of a series. The seven others that are still intact can be find in seven of best collections of Islamic art, the Sadberk Hanım Museum, the Louvre, the Fitzwilliam, the Benaki, the Khanenko, the Freer and the Detroit Institute of Arts. How magnificent they must have appeared when they were all together. Perhaps the sort of project we might expect from the Sadberk Hanım Museum when it opens in its new home on the Golden Horn. (Meanwhile, enjoy it while you can in its lovely old home on the Upper Bosphorus).
Here is some more glorious stuff, starting with a secret garden of textiles at Sotheby's: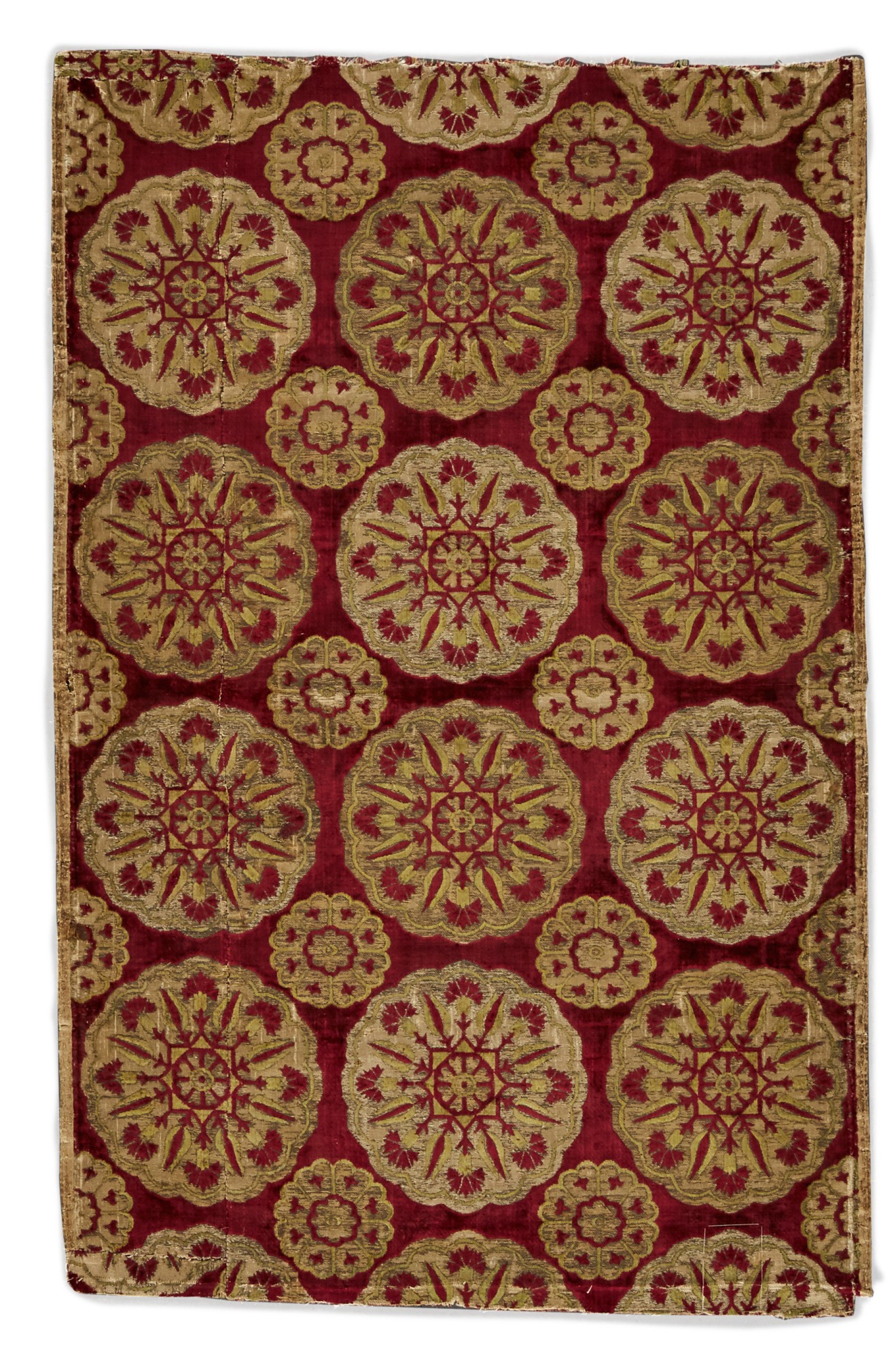 Carnations – sprays of them – are at the heart of this confident 17th-century Ottoman voided silk velvet. Bursa velvets were much sought after for ecclesiatical use by Orthodox Russians, so it is not surprising that Nurhan Atasoy discovered a similar piece in a monastery in Russia, donated in 1652 by a member of the court of Peter the Great. She published it in İpek: The Cresent and the Rose. (Istanbul, 2001). Lot 139, at Sotheby's on the 30th, the velvet is a metre long and carries an estimate of £12,000–15,000.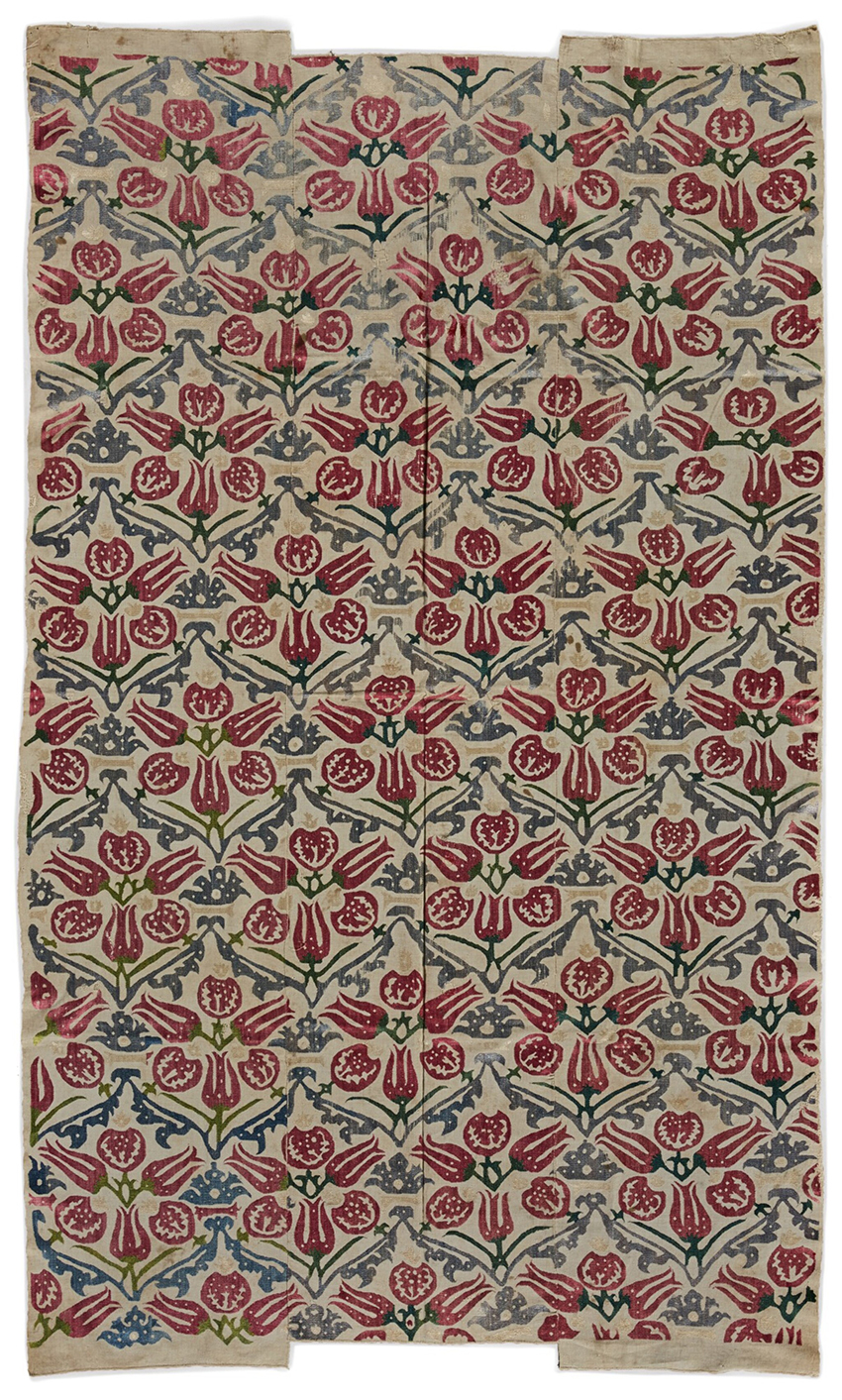 This Ottoman textile with its wonderfully understated colours and its latticework of tulips and pomegranate leaves, is Lot 141 at Sotheby's on the 30th. Embroidered in silk on cotton, it is 17th– or 18th-century and was chosen by the doyen of Ottoman textiles, Roddy Taylor, as the frontispiece for his landmark book Ottoman Embroidery (New York, 1993). The estimate is again £12,000–15,000.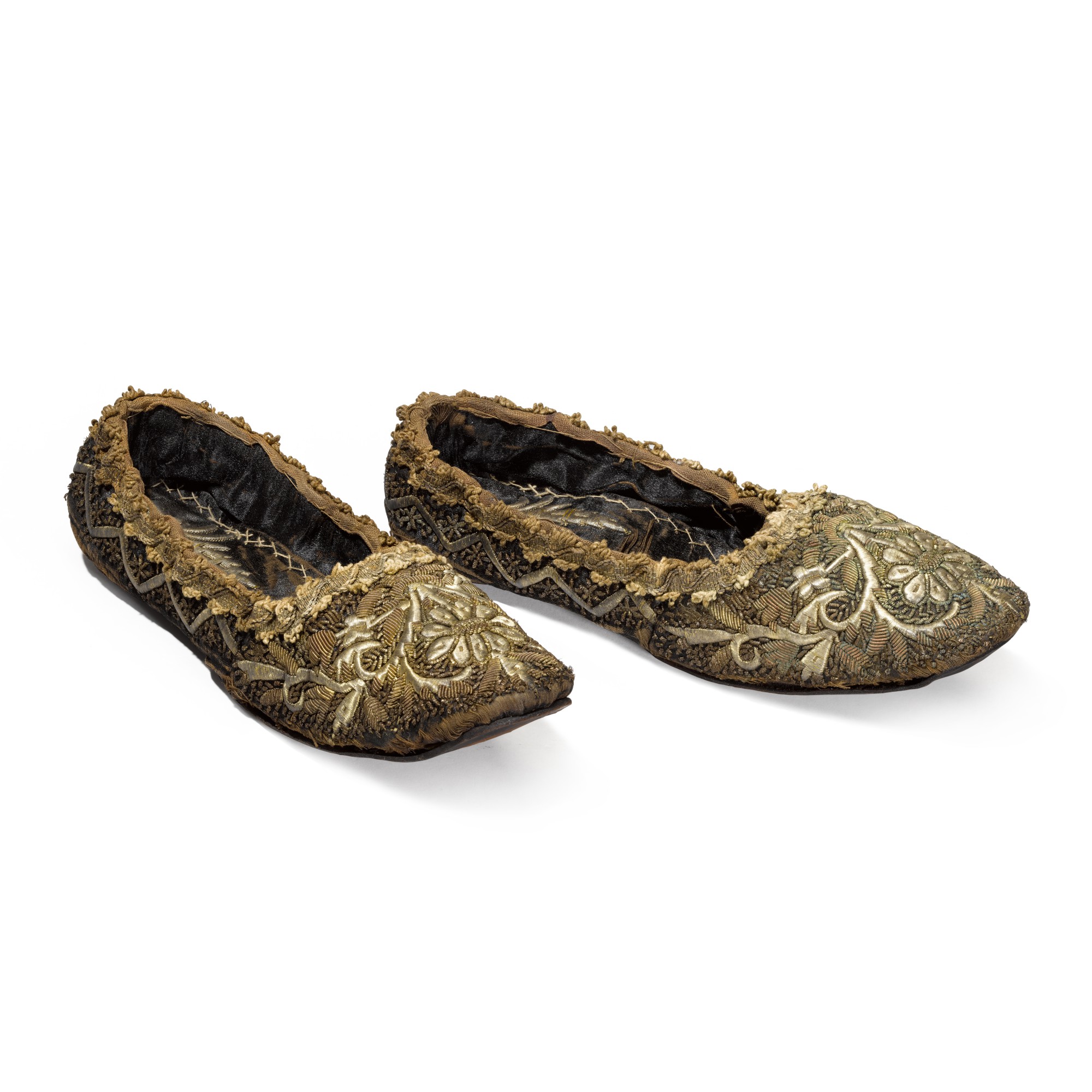 The Ottoman passion for flowers inevitably found its way on to exquisite footwear, such as these 18th- or early-19th-century embroidered slippers with a distinctive zig-zag pattern on the side (Sotheby's Lot 149, est £4,000–6,000).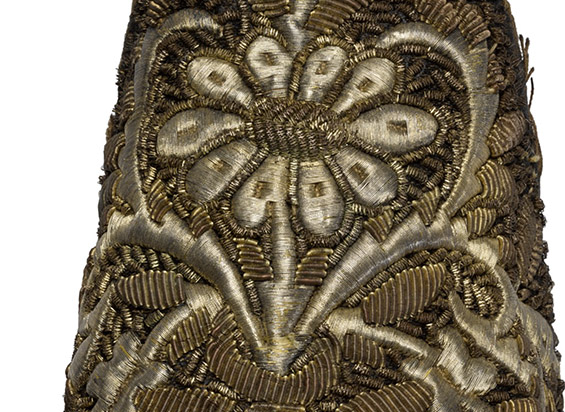 Take a close look at the craftsmanship of these thick-leather-soled slippers. For a very similar pair step along to the Sadberk Hanım Museum.
The power of Ottoman design is particularly evident when fragments are treated by connoisseurs as works of art in their own right, as in Lot 156 in the Sotheby's sale (est £5,000–6,000). Part of a court carpet dated to c1585–1600, this fragment is attrabuted to an Istanbul workshop, rather than a Cairene one, owing to the affinity of the palmette designs in contemporary Iznik tiles executed for the entrance to the apartments of Murad III (1574–95) in the Topkapı. It is also suggested that the colours were intended to complement the red and gold of the apartment's painted ceilings.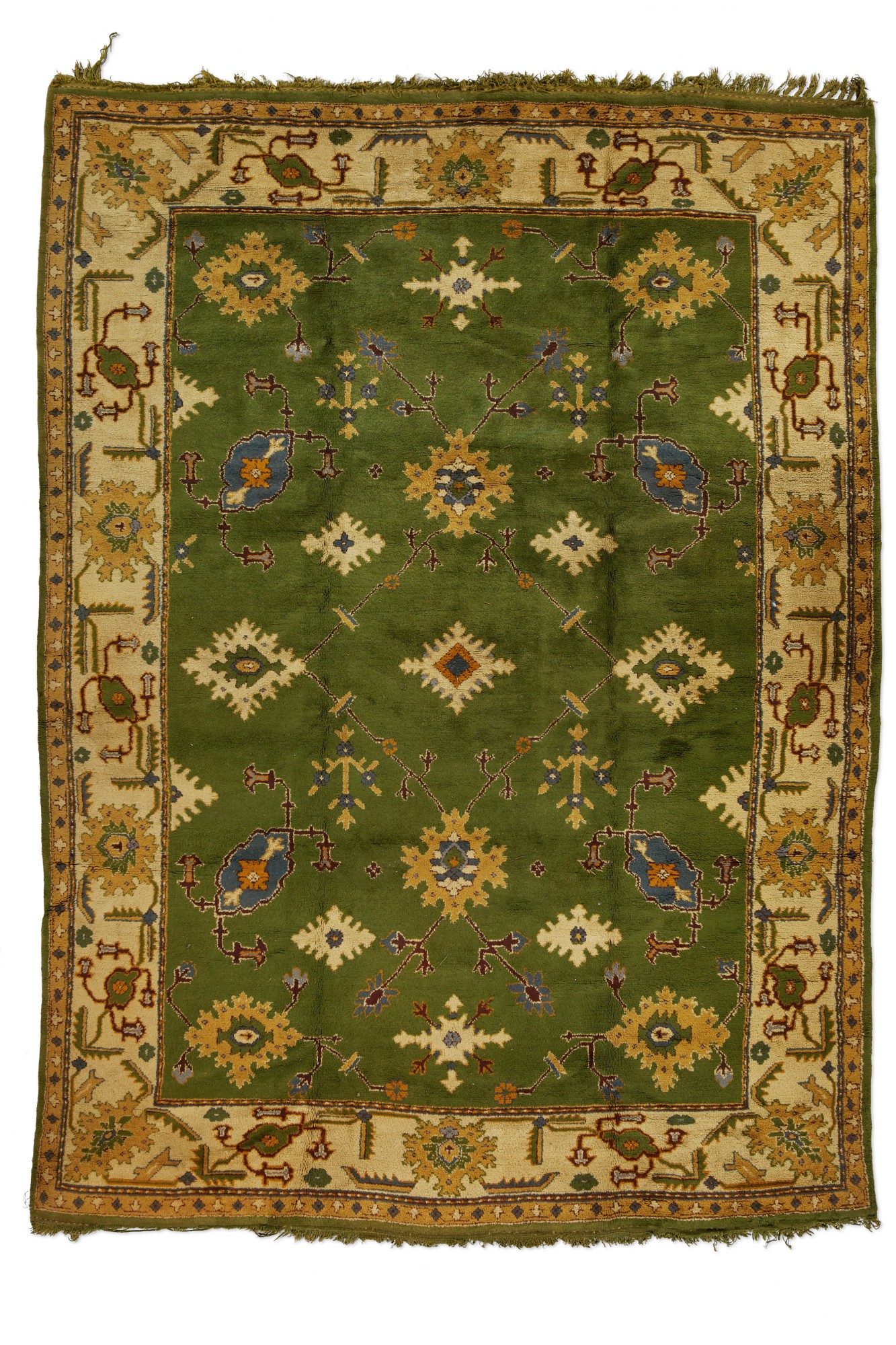 And for something Irish, how about an early-20th-ceentury Turkish carpet from Killybegs. Donegal, which comes with Maple and Co. London and Smyrna's label on the back. The thick pile suggests that Sotheby's Lot 170 has never barely been trodden on. Simply too big, the owner explains – it comes a long, slightly Irish tale. Read about it here.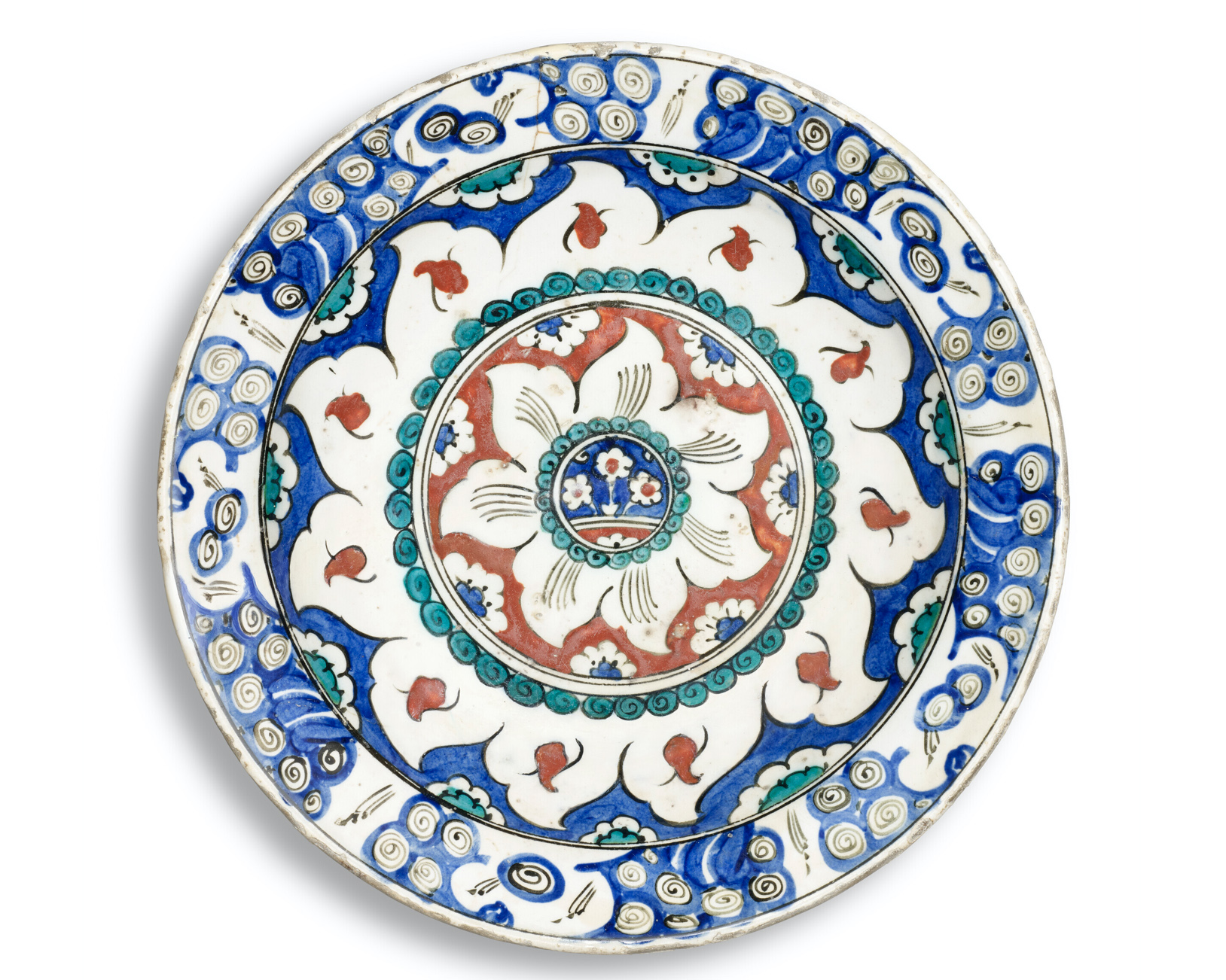 Returning to Ottoman Turkey, one of two spectacular bowls at Christie's on March 31 is this dish from the 1590s, with a whirling flowerhead design (Lot 107, £20,000–30,000)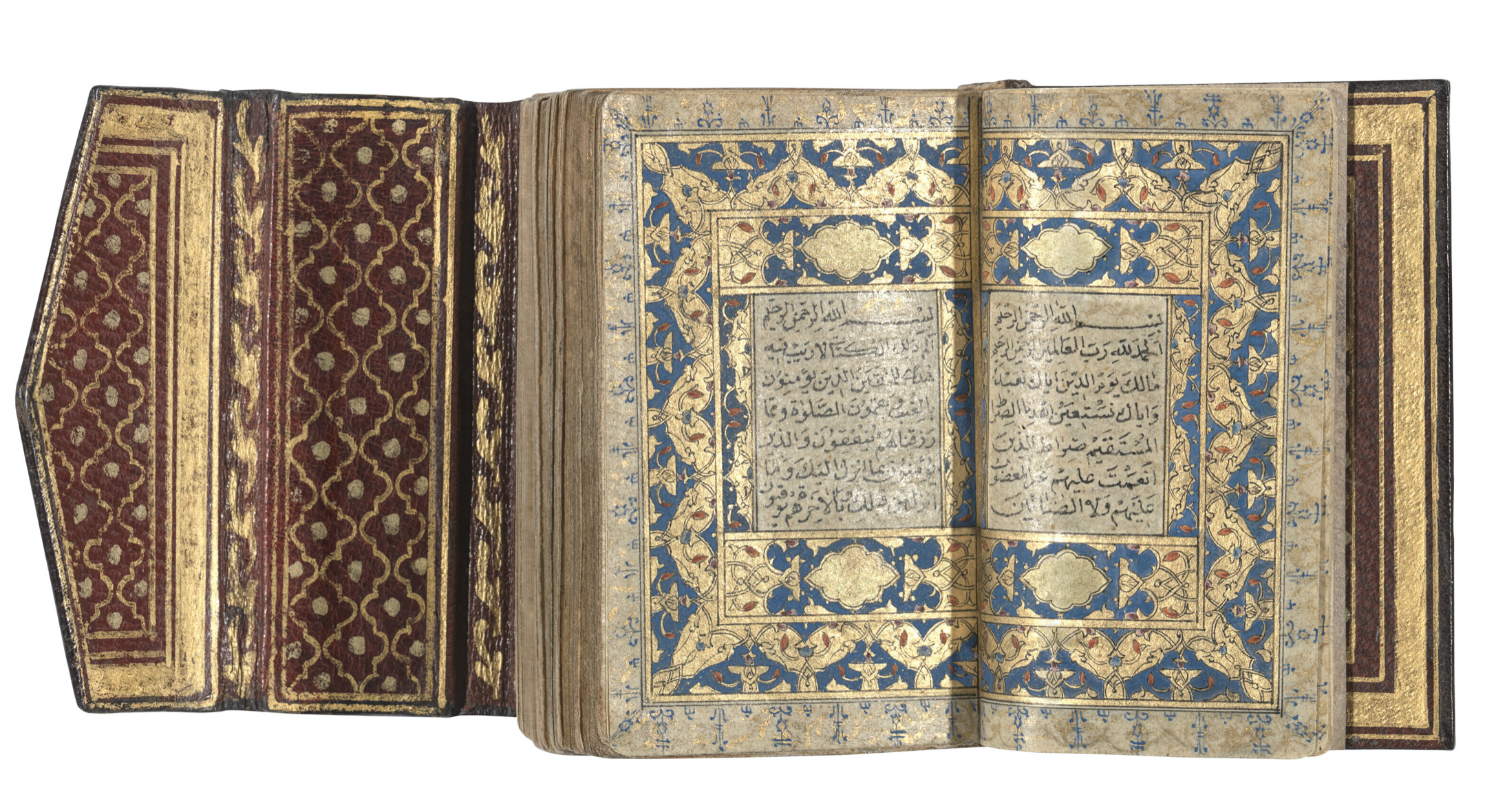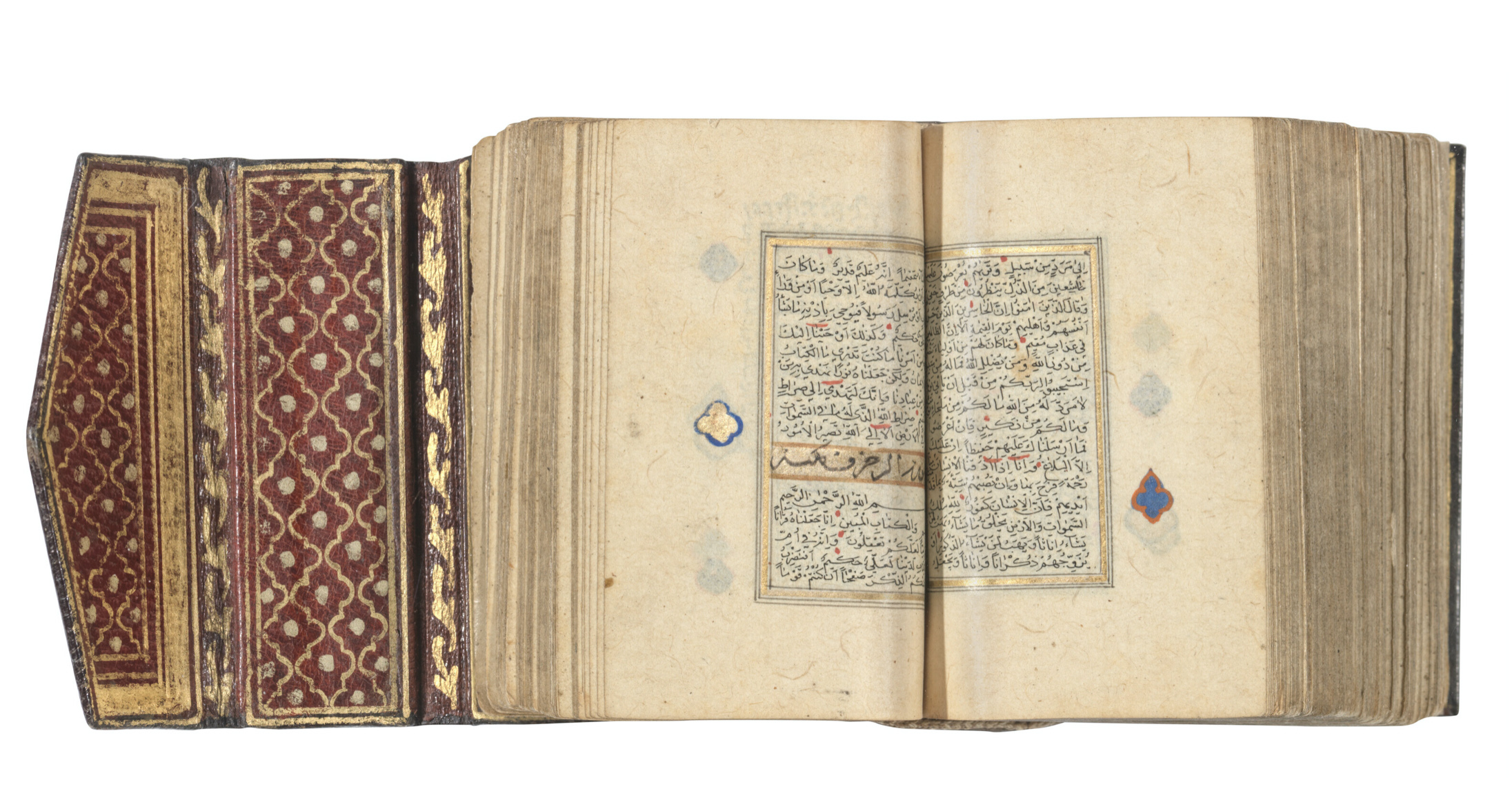 Of absolutely exquisite beauty is the 16th-century miniature Koran below, which measures just 5.5cm high, a marvellous feat of virtuosity by binder, illuminater and calligrapher alike. (Christie's, Lot 111, est £16,000–20,000)
Fast forward to the glorious sunset of the Ottoman era. Islamic Sales week kicks off at Sotheby's on March 29, with the Orientalist Sale.
The Pera Museum held a fine exhibition dedicated to the French artist Félix Ziem (1821–1911), and a visit to his house on the canals of Martigues in the South of France (now a charming museum) makes complete sense of his passion for Istanbul – water, water everywhere, as the Ancient Mariner said. Wild Barbizon brushwork infuses Ziem's Orientalism in Lot 36 of the Sotheby's Orientalist sale: a fiery view of the Golden Horn (est £40,000–60,000).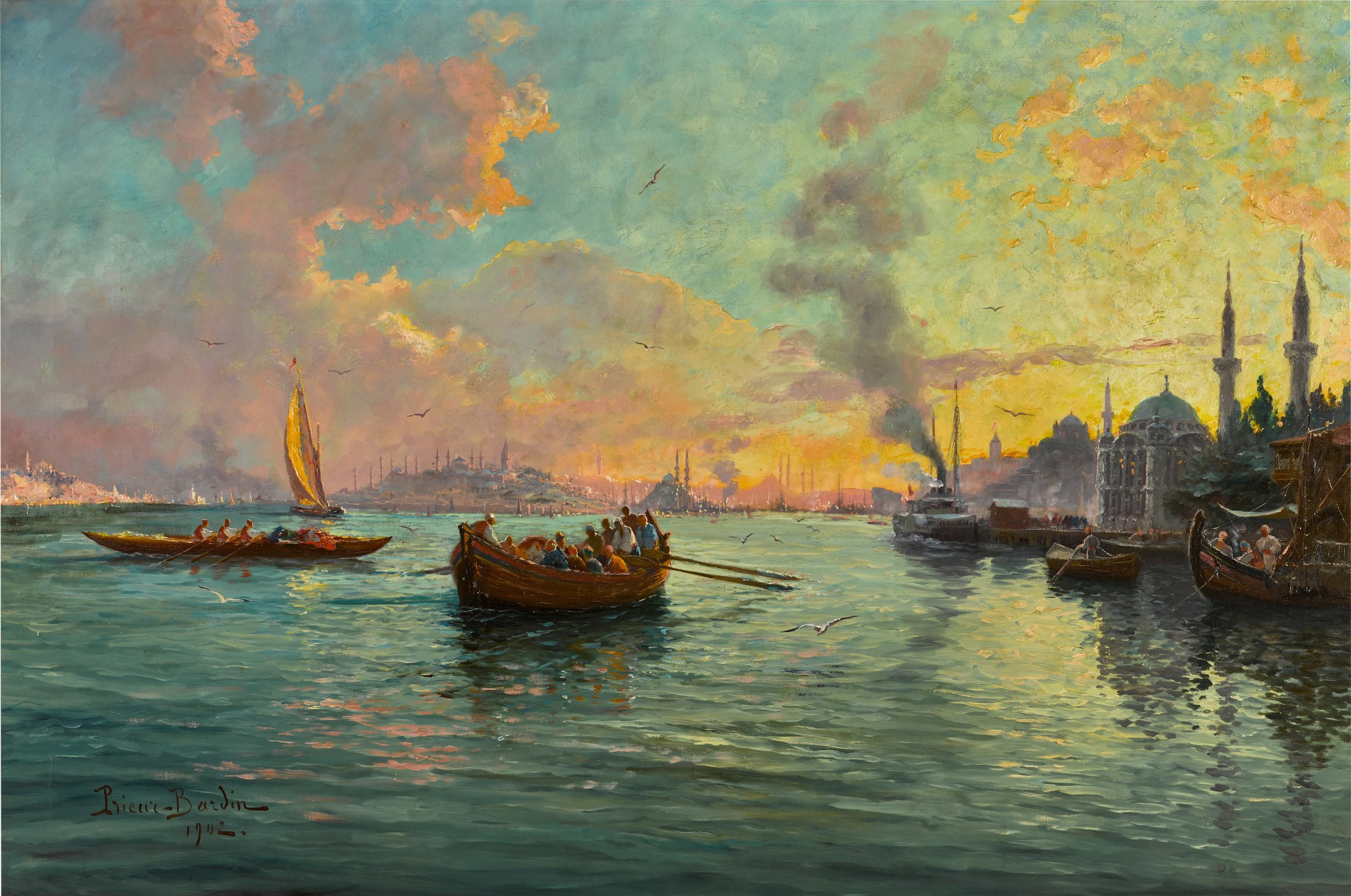 François Léon Prieur-Bardin (1879–1939) was much admired by Sultan Abdülhamid. He planned a short visit to the city but stayed on for several years, holding a number of exhibitions in Pera galleries. Lot 35, simply titled On the Bosphorus, shows Ortaköy Mosque and a vapur docking at the village iskele, while caiques of various shapes and sizes drift around enjoying the light of the sun setting over the Old City. As one would. The estimate is £30,000–40,000.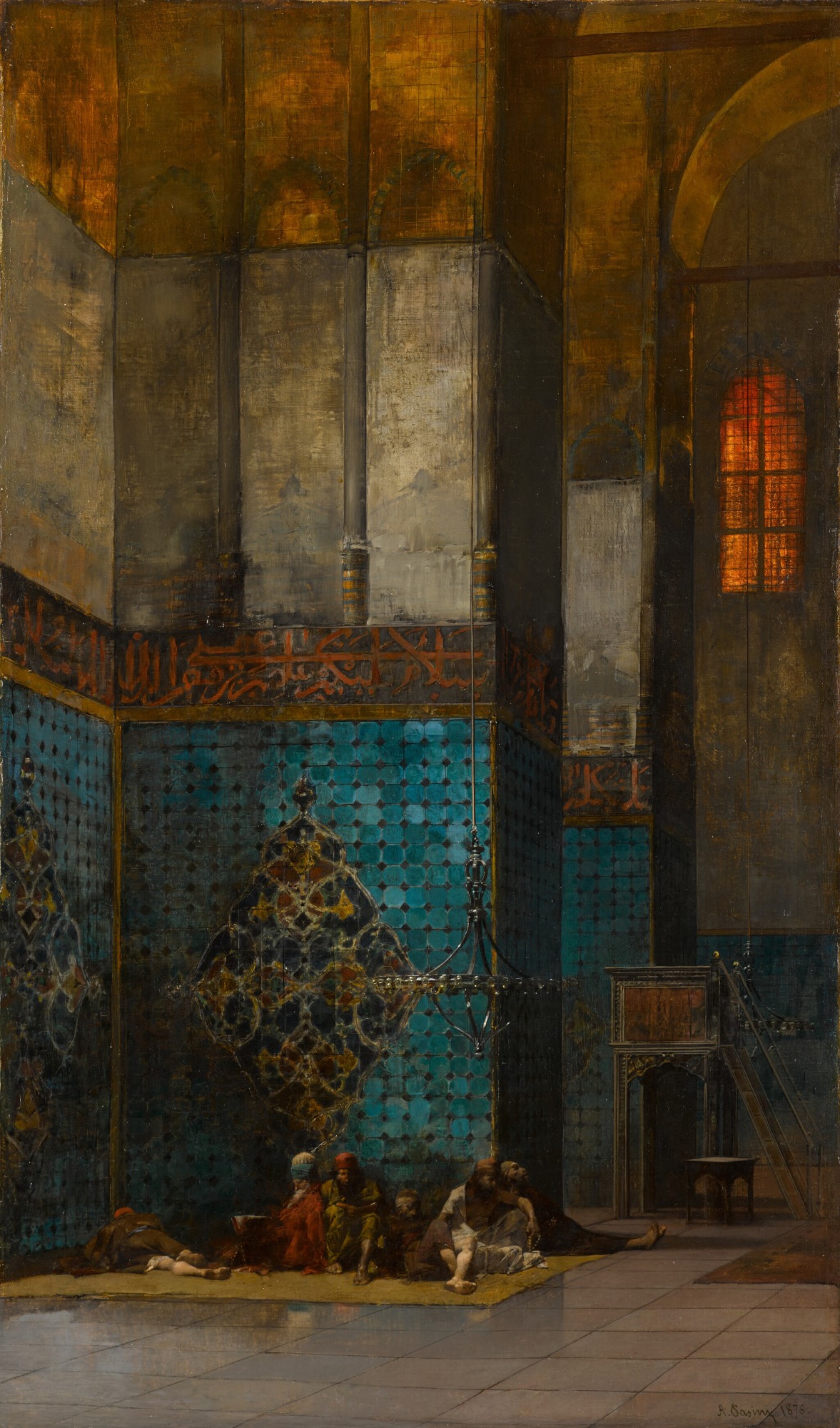 Lot 37 (est of £60,000–80,000), is a moody depictions on the interior of the Yeşil Mosque in Bursa by the prolific Italian artist Alberto Pasini (1826–99).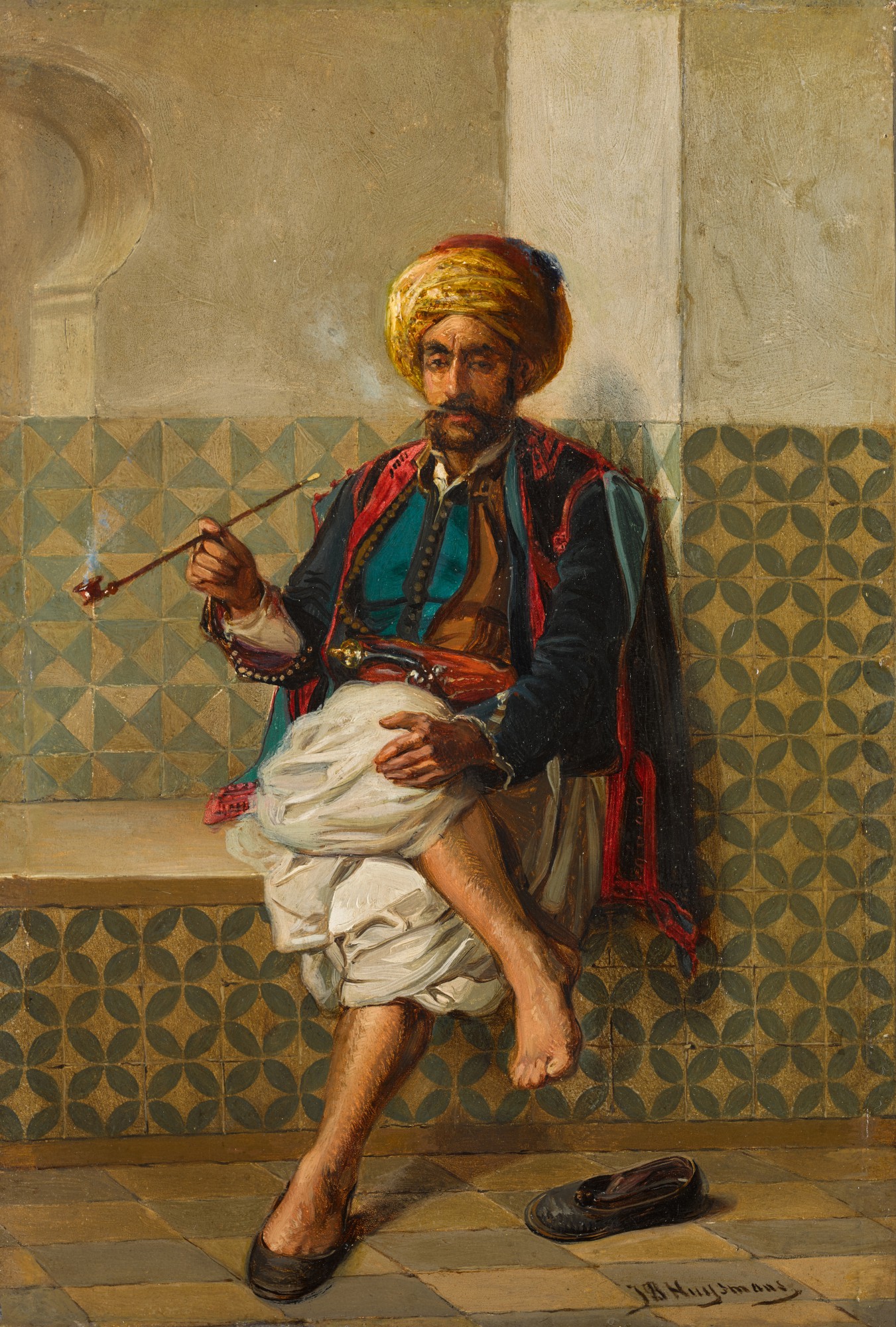 In Lot 67 (est £3,000–5,000), a lagubrious gentleman in a turban smoking a pipe stares back at the Belgian artist Jean-Baptiste Huysmans (1826–1906), as one would a rather irritating passer-by.
Enjoy these and much much more online, or better still in the flesh in the saleooms themselves.